It's week 3 of the One Room Challenge, hosted by Calling It Home. We were out of town all last week, and while we had a wonderful time driving from Minnesota to Colorado (and back), it also meant the amount of time I had to work on the laundry room was… not much… This is not to say I didn't do anything.
Let's start with a short recap… during week 1, I introduced my laundry room, showing you the before pictures… Week 2, I discussed my plans and explained how I was going to transform everything with a budget of $100 (hopefully). Now, here we are at week 3.
Paint
As I said, I wanted to paint this room for free. I certainly don't need a lot of paint as this is, in fact, just a closet. My initial thought was to go to our county recycle center, where you can pick up leftover paint free of charge, but then I remembered that I had leftover paint from this spring's One Room Challenge. Since I wanted the space to be a very light blue, I figured I could mix my two bluish/grayish paint samples with the 1/2 gallon of white paint I had leftover. I thought this process would take awhile, but not to worry… it only took about 60 seconds.
I started by pouring all of the lighter blue paint into the white paint. I knew I wanted to add to the white because I needed that full 1/2 gallon in order to cover the laundry room. Since that first sample was so light already, I knew there was no way it would get too dark. I mixed that up, and truth-be-told, it still looked pretty white. I added 1/2 of the darker gray color and mixed: still too light. Poured the rest in, mixed, and I liked the color: a very light blue paint. I tried a bit on the wall, and here's the result. Paint mixing done! (Just call me Pablo Picasso…)
Someone suggested that there may be an attachment to a power drill one could use to mix the paint, and this idea sounds brilliant. I, however, don't have that, and I'm thinking my budget of $100 can't afford it, so I just mixed with a regular paint stick, and it did a fine job.
Printables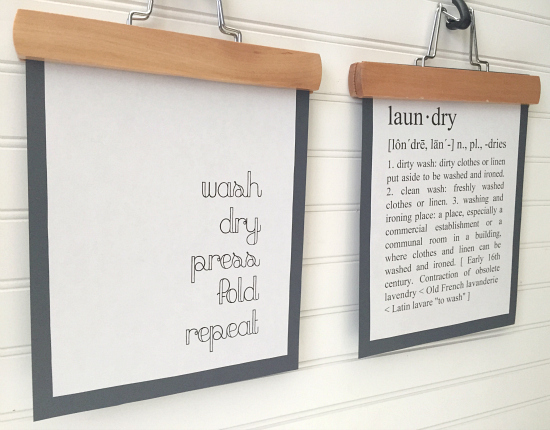 I knew my current "taped to the wall" laundry instructions had to go (see week 2 for the pictures). If you are on Pinterest, you know there are adorable printables you can use, and at the cost of free, it fits my budget perfectly. (Here's my Printables Board on Pinterest in case you want to follow along…). My original thought was to put the printables into my favorite gallery frames, but then I saw people using wood hangers instead, and I loved that idea even more! I happen to have wood hangers already on hand. Score. Free again. I knew printing onto plain white computer paper would be a little boring, so I headed to Michaels and bought some dark gray cardstock to "frame" the print. Here's how they turned out:
A couple things regarding these printables. First, I want to credit the person who made them, and that would be Kristin over at Yellow Bliss Road. (Here's the link to the printables I used.) Second, I needed to cut off about 1/2 inch all around the printable in order to get the gray cardstock frame. Remember to measure and mark on the back of the paper so nothing shows on the front. Last thing: I have discovered that spray adhesive is far superior to glue or Mod Podge when it comes to sticking things together. Glue and Mod Podge form lumps and bumps, spray adhesive does not.
Budget… So Far
So far, I am on track!
Paint: Free
Printables: Free
Hangers: Free (Already had on hand)
Gray Cardstock x2: 78¢ (With a 40% off coupon… that saved me 20¢. LOL.)
TOTAL= $0.78
Okay. I know. I didn't accomplished a ton, but vacation is a time to get away, so one week of slowing down is okay with me. It also means I've got to get a move on as I head into week 4. Out come the washer and dryer so I can paint, and I'm shopping ideas for the shelf. Oh… and cleaning. I've got to put on my big girl panties (least favorite word, by the way) and get that done.
Have a glorious day!
Erin
The One Room Challenge Week-by-Week:
Week 1 // Week 2 // Week 3 // Week 4 // Week 5 // Week 6
You can find more room transformations here (professionals) and here (linking participants)
Want to Follow Along with Lemons, Lavender, & Laundry?
Subscribe!
Social media more your style?
Facebook // Pinterest // Instagram // Twitter