Welcome to week 4 of the One Room Challenge, hosted by Linda over at Calling It Home. If you are just joining in on this challenge, here's a brief summary. Myself, along with 150+ amazing bloggers, join together and make-over one room in our homes. Every Thursday, we link up at Calling It Home, so we can support and encourage each other along the way. I have chosen to work on my laundry room… closet. It was in dire need of some love and attention (for proof see week 1 and week 2). Last week was a little slow-going after being on vacation, but this week, we're making good progress.
Painting the Dryer
As you may recall, our washer and dryer do not match (for the reason behind this, go here). Our washer is new and white, our dryer is creamy beige… and really old. I have given myself a budget of $100 to redo this space. Yes. $100. So, a new dryer is not in the budget (and truthfully, I wouldn't buy a new dryer just to match the washer anyway). Enter "Appliance Spray Paint".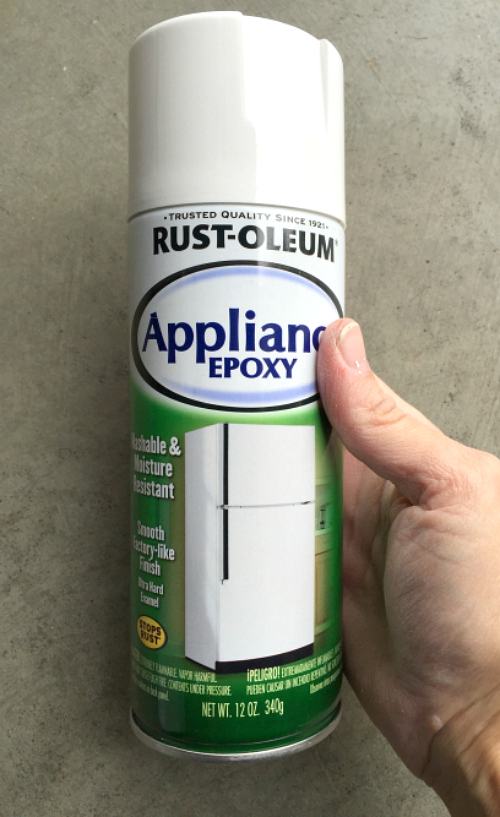 I started by thoroughly cleaning the dryer, inside and out. Want to know how to clean your dryer? I shared it all for yesterday's Cleaning Tip Tuesday.
We bribed one of my hubby's friends with a lasagna dinner, to help get the dryer from our 2nd floor out to the garage. Thanks you Bryan! (He doesn't read this blog; I'm not actually sure he knows I have a blog, but maybe he can feel my grateful vibe).
Here is our now WHITE dryer… still in the garage. Bryan? More lasagna? We now need the dryer back upstairs…
I will be sharing the full tutorial on painting the dryer (and my review on the appliance paint) later this week.
Painting Walls
Painting is not something I love.; not really something I like either. Tolerable? Maybe… with music blasting… Luckily this is just a closet, so the painting was minimal. As you may recall, I'm painting for free. I mixed some cans of paint I already had, and created the light blue color I was hoping for (see week 3 for details). Here is our, now, blue closet, ahem, laundry room:
I know, shadows, shadows, everywhere. For some reason, I only choose to redo rooms with no natural lighting. I'm thinking of investing in some photo lighting that will help with this problem… Thoughts?
While this may not look like much, it crosses some major things off my "To Do" list. I only have the wire shelving overlay to create, and then it's all about organizing and accessorizing (the best part!).
The Budget… So Far
We left off last week with me having spent a whole 78¢. Yep. Seventy-eight cents. This week, I bought a couple more items:
Appliance Spray Paint: $3.76 (Sure beats $376 for a new dryer, right?)
Painting Supplies (AKA a new roller for the roller brush… I had everything else): $4.77
TOTAL= $9.31
Alright. Time to call Bryan about more lasagna…
Erin
Can't get enough of these room makeovers? Head over to Calling It Home where you can see the professionals here and other linking bloggers here.
The One Room Challenge Week-by-Week:
Week 1 // Week 2 // Week 3 // Week 4 // Week 5 // Week 6
Want to Follow Along with Lemons, Lavender, & Laundry?
Subscribe!
Social media more your style?
Facebook // Pinterest // Instagram // Twitter