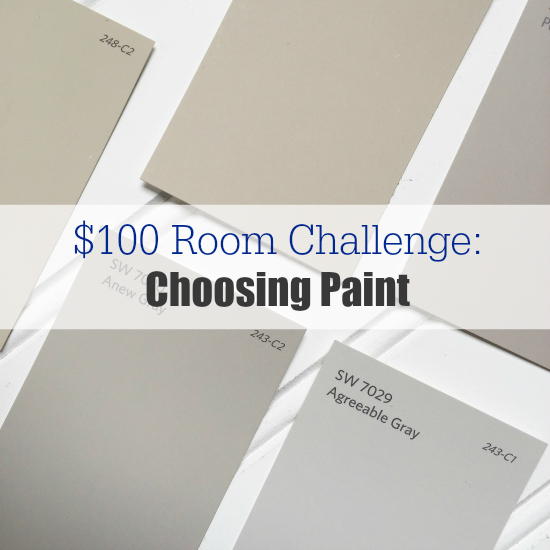 You guys!!! You're never gonna believe what happened for this $100 Room Challenge! Remember last week when I was trying to decide on a paint choice? I shared some pictures of beautiful rooms with paints I loved, but I was worried the colors would clash with the beige carpet and wood tones? Well, my friend Sharon is starting her own interior decorating business, and pointed out that the grays I chose had "cool" undertones, and suggested Sherwin Williams Agreeable Gray as an alternative. So, the next day, I headed out to my local Sherwin Williams store and got a couple paint samples (including Agreeable Gray).
I laid the samples out on the carpet…
… and up against the baseboards…
Honestly, my favorite was Anew Gray, but I liked 3 out of the 5 samples.  I decided to take a quick trip to our local environmental center where they have free paint. I haven't had a ton of luck, but it never hurts to check, right? I headed over to the 5 gallon buckets and started searching, comparing my paint swatches to the colors on the buckets, and I kid you not, the very last bucket I saw was this one…
Seriously??? Agreeable Gray??? I wouldn't have believed it myself, except, it actually happened to me. I grabbed that bucket and walked out with FREE paint. Now, the thing about recycling centers is that this paint is already used, so I only have about 1 1/2 gallons of this stuff. According to the Sherwin William paint calculator, I was going to need 1.2 gallons to cover my walls. I have none to spare, so I bought some primer to cover the walls, and hopefully after that application, I can get by with one coat of the paint (which is also a paint/primer in one). I honestly expected to be spending at least half my budget on paint, and now I (hopefully) won't have to.
Budget… So Far
Primer: $15.48
Paint Roller: $4.77
Total: $20.25
Friday and Saturday are calling for highs in the mid-60s with sunshine. Sounds like perfect painting weather to me.
Wanna Catch Up or Jump Ahead?