Have you been to Target this week? Their "dollar section" is FULL of organizational items, and I think I bought them out. Not really, but close. They have calendars and "to do" lists, bins, baskets, and buckets. It's like my own little dream world. I truly bought a ton with the cleaning closet in mind. Here's my loot:
I know. It's my title picture without the big white circle. Here's the deal though… I don't think I'm using any of it in my cleaning closet. Say what? I know. None of it really worked like I was hoping. No worries though. I am sure I'll put it to good use elsewhere. And, let's be honest, I'll probably return some, because that's what I do: Buy, try, return. Anyone else with me on that?
So here's where we're at with the cleaning closet…
See that? That's what I have to show you this week. A shelf. I know this may seem a bit disappointing, but to make up for it, I'm hosting a game show later in the post… Remember that we started off with a wire shelf. While I love, love, love what we did with the wire shelf in our laundry room, the shelf in this closet had an extra piece for hanging coats. I thought it would look weird, so we started from scratch.
I'm pretty sure the greeter at our local Home Depot wonders why I'm there every other day, but I gotta get things done! I headed over to the lumber section and bought a 3/4×12 and had "Home Depot guy" cut the shelf to size for me. (Thank you Home Depot!) Then I bought a 1×2 for the shelf brace. My husband took over and basically cut, sanded, painted, and installed the shelf for me. (Please know, I did plead with him to let me paint so I could say I actually took part in the creation of the shelf, but he was on a roll and I was not to interfere.) I have already put the shelf to good use by storing my gallon of vinegar, 1/2 gallon of Dawn, and 13 1/2 pound bag of baking soda (which I just discovered at Costco this week!… Seriously 13 1/2 pounds of baking soda. This is what you end up with when you DIY your cleaning products.)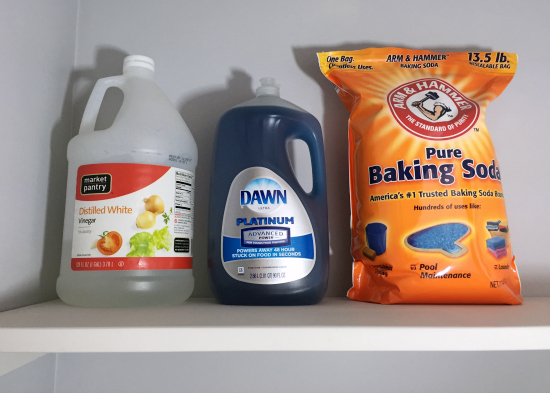 I do have other things in the works as well. Let's see if you can figure out what I'm making based on the pictures below. It's like a game show. Just leave your thoughts in the comments section below, or head over to Instagram or Facebook and leave your vote there. If you get it right, I'll give you credit next week. Yes. That's the prize. You can just pretend it's like winning the lottery.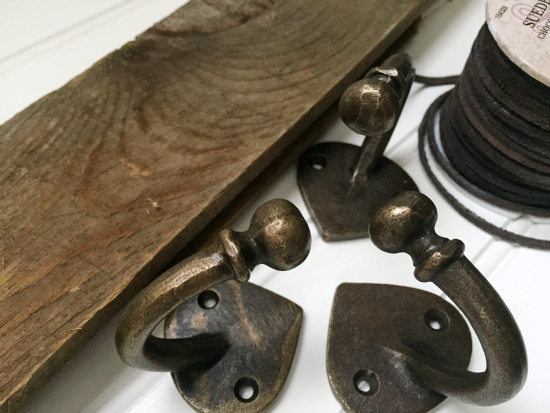 1 Piece of Barn Wood, Suede Lace (Why it's called "lace", I have no idea), and 3 Wall Hooks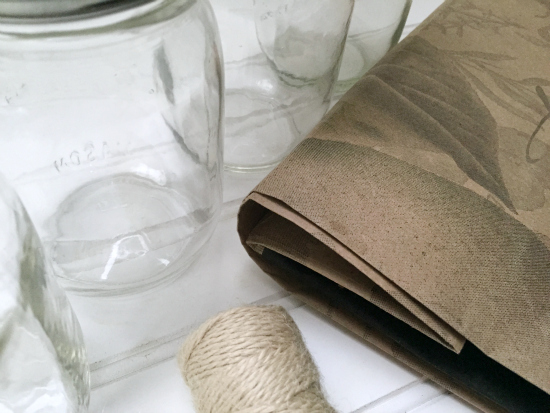 Mason Jars, Jute Twine, and a Paper Bag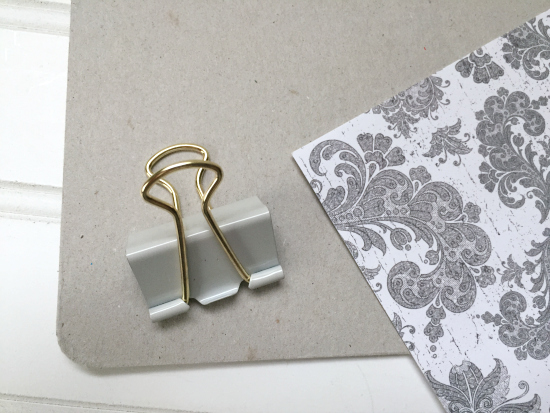 1 Piece of Cardboard (which I rescued from a 3-ringer Binder that was falling apart), 1 Piece of Scrapbook Paper, and 1 Binder Clip
The Budget… So Far
Last week we were at $10.45. Not bad. This week:
Shelf: $13.25
3/4×12 inch board: $4.27
1×2 inch board: $0.82
The hubby bought Screws: $1.18
The hubby also bought some grips: $6.98
Paint for the Shelf: Free (Got Free Paint at the Environmental Center)
Mystery Project 1: $17.96
Barnwood: Free (We have a huge amount in the garage)
Suede "Lace": $5.99 (After 40% off coupon)
Hooks x3: $11.97 ($3.99 each)
Mystery Project 2: $6.35
Mason Jars x4: $3.96 (99¢ each)
Jute Twine: $2.39 (After 40% off coupon)
Paper Bag: Free (Already had on hand)
Mystery Project 3: Free
Piece of Cardboard: Free (Already had on hand)
Piece of Scrapbook Paper: Free (Already had on hand)
Binder Clip: Free (Already had on hand)
Total: $48.01
As you can see, I have a lot to do before next week's reveal, so I'm signing off to go get started!
Enjoy your day!
Erin
Week 1 // Week 2 // Week 3 // Week 4
Want to Follow Along with Lemons, Lavender, & Laundry?
Subscribe!
Social media more your style?
Facebook // Pinterest // Instagram // Twitter