Have you been to Target this week? Their "dollar section" is FULL of organizational items, and I think I bought them out. Not really, but close. They have calendars and "to do" lists, bins, baskets, and buckets. It's like my own little dream world. I truly bought a ton with the cleaning closet in mind. Here's my loot…
I know. It's my title picture without the big white circle. Here's the deal though… I don't think I'm using any of it in my cleaning closet. Say what? I know. None of it really worked like I was hoping. No worries though. I am sure I'll put it to good use elsewhere. And, let's be honest, I'll probably return some, because that's what I do: Buy, try, return. Anyone else with me on that?
So here's where we're at with the cleaning closet…
See that? That's what I have to show you this week. A shelf. Remember that we started off with a wire shelf. While I love, love, love what we did with the wire shelf in our laundry room, the shelf in this closet had an extra piece for hanging coats. I thought it would look weird, so we started from scratch.
I'm pretty sure the greeter at our local Home Depot wonders why I'm there every other day, but I gotta get things done! I headed over to the lumber section and bought a 3/4×12 and had "Home Depot guy" cut the shelf to size for me. (Thank you Home Depot!) Then I bought a 1×2 for the shelf brace. My husband took over and basically cut, sanded, painted, and installed the shelf for me. (Please know, I did plead with him to let me paint so I could say I actually took part in the creation of the shelf, but he was on a roll and I was not to interfere.) I have already put the shelf to good use by storing my gallon of vinegar, 1/2 gallon of Dawn, and 13 1/2 pound bag of baking soda (which I just discovered at Costco this week!… Seriously 13 1/2 pounds of baking soda. This is what you end up with when you DIY your cleaning products.)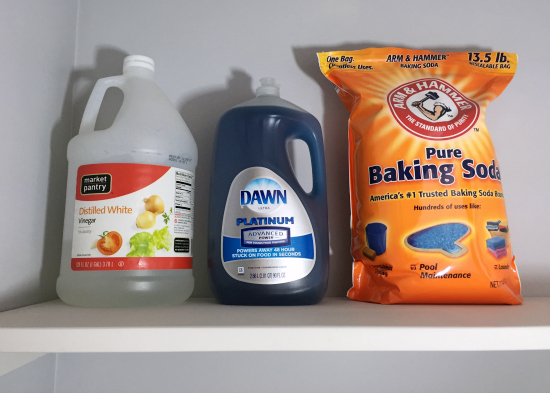 I do have other things in the works as well, but you'll have to wait until next week's reveal 🙂
The Budget… So Far
Last week we were at $10.45. Not bad. This week…
Shelf: $13.25
3/4×12 inch board: $4.27
1×2 inch board: $0.82
The hubby bought Screws: $1.18
The hubby also bought some grips: $6.98
Paint for the Shelf: Free (Got Free Paint at the Environmental Center)
Total: $23.70
As you can see, I have a lot to do before next week's reveal, so I'm signing off to go get started!
Wanna Catch Up or Jump Ahead?