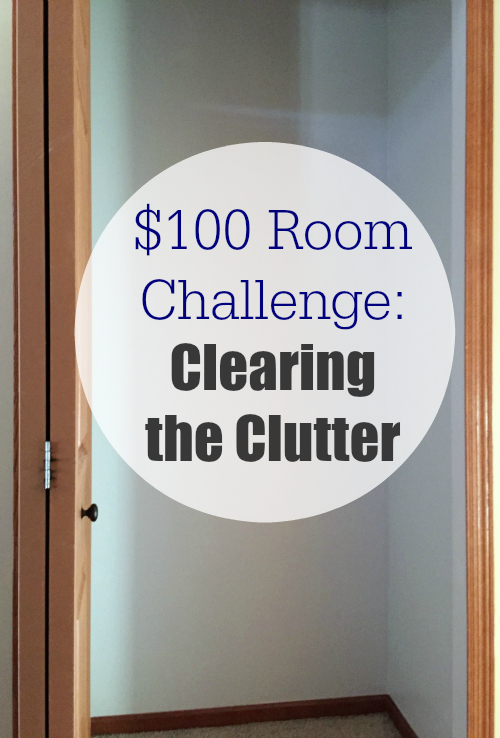 It's the second week of this month's $100 Room Challenge, and as you may recall, I'm creating a cleaning closet. I always feel like the first steps are kinda boring, but they are essential for creating the space I'm hoping for in the end.
The very first thing I did was clear out everything from the closet. All the gift wrapping items, the holiday baskets, the 284 hooks (I kid. I think there were only 12.) and the shelving… everything gone!
I think the wire shelving had been installed to withstand a 9.4 magnitude earthquake because it was seriously anchored to the wall. I actually had to watch a YouTube video to figure out how to get the wire shelving anchors out. Hint: It doesn't just require a screwdriver like you would think, you need a pliers and a little oomph. I was left with a whole lotta holes in the walls that needed to be filled in.
The closet was in rough shape. There were black marks all over the bottom of the walls, and it was begging for a new coat of paint.
I decided a simple coat of fresh paint would do wonders. I had 2/3 of a gallon of paint left over from the kids' bathroom, so I used that.
Seriously, paint is magic! I love how it can freshen up a space.
The Budget… So Far
Painting: $4.77
Roller Head: $4.77 (Do you notice that I buy a new roller head every time I paint? I cannot stand rinsing out all the paint, and even when I do, I never feel like the roller does well after it's been used… anyone have a good tip so I don't need to keep buying them???)
Paint: FREE (Used leftovers from the kids' bathroom)
Joint Compound: $5.68 This was a bummer. We actually had a ton of joint compound, but it got moldy, so I had to buy more. I just don't think applying mold to walls is in good taste.
Total So Far: $10.45
That's where we're at this week: Clutter cleared. Fresh coat of paint. $10.45 spent.
Wanna Catch Up or Jump Ahead?