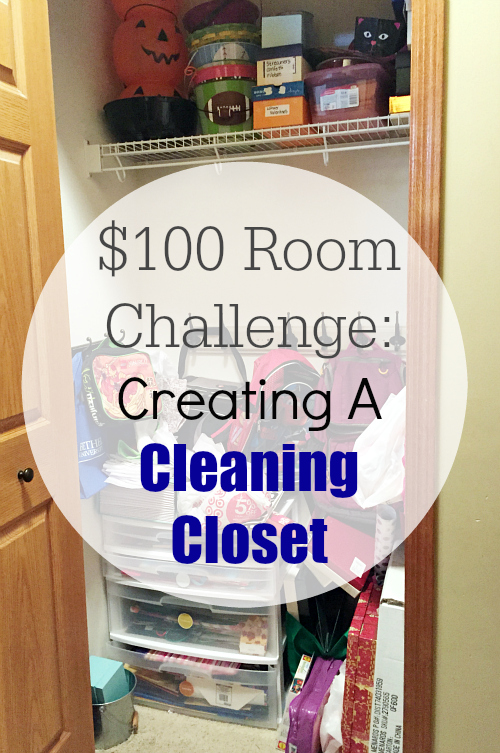 I briefly thought I was going to skip the $100 Room Challenge for the next couple months because I'm trying to focus on the 8 Week Cleaning Challenge, but then I saw all these bloggers cleaning out/organizing closet spaces, and I just couldn't resist! I knew exactly what I wanted to do, and I am SO excited! Going along with the theme of cleaning, I decided to CREATE a cleaning closet!
Right now I have all my cleaning supplies shoved on a shelf in our coat closet, and it looks cluttered and, well, terrible really.
A couple feet from the coat closet is a smaller closet that I'm sure was meant to be a cleaning closet, but I have been using it to store gift supplies, holiday items, and a bunch of other junk…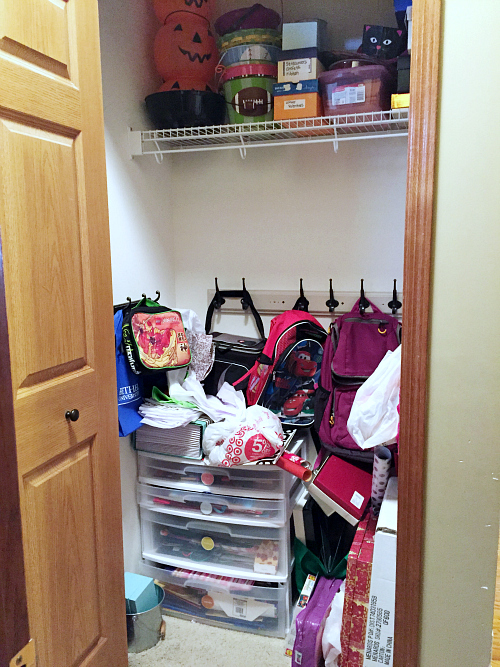 Plans for the Space
1.) Clean It Up- Clear out the "Gift Closet" and remove all the wire shelving and various hooks. Why are those in there??? (Just for the record, they were there when we moved in.)
2.) Do Something Fun with the Walls- My first thought was going to be wallpaper… and then I realized that wallpaper is SUPER expensive; as in my entire $100 would be spent on wallpaper alone… for a tiny, little closet. No thanks. Here were a couple wallpapers that I liked, just to give you an idea:
Both images via Lowes
Then I remembered that many a blogger has used a company that creates wall stencils to give you the look of wallpaper, but with paint. Sounds easier, and less expensive. I have reached out to this company to see if they want to partner with me for this project. Fingers crossed.
3.) Shelving- Add a new, non-wire, shelf and maybe some smaller shelving on the wall for extra storage.
4.) Broom/Mop Storage- Add hooks for hanging brooms, mops, etc. I know I just said I was removing hooks, and now I'm adding them. Say what??? I am toying around with several ideas for this, so we'll see where I end up.
5.) Vacuum Hose Storage- We have a central vacuum system in our house, so I can plug a hose into various "outlets" around the house and vacuum away, but we keep the hose lying on the floor of the coat closet, in a heap. I am thinking of getting a "hose hook" to keep it nicely hung and off the floor. There it is. Ugly hose pile.
I have been pinning away on my new "Cleaning Closet Inspiration" Board if you'd like to see more ideas!
I have SO much work to do, so please wish me luck. I'm going to need it!
Erin
Week 1 // Week 2 // Week 3 // Week 4
Want to Follow Along with Lemons, Lavender, & Laundry?
Subscribe!
Social media more your style?
Facebook // Pinterest // Instagram // Twitter