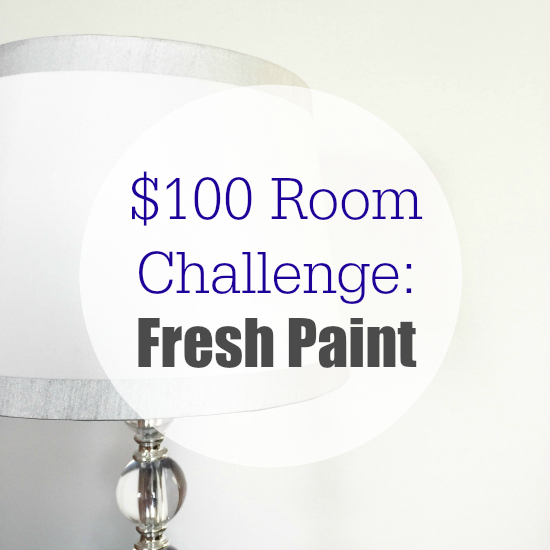 I know it's been awhile since my last post; an entire week to be exact. Besides the fact that two of those days were spent painting, there's another very good reason… I've got some exciting new to share with you, but it'll have to wait until tomorrow because today I'm sharing some master bedroom progress.
You may recall from last week that I scored free paint at the recycle center, but the 5 gallon bucket was only about 1/4 full, so I bought primer hoping after it was applied, I'd only need one coat of paint. I was slightly nervous about this situation, so I, once again, headed to the recycle center. I kid you not, there was another 5 gallon bucket with a paint color similar to Agreeable Gray (the paint I nabbed last week), and this time the bucket was about 2/3 full.
It wasn't label anywhere, so I have no idea whether it actually was Agreeable Gray or not, but I took it home and painted some Agreeable Gray on the wall and some of the "Mystery Paint"; the difference was negligible, if any. I poured some of the "mystery paint" in with the Agreeable Gray, and decided to go with two coats of paint and return the primer. Yep. I just painted my entire master bedroom for FREE.
Now, I live in Minnesota, and if you know anything about Minnesota, you probably know that it's cold here in the winter. Not only that, winter seems to last from mid-October through mid-May. (Why I live here is still a mystery to me.) Average temperatures in mid-March are in the upper 30s, so imagine our delight when Friday and Saturday were in the upper 60s with plenty of sunshine. Perfect weather for painting, right? I opened the windows, blasted some tunes, and got to work. Never has my bedroom seemed so large as when painting. It literally took me 2 days to get it done, but it looks so much better; so much brighter.
If you follow on Instagram, you got a sneak peek of the room on Saturday:
… and here's the room in its light gray state… however, it is so cloudy outside, the pictures are a bit dark… sorry about that. I don't control the weather. If I did it'd still be sunny and 68 🙂 :
I love it. You know what my husband says when its done? "I really love the color, but I think we need to paint the trim white…" While I'm not sure that'll happen this round, it's certainly something to consider for the future 🙂
The Budget… So Far
Last week I had spent $20.25, however, this week, all I did was make a return, so I actually gained money back:
Return of Primer: -15.48
Total Spent So Far: $4.77
Not bad.
I really hope you'll stop over tomorrow as I have been waiting months to share some pretty exciting news with you.
Until then-
Erin
Week 1 // Week 2 // Week 3 // Week 4 // Week 5
Want to Follow Along with Lemons, Lavender, & Laundry?
Subscribe!
Social media more your style?
Facebook // Pinterest // Instagram // Twitter