Today, however I do have a room update for you. I got the gallery wall up, and, you guys, I love it. You may remember, about a month ago, I shared a gallery wall I did in my daughter's room with clipboards and inspirational quotes. The wall I did in the Master Bedroom is totally different, and I used a completely different method to create it, so here we go.
Start by trying various ways of putting the frames together, and if you're struggling to figure out a pattern, head on over to Pinterest, where there are a bazillion gallery wall templates (that's what I did). Once you've got an idea, try it out on the floor, and make adjustments until you like what you see.
Because gallery walls often involve various shapes and sizes, use paper bags (or other paper products) to make cutouts of the frame shapes. Make sure you lay the frame onto the paper with the back side down, as sometimes the front of the frame is a bit smaller. Trace the frame as close to the edge as you can, and cut it out.
Adhere the paper to the back of the frame (I used masking tape), and poke a hole where you need the nail to go.
I know this process is tedious, but it will save you time in the end. I wanted the gallery wall centered over our bed, and I wanted our vows to be right in middle, so I measured the bed (73″) and measured the canvas (24″). 73-24=49. Divide that by 2, and then I knew the side of my canvas should be 24 1/2 inches in from the side of the bed. I know. Math.
(I actually hung the canvas first, so I could use it to reference where everything else needed to go.)
Tape your cut-outs onto the wall using a ruler and level to ensure equal spacing and straight frames.
(Okay, so the bubble isn't centered exactly, but it's hard to take a picture of yourself holding a level 🙂 )
Take a look at everything before you starting pounding in your nails. I made a few adjustments before I was satisfied with what it looked like.
Because you already have holes in the cut-outs, you can go ahead and pound in your nails. After the nail is in, simply rip the paper off the wall.
Now you can hang the pictures, knowing they are level and spaced properly.
Here's the final result…
The maps are engineering prints of places that are significant in our life: The place my husband and I first met, where we took our honeymoon, and places we have lived. I found the full tutorial on making these at Erin Spain HERE.
I have been looking around for window treatments, and found these at Kohl's.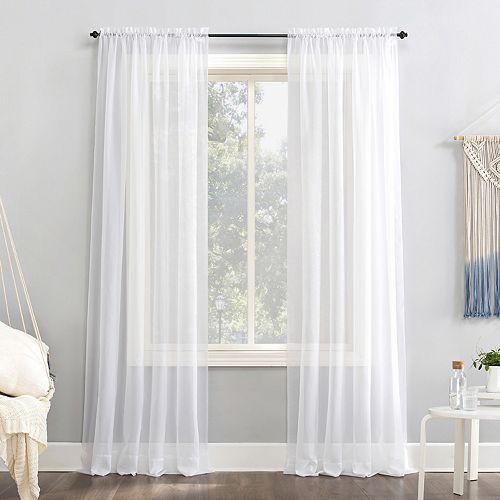 Image via Kohl's
…or do I need color? I'm feeling like we've got a lot of black, and white, and gray going on.
I'm also trying to find a fun way to DIY some curtain rods.
Budget… So Far
You guys! I'm still only at $4.77. I haven't bought anything this week! I realize I need to buy curtains and curtain rod supplies, and I'm still eyeing the bedding from IKEA, so I'm sure it'll be close. Make sure to stop by next week for the reveal!
Wanna Catch Up or Jump Ahead?
Week 1 // Week 2 // Week 3 // Week 4 // Week 5
Love it? Pin it!