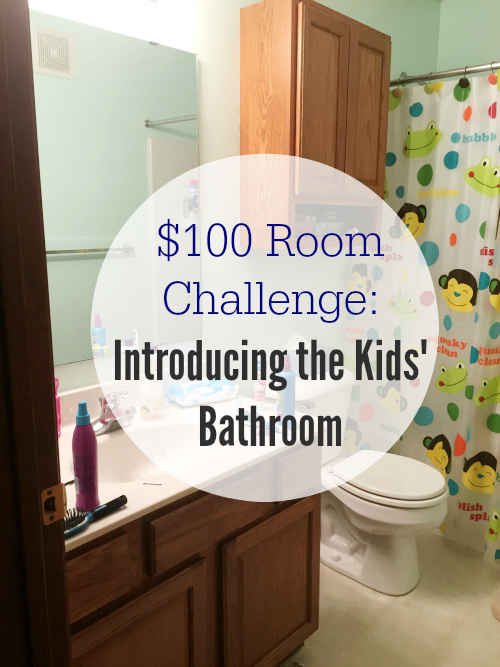 Yay!!! It's time for another $100 Room Challenge! So far I have tackled the mudroom/pantry and the laundry room with a $100 budget. This month I'm taking on my children's bathroom. Here's the scoop on this room… my youngest is now 5, so while we could go with the monkey and frog theme another year, my 9 and 10 year old were probably over the cutesy animals years ago. Did I mention this is also used as our guest bathroom when people come to visit? Embarrassing. Remember, the before shots never involve cleaning or tidying. This is real life… toothpaste in the sink and all. Here's a look at the space.
Goals for Our Kids' Bathroom Makeover
Once again, Pinterest has become my best friend as I look for ways to transform this space into something more mature. (If you'd like to see my Kids' Bathroom Inspiration board, please have a look.) Now, I have high hopes for this space, but unless Santa is dropping off primer, paint, and paintbrushes for me, my budget may not actually be able to accomplish everything I'm hoping for… We shall see.
Goal 1: Paint the Walls
I don't like the paint color in this bathroom at all. I never have. So this is a priority for me. I'd like to do a light gray, but I may wind up going to the Environmental Center to grab some free paint if they have a good color… 'cause free is perfect for my budget.
Goal 2: Replace the Accessories
The shower curtain, soap dispenser, and toothbrush holder all need to lose the monkeys and frogs, so I'll be looking around for some budget-friendly ways to replace them. I also would like to replace the white plastic garbage can and the old creamy rug… we'll see if the budget allows for this.
Goal 3: Organize
While the medicine cabinet has maintained its organized state, the area under the sink and on the sink could sure use a little help.
Goal 4: Add Towel Hooks
We have three children and 2 towel hooks on the back of the door. Drives me crazy. I keep my youngest's towel in his room, hanging from his closet door handle. There is a towel bar on the wall that never gets used, so I want to replace that with something more functional.
Goal 5: Add Artwork
Goal 6: Paint the Vanity… and Medicine Cabinet?
This is not only where I think I'm running out of money, but also where I question what to do. If this were a "more than $100" room challenge, I'd paint the vanity, take down the medicine cabinet and replace it with a different storage unit that's not so bulky. While replacing the medicine cabinet certainly will NOT fit in the budget, I may see about painting the vanity… which leads me to wonder what to do with the medicine cabinet. Do I paint both the same color? I'm confused. Thoughts?
I'm SO excited to get started!
Wanna Jump Ahead?