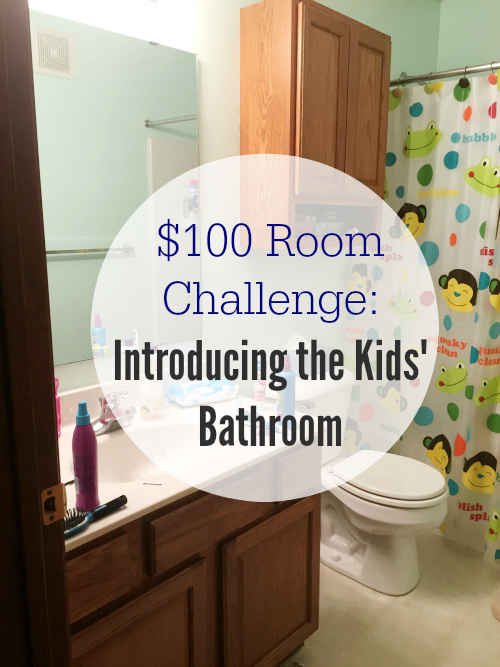 Yay!!! It's time for another $100 Room Challenge! We had a bit of a break because I did the One Room Challenge (still with a $100 budget) that finished up on November 8th. Now that we've entered into December, we're ready to start again. As you may see on your calendar, December has a total of 5 Wednesdays. While my original plan was to do these challenges in 4 weeks' time, I'm thinking I'll take advantage of that extra Wednesday this month and stretch the challenge over 5 weeks… because it's Christmas, and I'm gifting myself one extra week 🙂
So far I have tackled the mudroom/pantry and the laundry room with a $100 budget, and now I'm taking on my children's bathroom. Here's the scoop on this room… my youngest is now 5… and a half (which is very important at that age), so while we could go with the monkey and frog theme another year, my 9 and 10 year old were probably over the cutesy animals, like, years ago. Did I mention this is also used as our guest bathroom when people come to visit? Embarrassing. Remember, the before shots never involve cleaning or tidying. This is real life… toothpaste in the sink and all. Here's a look at the space: (Once again, no natural light. You'd think our house had no windows…)
Plans for the Space
Once again, Pinterest has become my best friend as I look for ways to transform this space into something more mature. (If you'd like to see my Kids' Bathroom Inspiration board, please have a look.) Now, I have high hopes for this space, but unless Santa is dropping off primer, paint, and paintbrushes for me, my budget may not actually be able to accomplish everything I'm hoping for… We shall see.
Paint the Walls- I don't like the paint color in this bathroom at all. I never have. So this is a priority for me. I'd like to do a light gray. Gray. Not bluish gray. Just gray. Anyone have a good light gray color they can recommend? I'm all ears! … And while I appreciate all ideas given, I may wind up going to the Environmental Center to grab some free paint if they have a good color… 'cause free is perfect for my budget.
Replace the shower curtain, soap dispenser, and toothbrush holder (which are all splattered with monkeys and frogs).
Organize- While the medicine cabinet has maintained its organized state, the area under the sink and

on

the sink could sure use a little help.
Towel Hooks- We have three children and 2 towel hooks on the back of the door. Drives me crazy. I keep my youngest's towel in his room, hanging from his closet door handle. There is a towel rack on the wall that never gets used, so I want to replace the rack with some DIY fun towel hook thing (Yes. That's what I'm calling it for now.)
Add some artwork.
Replace the white plastic wastebasket.
Replace the boring cream rug (which you actually can't see in any of the pictures, but trust me, it's there)? This is a "wish list item", certainly not a necessity.
Paint the vanity… and medicine cabinet??? This is not only where I think I'm running out of money, but also where I question what to do. If this were a "more than $100" room challenge, I'd paint the vanity, take down the medicine cabinet and replace it with a different storage unit that's not so bulky. While replacing the medicine cabinet certainly will NOT fit in the budget, I may see about painting the vanity… which leads me to wonder what to do with the medicine cabinet. Do I paint both the same color? I'm confused. Thoughts?
Alrighty. That's the room. Remember, if you are a design genius, or just have good ideas, please help me out… good light gray paint, and what do I do about the vanity/medicine cabinet situation…
I'm SO excited to get started!
Week 1 // Week 2 // Week 3 // Week 4 // Week 5
Want to Follow Along with Lemons, Lavender, & Laundry?
Subscribe!
Social media more your style?
Facebook // Pinterest // Instagram // Twitter