I am very excited to introduce a new series to Lemons, Lavender, & Laundry: The $100 Room Challenge! Let me be honest for a moment; I have almost zero dollars to renovate my home. This creates a bit of a challenge because I really want to make improvements. It hit me a couple months ago that I could try to stretch $100 over a 4 week time-frame, and see what I could do. This forces me to think creatively, try out some DIY ideas, and hopefully, end up with a better looking space in the end. Blogging about the experience creates some accountability, and hopefully you'll enjoy watching just how far $100 can go. This challenge will start the first Wednesday of the month and proceed for 4 weeks.
If this kind of challenge gets you excited, I'd love to have you join me! Set aside $100 and do what you can in 4 weeks to make one room better. I'd LOVE to see your before and after pictures- just email them to me! Are you ready? Here we go!
Introducing Our Mudroom/Pantry
Because our mudroom is attached to the garage, it is the first room we see when entering our home. Luckily, guests enter through the front door because our mudroom is a lawsuit waiting to happen. Honestly, in the five years we've lived here, it has never looked this bad. As we do more and more bulk shopping at Costco, this room is starting to overflow with gargantuan boxes of Lucky Charms and fruit snacks. Here's the before pictures… prepare yourself…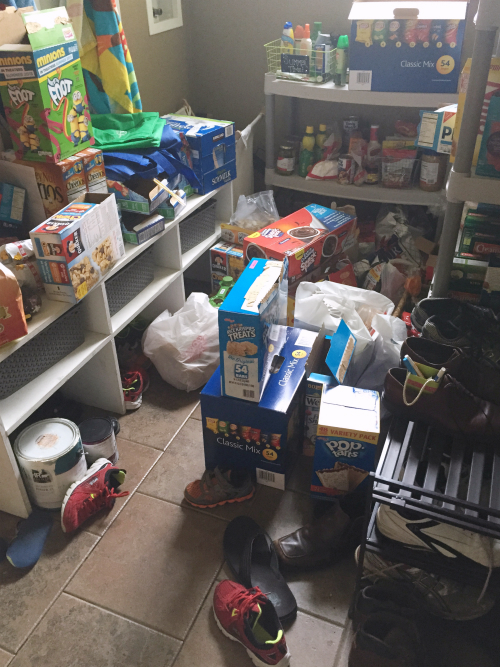 Doesn't this just feel like a warm hug saying, "Welcome Home"? No! You don't have to be polite. The answer is no. This is more like a scream, yelling, "Welcome to the chaos! Don't trip on your way in!"
Goals
It's always good to have goals for a project because goals keep you focused. Since I really only have 3 more posts in which to overhaul this space, I'm going to create 3 main goals:
Clean the space
Find options for food storage
Repaint the bench and make a cushion for it
I'm excited to share this little journey with you. Let the challenge begin!
Week 1 // Week 2 // Week 3 // Week 4
Want to Follow Along with Lemons, Lavender, & Laundry?
Subscribe!
Social media more your style?
Facebook // Pinterest // Instagram // Twitter