How much fun are reveal days? I just love sharing everything that gets accomplished over the course of one month with a simple $100 budget. During the month of March, I worked on a Master Bedroom Makeover. I had A LOT of goals for this space, but with such a limited budget, I knew I wouldn't be able to accomplish every one of them. None-the-less, let's see it turned out.
Here's the "before" shot, just so you remember where it all started.
It was a "fine" space, but kinda boring, kinda dark, kinda blah. Here were my goals from Week One.
Our $100 Master Bedroom Makeover
Goal 1: Paint
This was probably my favorite part of this whole challenge; not the actual painting part, but the fact that I was able to paint this entire room for FREE! I had expected to spend at least half my budget on paint, but a couple trips to my local recycle center scored me free paint; all I did was buy a new roller. Can't beat that. The room went from dark, beige-y brown, to a light, bright gray. The pictures don't do it justice. The change was incredible! You can read all about my free paint here.
Goal 2: Window Treatments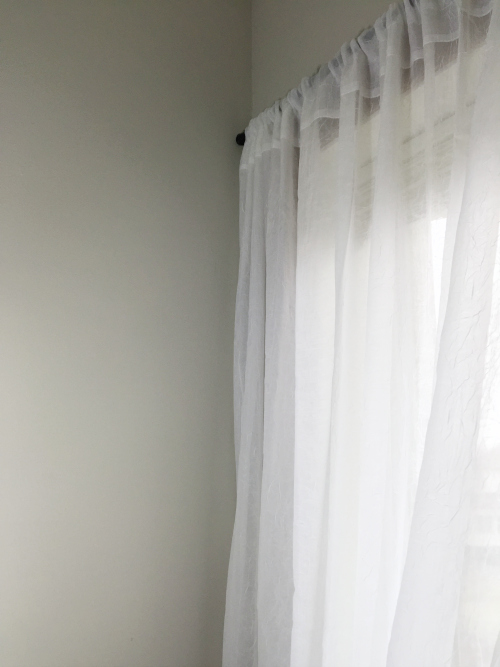 This week I got new window treatments. I wanted something simple, flowy… and inexpensive. I found it all. Once the curtains were hung, however, I felt they were taking over the space. I realized I needed holdbacks, despite not being a huge fan of them. The problem was this, my budget was dwindling fast. I decided to use some simple hemp and tie it, as holdbacks can be expensive… and I didn't have much space between the window frame and wall to work with.
Goal 3: Create A Gallery Wall
As you may recall from Week 1, I had vintage maps already framed, and our vows on canvas, but they'd been sitting on our bedroom floor for months. I finally got the gallery wall up last week. You can read more about the process here.
Goal 4: Bed Linens?
I didn't think I'd actually get new bed linens with such a limited budget, but after I was able to get free paint, this became an option. I found this one on Amazon (which arrived at 2:20 this afternoon… nothing like cutting the reveal down to the wire). I also wanted to get rid of the old brown pillow cases and I found some at Target.
Goal 5: Nightstand Makeovers
Alright… this didn't happen…
Goal 6: Do Something with the Cut-Out Above the Doors
… and this didn't happen either.
Here's the Master Bedroom Reveal… and, of course, it's picture day, so we've got clouds and rain. Boo.
Let's just pretend my old pillowcases are as white as that new comforter, okay?
A few Before and Afters:
The Budget
Up until this week, I had only spent $4.77. This week I spent the rest. Here's the final budget.
Bedding:
Comforter– $43.97
Pillow Cases x4- $13.30 ($6.65 per pack of 2) On sale, plus an additional 5% off with my Target Redcard
Window Treatments:
Curtains x2- $15.98 ($7.99 each after using 20% off coupon)
Curtain Rods x2- $8.54 ($4.27 each)
Hemp- $2.99 after 40% coupon
Total- $89.55. That's $10.45 under budget!!!
Wanna Catch Up?
Week 1 // Week 2 // Week 3 // Week 4 // Week 5
Love it? Pin it!