The holiday season is upon us, and we've been spending a lot of it at urgent care and doctor offices. Bummer. We've had pink eye, double ear infections, and weird viruses. I'm really hoping we're all the mend now.
I am SO excited to share what I've been working on over the past week. Remember that old window I bought? Well, it's now hanging in the kids' bathroom as a towel rack!
The biggest bummer came when it tested positive for lead. Anytime you buy an older piece of painted furniture (or window), I strongly recommend checking it for lead based paint. I ordered this simple lead test on Amazon. You basically squeeze two points on the stick and rub in on the paint you're testing. If it turns red, the paint contains lead.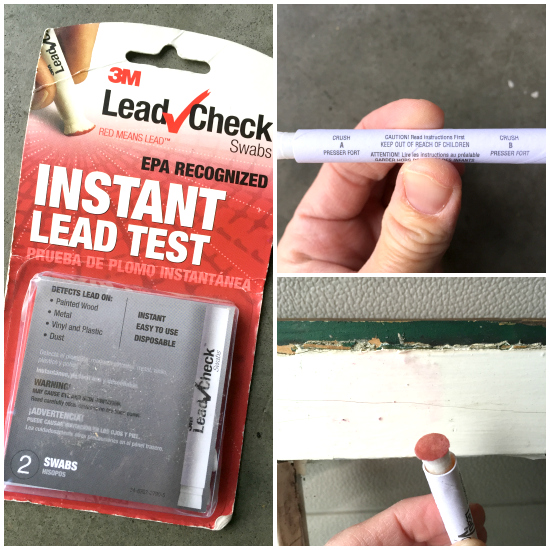 There are a couple options you have when dealing with lead-based paint: Strip it or seal it. After doing a lot of research, sealing it seemed like a MUCH easier option. My mother-in-law was willing to help me seal it with polyurethane down on their farm. They had everything I needed, so I was able to complete the process for free! (Thank you Ron and Kathy for your help!) I started by cleaning the window with a damp cloth to avoid lead dust entering the air. There were some areas on the window that needed new caulking, so my father-in-law filled in the spaces. My mother-in-law and I taped off the window glass and I applied a coat of polyurethane to both sides. I really wanted to keep the old chippy look.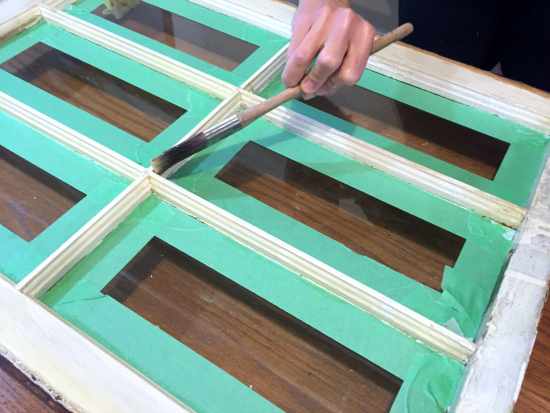 After the polyurethane had dried (a couple days), we added the faucet knobs which act as the hangers for the towels. So cute, right?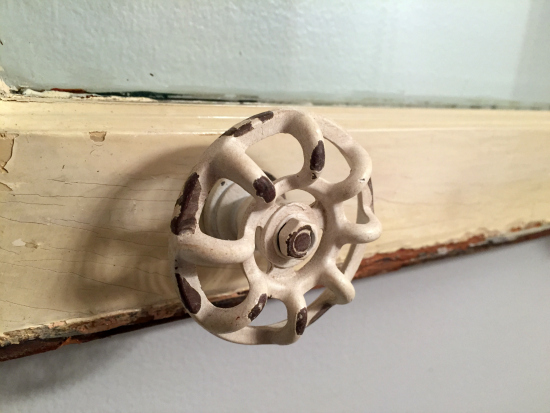 I added some ring hangers to the back of the window, and used drywall & stud anchors in the wall because I was hanging something heavy.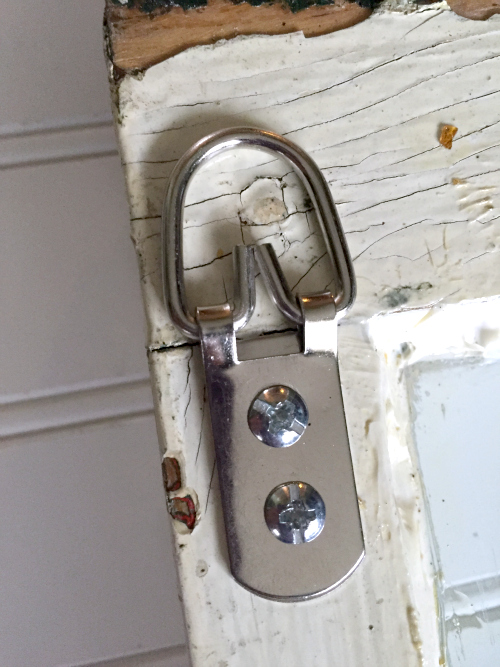 To personalize the towel rack, I printed some black and white pictures of my kiddos in the bathtub when they were little, and adhered them to the window with glue dots. I also added a little saying to fill in the blank window panes: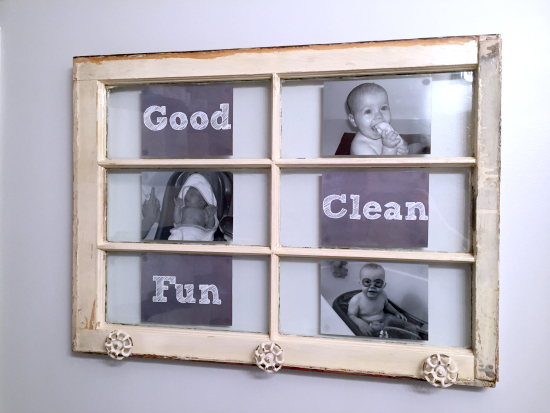 Now it's up on the wall and ready to use!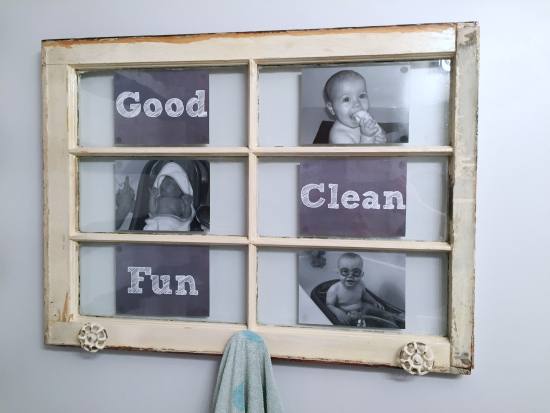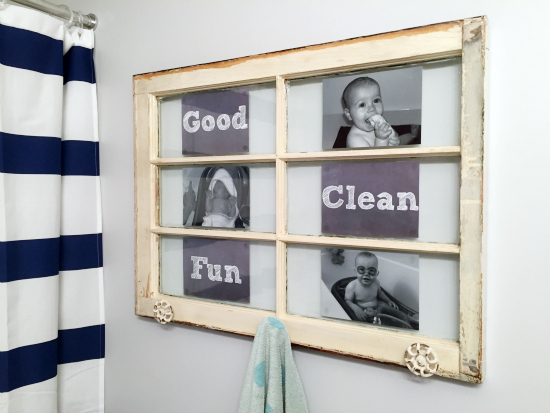 I am loving it! (With a little sneak peek of the new shower curtain.)
The Budget (So Far)
Last week I had spent $81.45. Just a few little items I bought this past week:
Ring Hooks: $2.24 (After using a 25% off coupon)
Drywall & Stud Anchors: $1.98
5×7 Black and White Pictures x3: $1.77 (59¢ each)
Glue Dots: $2.99
Clear Shower Rings: $1.19
Lead Test Kit: $8.49
Items to Seal the Window (Polyurethane, Paintbrush, Caulking, Painter's Tape): FREE as my in-laws let me use items they already had on hand
Total Spent So Far: $100.11
I know I'm 11¢ over the $100 mark, but I think I'm going to return my basket/towel rack and go a different direction, which may give me a little wiggle room… hopefully.
I hope you enjoy the holidays with family and friends this week. Next Wednesday, I'll have the full reveal, and I'm so excited to share everything with you!
Merry Christmas!
Erin
Week 1 // Week 2 // Week 3 // Week 4 // Week 5
Want to Follow Along with Lemons, Lavender, & Laundry?
Subscribe!
Social media more your style?
Facebook // Pinterest // Instagram // Twitter