Don't you love reveals? I think they're so fun; especially seeing the before pictures in comparison to the final result. In case you are feeling a little lost, let me briefly explain the $100 Room Challenge. I have given myself 4 weeks to transform a space/room in my home with a budget of $100. The challenge starts the first Wednesday of the month and continues for a total of 4 weeks. If you'd like to catch up on this $100 Room Challenge, you can do so here:
If you remember, I created three goals for this challenge:
Clean the space
Find food storage
Repaint the bench and make a cushion
… all for less than $100!
Here's a reminder of where we started… I know. It's really bad: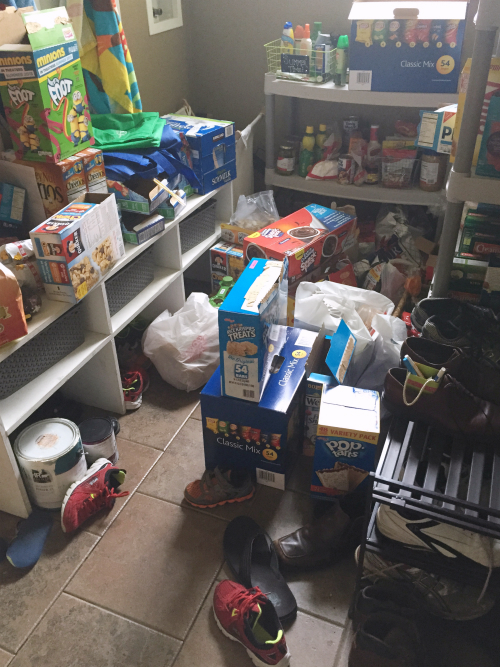 Seriously. Embarrassing.
Obviously, the first thing I needed to do was clean this place up, and I did:
Week three was all about finding inexpensive ways to store food, because those boxes just are not pretty. Here is just one thing I did: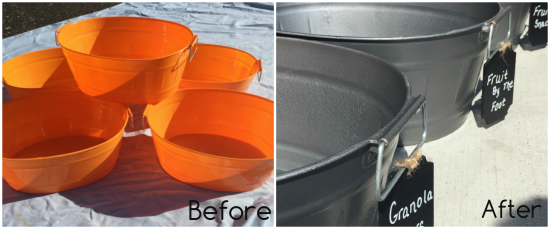 And here we are… week 4. First, I want to state that I did, indeed, make a cushion for the bench, but instead of doing the whole tutorial during the reveal, you can find it in this post. So, here's the bench that I semi-repainted (AKA: touched up the scuff marks) with the DIY cushion:
Thank you to all my Instagram and Facebook followers that voted on your favorite fabric! I went with the top pick… which happened to be my favorite as well.
Now for the reveal… I know, it's taken me way too long to get here…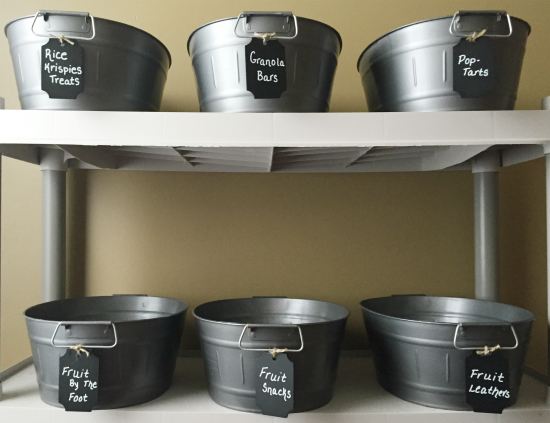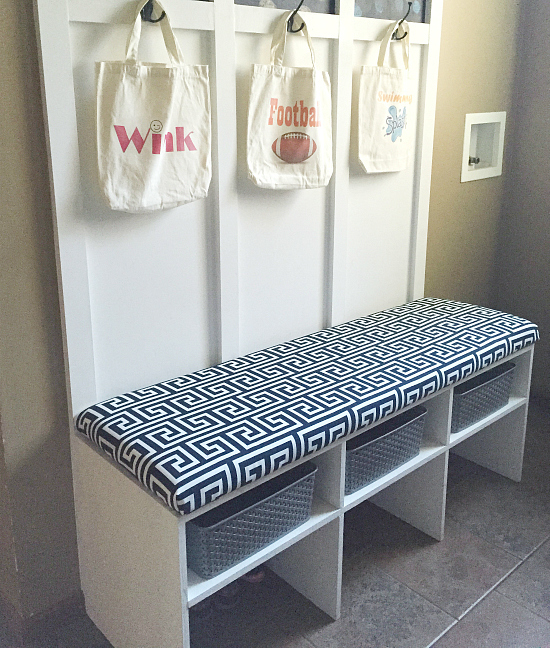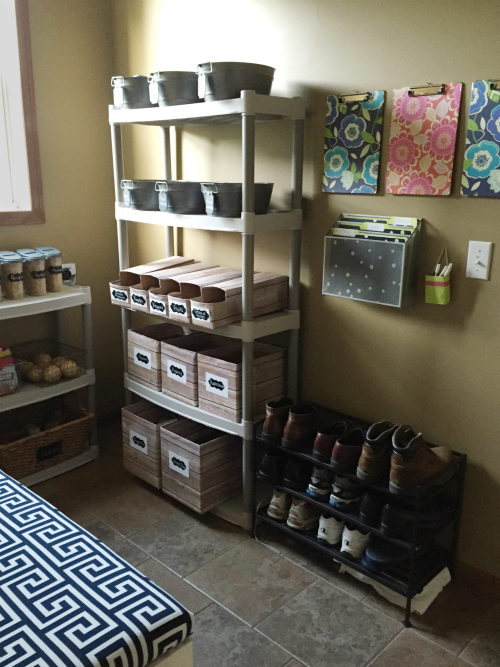 The Budget
We left off last week with me having spent $33.52. Since that time, here's what I've spent:
I decided to do one more plastic bin, so here's the cost breakdown:
Plastic Bin= $1.00
Chalk Label for Bin= $0.29 (After 50% off coupon)
I also ran out of the adhesive chalk labels, so I got more of those:
Adhesive Chalk Labels= $1.20 (After 60% off coupon)
Then I made the cushion:
Fabric= $20.98 (Little story. I don't know how to sew, so I thought I was going to have to go with a sideways pattern and, therefore, would need more fabric. A HUGE thank you to my aunt who helped sew a seam so I wasn't looking at a wonky pattern!!! This also means I had a lot of fabric left over. If I knew how to sew, or knew my aunt could help me, I could have gotten by with spending only $11.99, but I'm being honest with the

actual

amount spent.)
2″ foam= $27.22 (After 50% off coupon) I know! Who knew foam was so expensive? If I hadn't had my coupon, it would have been $54.44… over half my budget!
Batting= $4.36 (After 50% off coupon)
5mm Plywood= $3.89 (After 70% discount for using Home Depot's scrap wood)
Total spent on the Mudroom/Pantry= $92.46!!! ($7.54 under budget!)
Thanks for following along. This has been such a fun challenge. I hope you'll all join me next month as I start a whole new space!
If you are interested in trying your own $100 Room Challenge, I'd love to see what YOU come up with. Email your before and after photos to me, or use the hashtag #100DollarRoomChallenge on Instagram and Twitter!
Week 1 // Week 2 // Week 3 // Week 4
Want to Follow Along with Lemons, Lavender, & Laundry?
Subscribe!
Social media more your style?
Facebook // Pinterest // Instagram // Twitter