It's time for a $100 Room Challenge update. This month, I'm making over our entry with my $100 budget. The entry is currently dark and red, and, well, dark… and red. That dried lavender in the image above, is about the only pretty thing I've got in my entry right now.
This week involved a lot of shopping. Here's what's happened.
I Bought A Rug
I wish I had Sharon helping me out with every challenge. If you remember last week, she took on my entry for her "Design Dilemma" series. She found some rug choices for my entry, and I actually bought one that she recommended. I'll keep it a secret until it actually arrives, because, sometimes, you see it in the space and decide against it. Which one would you choose?
1.) Cost $35.73
2.) Cost: $22.77
3.) Cost: $28.54
I Bought A Mirror
Another item Sharon recommended was a mirror to go above the entry table. I took two trips to Goodwill hoping for the perfect one, but no luck. I scrolled through way too many Craiglist listings, and the only one I liked was "pending pick up". Then I went to my local "Swap and Shop" Facebook groups and searched through more mirrors… and I found it. I quickly messaged Sharon pictures, just to make sure I was on the right path, and she assured me I was. Twenty dollars later, I had a mirror… and got a free pallet and some free pine logs to go with it.
However, there's a bit of a dilemma with this mirror. While the color looks okay-ish on its own, when you put it up against the paint color for the walls… no way. It's like the mirror blends in with the walls rather than standing out.
I need to paint the frame, so I need paint color ideas. I have jumped on the farmhouse bandwagon, and I'm not afraid to admit it. I love the neutrals of Farmhouse decor, but we've got a beige-y wall with a white table, so I was thinking more of a bluish or greenish tone for the frame; something like Benjamin Moore Palladian Blue…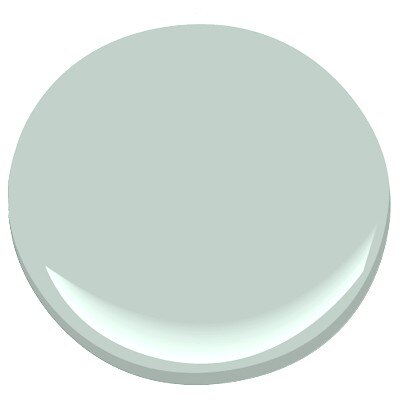 … or Sherwin Williams Sea Salt
Thoughts? Lighter? Darker? Different color completely? Throw out your ideas. I'm all ears.
Update on Paint
While I would love nothing more than finding my perfect paint color at the local recycle center (like I did for our Master Bedroom), I highly doubt this will happen twice. I did visit the center, and let me tell you, the paint was slim-pickings. I have never seen so little paint there. I'm going back tomorrow with low expectations, and then I'll need to buy some paint and primer… cause that red needs primer.
The Budget… So Far
Since the whole point of this challenge is to transform a space for $100, I like to let you in on where I stand in the moment. Here's what I've spent so far:
Mirror: $20
Total so far: $20
That's it. I do have the rug to go pick up and pay for, and once I'm certain it's staying, it'll be added to the budget as well.
Enjoy the rest of your week. I'm off to paint a table!
Erin
Week 1 // Week 2 // Week 3 // Week 4
Want to Follow Along with Lemons, Lavender, & Laundry?
Subscribe!
Social media more your style?
Facebook // Pinterest // Instagram // Twitter