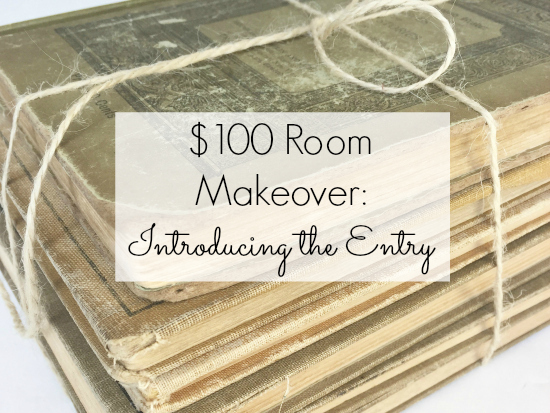 It's baaaaaaaaaaaaack! Time for another $100 Room Challenge.
It's been awhile since my last $100 Makeover, so let me give a quick overview:
One room. One month. $100.
… and that pretty much sums it up. For more detailed information (and links to all the rooms I've made over for $100) click HERE.
It was exactly one year ago that I started the $100 Room Challenge series, and in that time, I have made over 7 different spaces, each with a $100 budget. After completing my porch in June, I realized that having the kids home over the summer didn't allow me as much time to work on these rooms as I needed, so I took a little break for July and August. I sure have missed this series though, so I'm back for more.
This month I'm going to be working on my entry. Let's take a look, shall we?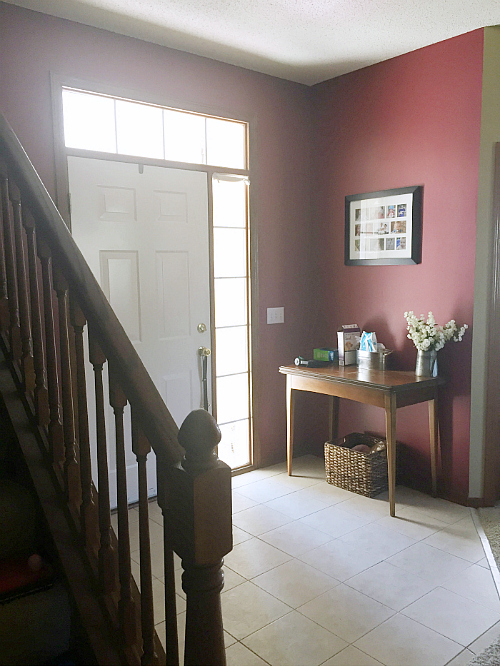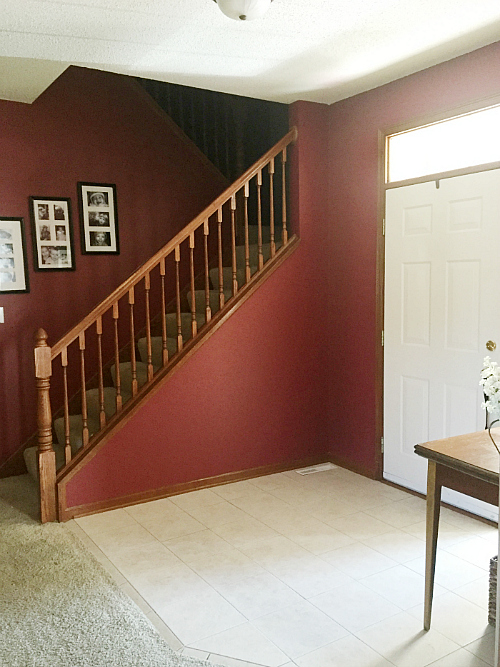 I am super excited this time around because Sharon, from Sharon Joyce Interiors, is helping me out with this space. Sharon was my first ever "blogging friend". We started our blogs within a week of each other, and emailed endlessly, asking for advice on navigating the world of blogging. Sharon recently started a series on her blog to help those with "design dilemmas". (Yep. That's me!) I sent Sharon the photos of my entry and she came up with some amazing ideas for the space. With Sharon's advice in mind, here are my goals for this entry.
1.) Goodbye dark red paint!
There was a time in my life when I really liked dark red paint, so when we bought this house, I didn't mind the entry… Six years later, I'm finally getting a feel for my "design style" and dark red is not part of it. I anxiously awaited Sharon's solution on this because I was stumped. Our adjoining living room is painted beige-y and I didn't want a clash of colors with the entry. (Here's our living room… which definitely needs some color, but that's for another day.)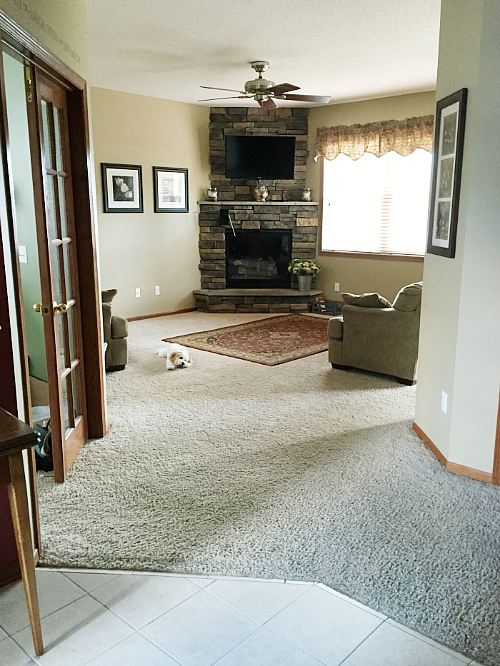 When Sharon suggested painting the entry the same color as the living room, it was an a-ha moment. Here, I was thinking I needed to go lighter than the living rooms walls, but Sharon's explanation makes perfect sense.
2.) Paint the Entry Table
I knew I wanted to lighten up the entry table by painting it white, and when Sharon recommended the same, I knew it had to be done.
3.) Wall Décor
I love family photos as much as anyone, but I'm ready for a change. In my mind, I was thinking of doing free printables in wooden frames, however Sharon recommended going with a mirror to bounce around the light. Goodwill, here I come!
4.) Rug
I'm am not even joking (although I wish I was); when we moved into our house, there was a large piece of carpet sitting on our tiled entry floor. The amount of dirt and grime that had accumulated was embarrassing. Remember, we live in Minnesota: snow, mud, rain, sand, dirt… You get the idea. I finally had enough of the nasty carpet piece and threw it away. I now feel a rug in necessary to warm up the space a bit. Sharon agreed and shared some suggestions on rug choices.
5.) Accessories
If you're an Instagram follower, you got a couple sneak peeks of the items I'm adding to this entry: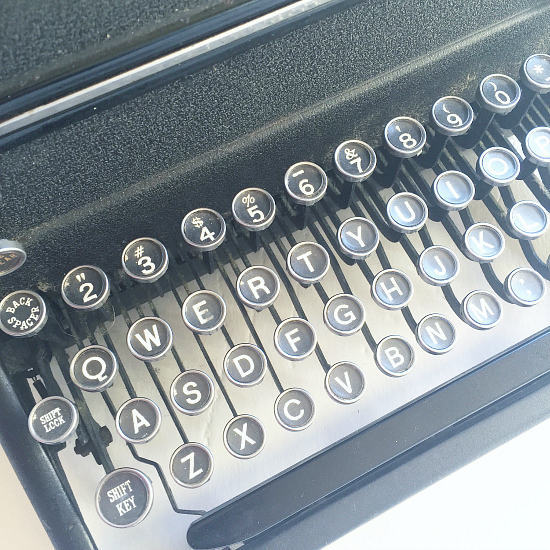 A couple months ago, I was out at the vintage stores in my area and found an old typewriter. I love it, and knew I wanted to put it in the entry.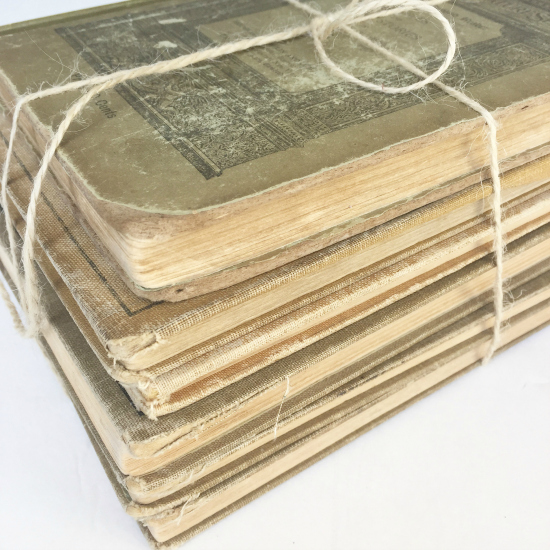 That got me thinking about other little items I could add, and I suddenly remember that my parents had old reading books that belonged to my grandpa. When I asked my dad about them, he said I could have them, and when he brought them over, I lifted out one of the books to find my great-grandfather's handwriting from 1893. How cool is that?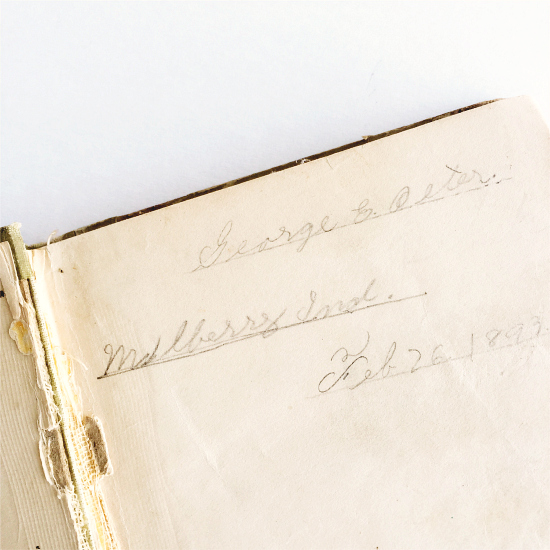 These books will definitely be making an appearance.
Sharon offered up some advice for staging the entry table with these items. She also commented on the basket under my entry table, which sorta made me laugh. I didn't even think about that basket under there, as its only job is to act as a toy catcher. My kids are notorious for leaving their toys scattered around, and since I think they should be responsible to put them away, I throw them in this basket so I can pretend my house is clean.
Sharon has even more ideas for this space… but we'll have to see how the budget pans out.
Week 1 // Week 2 // Week 3 // Week 4
Want to Follow Along with Lemons, Lavender, & Laundry?
Subscribe!
Social media more your style?
Facebook // Pinterest // Instagram // Twitter