I am so excited to be sharing some holiday inspiration with you today. Not only am I sharing my Christmas-y porch, but 29 other bloggers are contributing a bit of holiday cheer with vignettes, tablescapes, mantels, recipes, and more. A big thank you to Kendra from Joy In Our Home for hosting this holiday blog tour. If you are visiting from The Homemaking Momma, welcome!
I live where the weather isn't exactly warm during the winter. Nobody's sitting out on the front porch sipping hot cocoa… 'cause it is cold. However, I did want to create a welcoming spot for those entering our home (or for the Amazon guy dropping off my packages 🙂 ). This year I tried a few new ideas, as I really wanted the space to feel like an extension of my home. I started off by making a scroll sign with from a $1 roll of wrapping paper. (You can find the tutorial here.)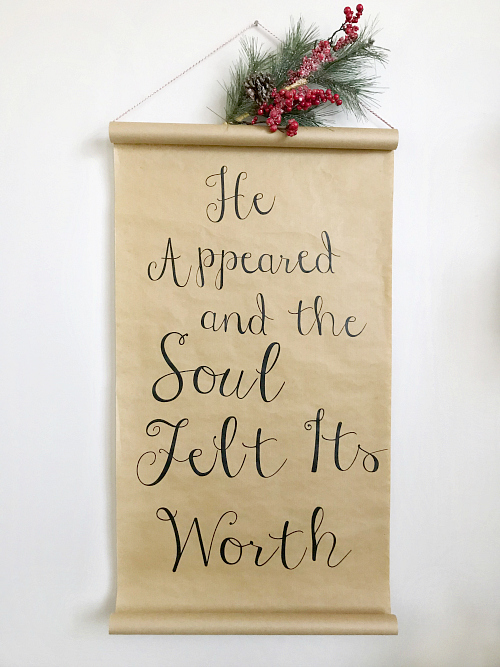 I love these scroll signs I'm seeing all over social media, but being that it was going to be hung outside, and might get ruined, I didn't want to spend a lot.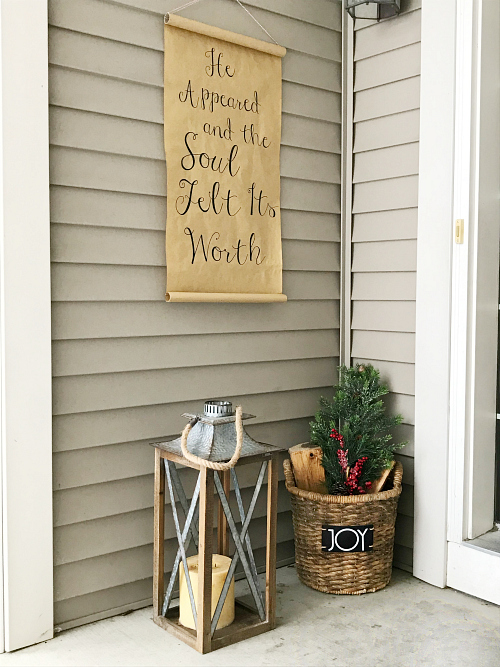 So far. So good.
Then I had a vision of a big chalkboard sign hung with garland surrounding it. Being that I'm always on the hunt for a good bargain, I headed to the dollar store and bought a piece of black foam board. I then used my Cricut to create the white lettering and punched holes the top corners and knotted a piece of thick jute rope to act as the hanger.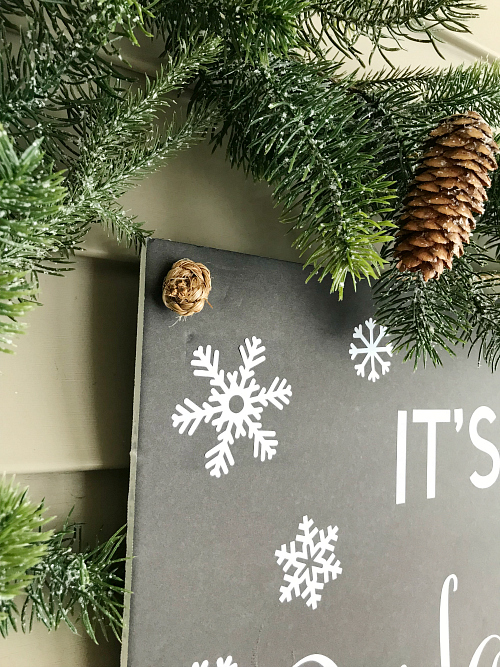 Truth: I am terrible at getting the lettering centered, and this was no exception. So, I added a few snowflakes to balance it out 🙂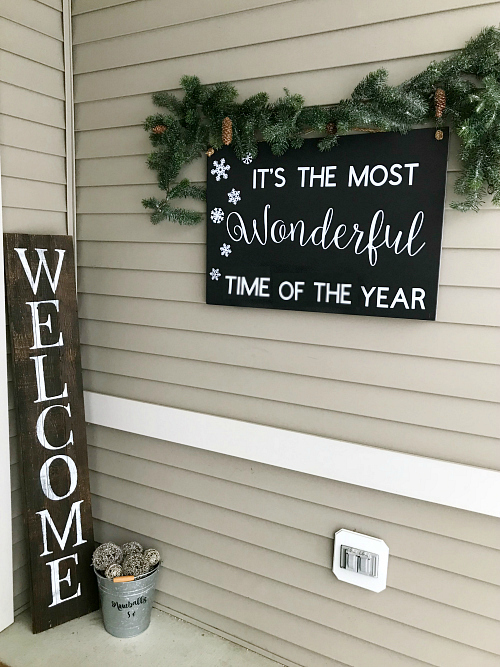 I used a piece of garland I already had on hand to frame it, and while I would have loved to have it a little longer, I couldn't find anymore this late in the season.
(Similar garland can be found here.)
I have a wicker basket (similar) that sits outside all year 'round; I just change up the word on the chalkboard label and add in a little bit of Christmas greenery for the season.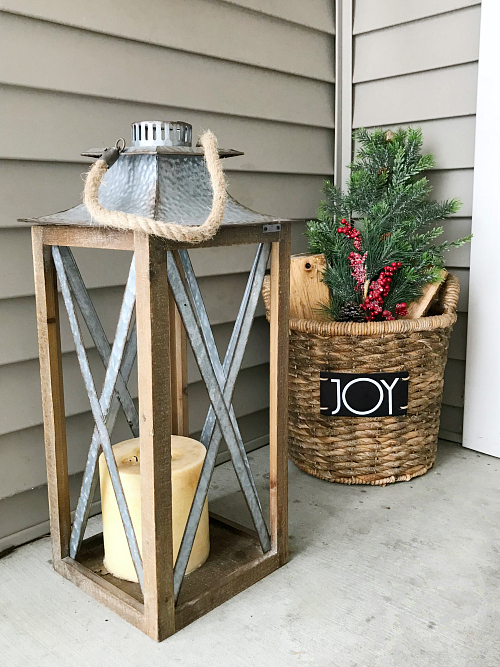 The lantern (similar) is a new find, and I love it! Adding a simple candle adds the perfect touch for the season.
*** It is recommended that you use LED flameless candles to avoid a potential fire hazard.***
I have a big DIY barnwood "Welcome Sign" that stays up through every season, but for Christmas/Winter, I added a pail of whimsical snowballs (similar).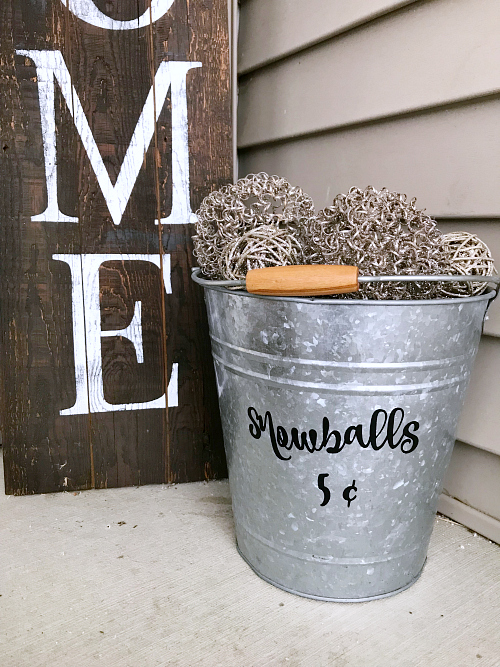 A traditional Christmas wreath hangs from the door, and I decided to add the words "Merry & Bright" by the door handle, just to spruce it up a bit.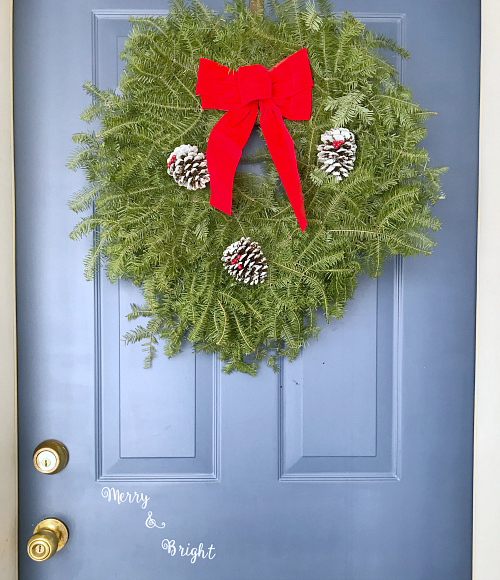 A few more pictures for you.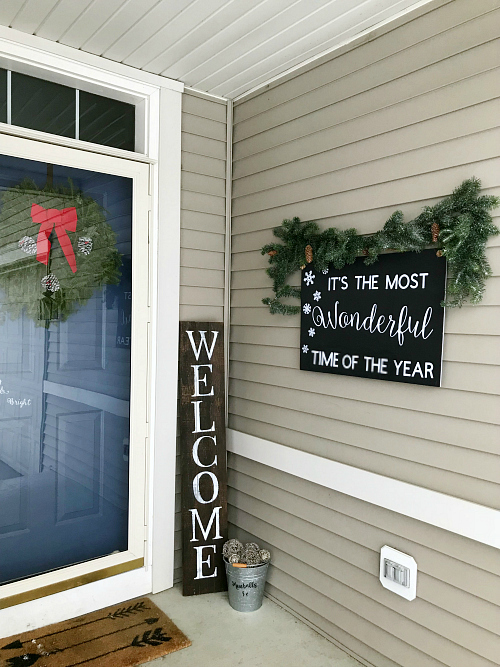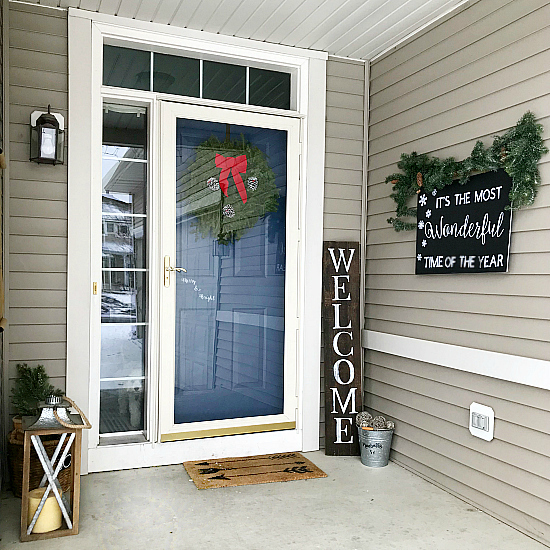 Thank you for stopping by. Make sure to head on over to Making It In The Mountains to see what she did for her Christmas porch… And for more amazing inspiration (with everything from Christmas mantels to tablescapes to recipes) check out all the bloggers participating in this Christmas tour!
Find More Christmas Inspiration Here
Love it? Pin it!