It is finally spring in these parts! Hallelujah! We're talkin' 80 degrees and sunshine over the weekend; completely atypical for April in Minnesota. My boys got their swimsuits on and ran through the sprinkler, we took the extra quilt off our bed; I even put the winter gear away (which has been known to jinx things in the past…). With spring approaching, we often get an itch to start cleaning and organizing. If you didn't have a chance to enter the Spring Cleaning Giveaway last week, hop on over and enter… right HERE.
Today we are discussing cast iron pans. I happen to love cast iron. You can get it hot and sear meats. You can put cast iron in the oven (I've used mine to bake a chocolate chip cookie pie). The surface is also non-stick if you clean and season it properly. And… cast iron gets better with age, unlike other cooking products. Today I'm sharing how to care for your cast iron pans to keep them in tip-top shape for years to come.
Here's What You'll Need: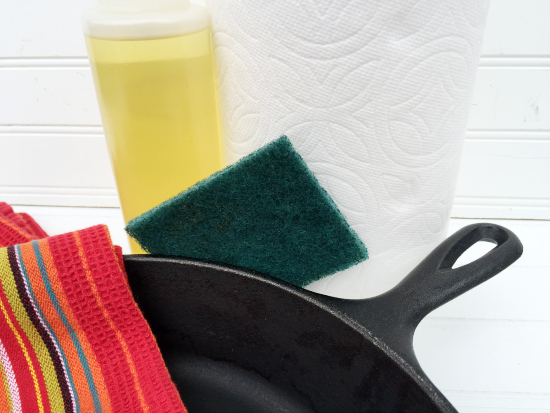 Scour Pad/Sponge/Dish Brush
Dish Soap- Optional… See Explanation Below
Dry Dish Towel
Vegetable Oil
Paper Towels
Directions:
After you have completed cooking in your cast iron pan, you want to allow it to cool slightly, but it's best to wash it while it's still warm.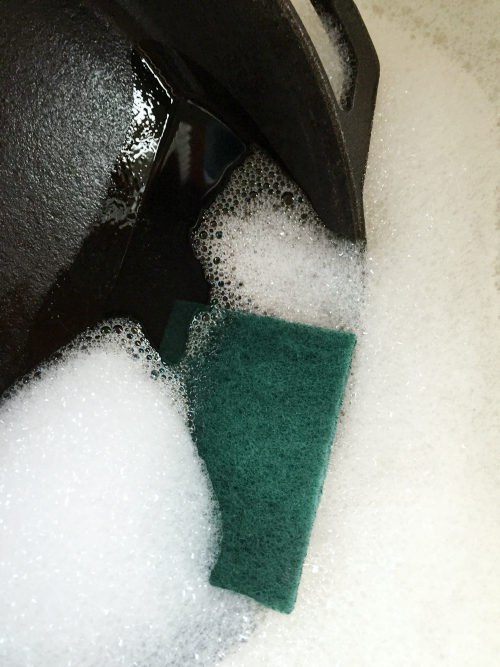 Start by washing your pan. Many people will tell you not to use dish soap on cast iron because it strips the seasoning (aka: oil) on the pan. I, however, have always used dish soap, and my pans have been just fine. You can make the choice for yourself as to whether or not you want to use soap. The key here, however, is not to let the cast iron sit/soak in the water as this will cause the cast iron to rust. Also very important: Never wash your cast iron pans in the dishwasher.
To avoid rusting, thoroughly dry the pan immediately after washing, using a dry dish towel.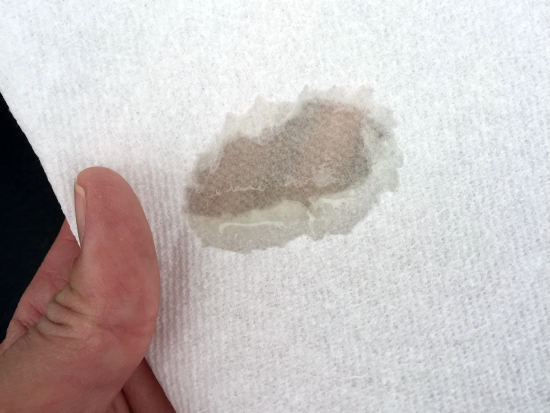 After the pan has been dried, grab a paper towel and squirt on a little bit of cooking oil on it. (I use Canola, but vegetable oil would be fine as well.)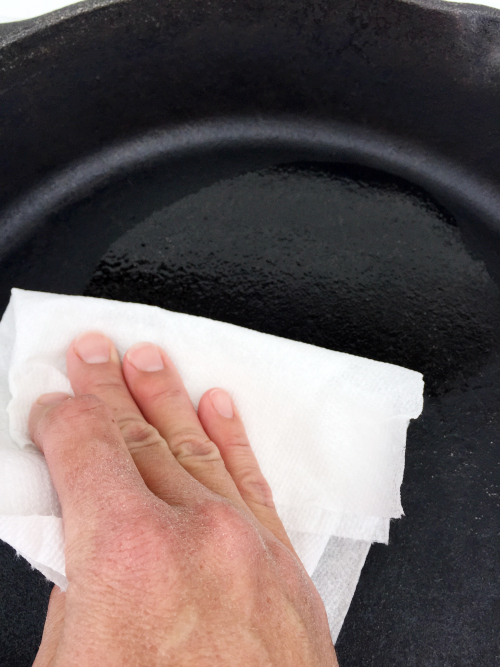 Rub the oil on the inside of the pan, both the bottom and sides. This is meant to be a very thin layer of oil, so don't overdo it or the pan will get sticky. After you've gone over the pan with the oiled paper towel, grab a clean paper towel and wipe it down one more time to ensure that there's not too much oil the pan. Allow the oil to sit for a few minutes, and then put the pan away to store until its next use.
This process should keep your cast iron pans in great shape for years to come.
Want to Follow Along with Lemons, Lavender, & Laundry? Subscribe!
Every email subscriber is entered into a monthly giveaway for products I think you're gonna love. Learn more here.
Social media more your style? I'd love to have you follow along:
Facebook // Pinterest // Instagram // Twitter // Google+
Love it? Pin it!