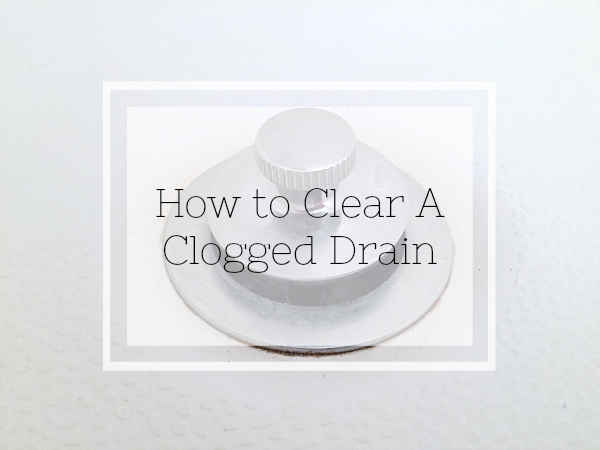 Clogged drains are awful. You wash your hands and watch as the water barely moves, leaving behind a soapy film. Today, I'm going to tell you a little trick that worked well for me… no Drain-O needed!
Here's What You'll Need to Clear A Clogged Drain
1/2-1 Cup Baking Soda
1/2 Cup Vinegar
Directions: How to Clear A Clogged Drain
I am going to let you know the exact process I went through when unclogging the drain in my children's bathroom because it was a little bit of trial-and-error. If I share the error part with you, perhaps you can avoid it and just unclog the drain properly the first time.
I am all about testing things out to see if they really work. For this experiment, I started by timing how long it took for one gallon of water to get down the drain; just so we could see how well this really worked. The time was 2 minutes! Two full minutes for one gallon of water to get down the drain! I told you it was slow.
I was about to add some baking soda down the drain, and saw a little blue thing staring at me. I got a tweezers and pulled something out… a little blue flipper from some Playmobile people. I also pulled out a little Playmobile apple and a piece of plastic… amazing what was in that drain…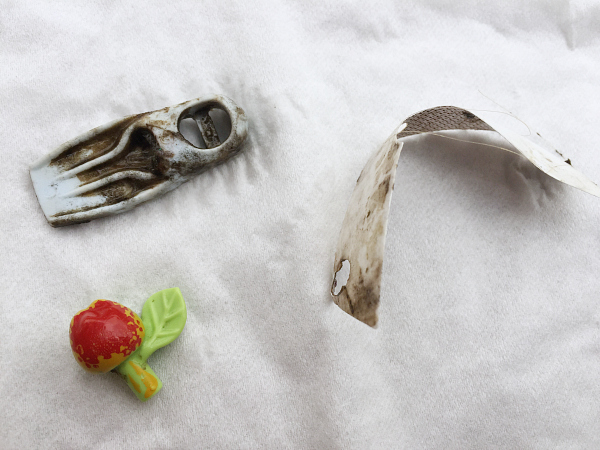 I decided pulling these items from the drain probably would affect the time, so I re-timed the process and one gallon of water drained in just 30 seconds! Amazing what pulling plastic things out of the drain will do.
I then tried getting 1/2 cup baking soda in the drain, and it was not easy! Imagine trying to get 1/2 cup baking soda into a 1/4 inch slit between the drain top and the drain itself. (More on that in a minute.) I then poured 1/2 cup vinegar in and closed the drain, waited 1/2 hour and ran hot water for a couple minutes (don't worry, I'll explain more in depth later). I could tell the water was still not moving well and little black bits were coming up from the drain, so I decided I needed to go the extra mile and really get into the drain. For many drains, you can remove the plug quite easily, not with this one. I actually needed a screwdriver to loosen a screw in order to get the top off, but this step proved extremely important.
Once I had the top off, I noticed a couple more pieces of plastic toy parts (what's the deal?) and the grossness of hair mixed with shower scum. I'm saving you from a picture of this because you might lose your lunch… I almost did. So. Gross. I got all that out and threw it away. Yuck!
Now I added 1/2 cup baking soda. Remember how I said I couldn't get the baking soda down easily? This still wasn't super easy because the pipe doesn't go down, it goes towards the wall, so I used my finger to push the baking soda in; but much easier than doing this with the top on. If your pipe goes straight down, you can add up to 1 cup of baking soda into the drain. You will now need to replace the plug because you will need it in order to keep the baking soda/vinegar mixture in the drain. Once the plug is in place, add 1/2 cup vinegar. This is going to cause some bubbling, and the key is to keep those bubbles in the pipes, so close the drain and slowly let the vinegar seep in, keeping as much of the mixture down the drain as possible. Leave it there, plugged, for 30-60 minutes. The last step is to run HOT water down the drain for a couple minutes. In order to get hot water up to the pipes, I run water somewhere else in the room (in this case, I ran water in the sink until it was hot). Otherwise, the water starts cold, and slowly warms up as you run it. It's best to start with hot water. Here's the final result! I again filled the tub with 1 gallon of water and timed how long it took to get down the drain: 13 seconds!
From two minutes to 13 seconds. Seems like a success to me! Granted, I did not time after removing the hair/shower scum grossness (Did I just mention that again? Sorry!). I'm sure that helped some too. Have any of you tried this out? What were your results?
This method can be used to maintain your pipes as well, just do the steps listed above. Ideally, you would do this once a month, but I really can't picture myself going through the house every month cleaning my pipes, so maybe every 2-3 months will be my goal. (Keeping small plastic toys out of the tub might also prove helpful.)
*Update- After reading a comment from a reader, I wondered if they made drain covers to actually prevent hair (and plastic toys) from going down the drain… and they DO! I am buying one for sure! Here's the link on Amazon: for a flat drain and for a pop-up drain.