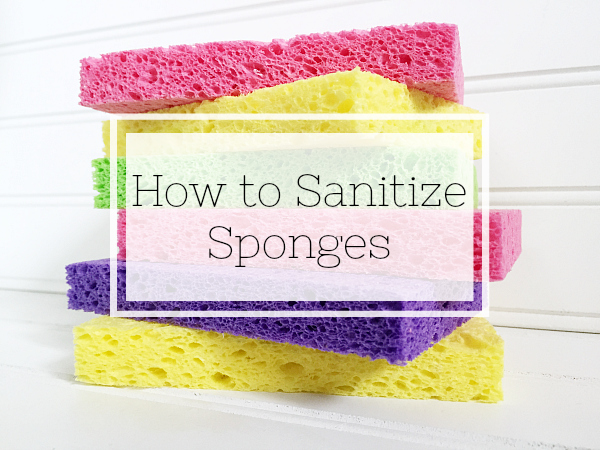 Before I realized you could disinfect sponges, I would throw mine away after a couple uses. I was sure I was just smearing germs around… and I probably was. Then, I discovered you can actually sanitize sponges very easily, and I wouldn't need to throw them out until they started to wear.
What You Need to Sanitize Sponges
All you need is a microwave and water.
How to Sanitize Sponges
There are actually a couple ways you can sanitize sponges:
Soak them in diluted bleach
Wash them in the dishwasher
"Cook them" in the microwave.
Here's why I decided to go with the microwave method:
I don't love bleach. It's a strong chemical that I try to avoid, unless the stomach flu hits, in which case bleach is my best friend.
For some reason I'm grossed out by the thought of nasty sponges in the dishwasher with my forks and spoons. Plus, in order to disinfect the sponges properly, you'd need to use the sanitize setting to create really hot water, and the heated dry setting. I try to avoid excess energy costs whenever possible.
If you want to use a different method, go for it!
All you need to do is SOAK, as in, saturate, your sponges with water, and place them on a microwave safe plate. Put the plate of sponges into the microwave and run it on high for 2 minutes. Do not grab the sponges out of the microwave right away. I know you're excited to get cleaning, but wait for them to cool first.
Please Note: I did the "microwave method" using cellulose sponges. This method may not work with other types of sponges.
Does This Method Actually Sanitize Sponges?
Because I'm a bit of a nerd curious, I wanted to know whether this method did, indeed, kill germs. I set out to find the temperature required to kill bacteria, but found an article that was even better! Good Housekeeping actually tested all these methods to see how well they killed germs… in an actual lab, with real scientists. Here were the results:
Bleach: Killed 99.9%, which is what is needed to be considered "sanitized" by the EPA.
Dishwasher: Killed 99.9% on household sponges, but missed a few E. coli (99.88% killed) and salmonella (99.86% killed) in the lab-treated sponges… By lab-treated, I mean sponges that scientists actually infested with various bacteria. So, unless you're deliberately pouring E. coli on your sponge, you should reach the coveted 99.9%
Microwave: Also achieved a 99.9% kill-rate on household sponges, but missed a couple E. coli on lab-treated sponges, getting only 99.83%.
I'm sticking with my microwave version because I have no intention of purposely infesting my sponges with bacteria.
*As a side note, the lab also tested the disinfecting power of vinegar, ammonia, and a washing machine. The results?
Vineger: 99.6% killed
Ammonia: 97% killed
Washing Machine: 93% killed
Love it? Pin it!