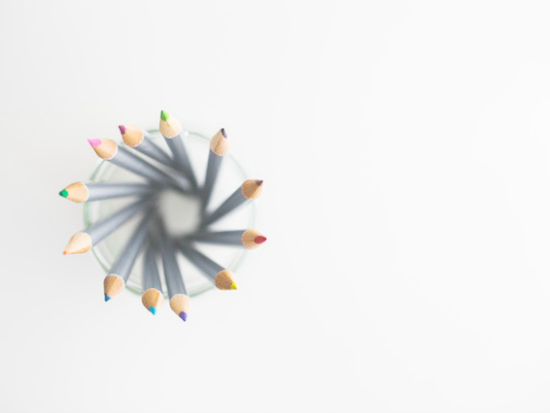 During the month of February, I'm taking a break from doing a $100 Room Challenge in my own home and, instead, looking at what I would do in your homes. Readers submit pictures of spaces that are in need of some love, and I write up a post about what I would do in that space, with a $100 budget.
Today we are taking on a craft room. Let's start by taking a look at the space.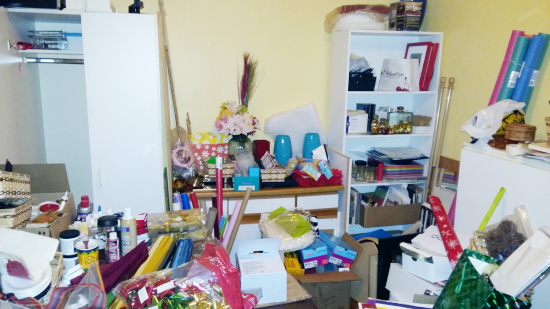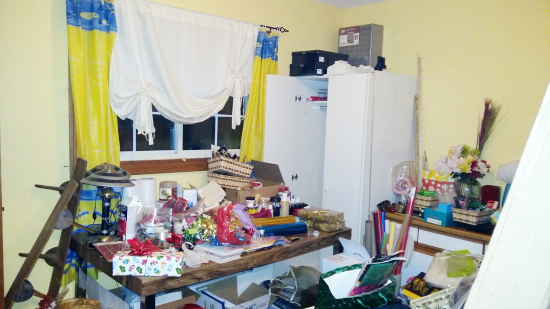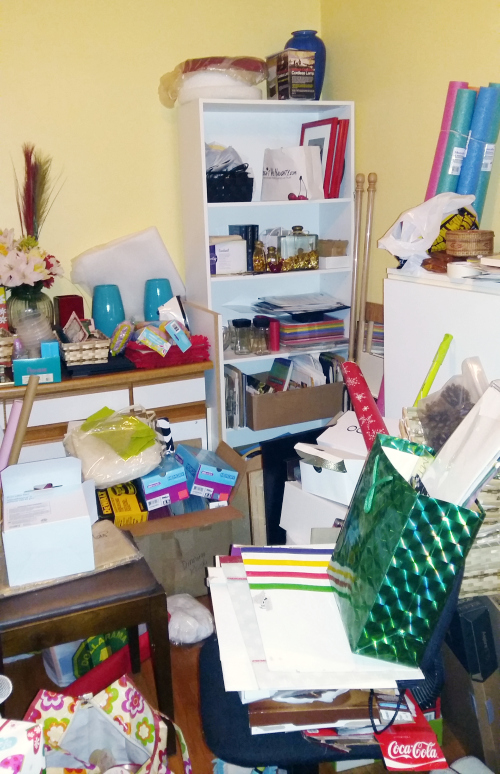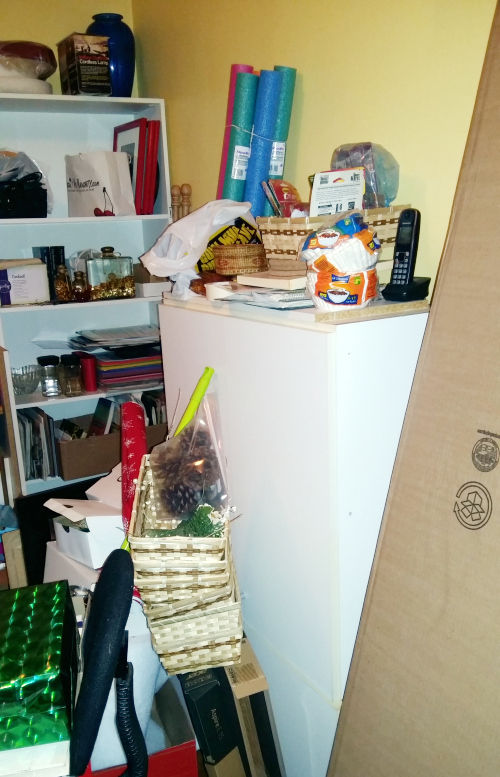 When Laura sent me these pictures, she expressed her utter embarrassment about this room's disorder, but you know what? This space is real. I think many of us have a place that becomes a catch-all for our stuff. (Like, my basement. Total disaster.)
Goals For This Craft Room Makeover
Remember, this isn't my craft room, so my goals don't matter, what does matter is what Laura wants for this space, and here's what she said.
Photo by Torie Jayne – Discover shabby-chic style home office design inspiration
Goal 1: Craft Room Organization
Sometimes the thought of organizing can feel very overwhelming; especially when there is a lot of stuff that has no dedicated home. Organizing this craft room is the very first thing that needs to be done. Just this one step alone will make a huge impact on the space. Here's the steps I would take:
Grab some trash bags and boxes. The trash bags are for items that you no longer want/need, and are not in any shape to donate: wrapping paper scraps, glue bottles that are dried out/empty, etc. The boxes are going to be separated out into three groups:

Items to Donate. If you have things you no longer use/need, but are still in good shape, donate them. Remember that you can use these items as a tax write-off at the end of the year, so keep track of your donations.
Items to keep… but not in the craft room. Often times, in "catch-all spaces" items that belong in other areas of the house start to accumulate. If it doesn't belong in the craft room, add it to this box.
Items that belong in the Craft Room. The last box is for items that you want to keep in the room. You certainly don't have to put everything into a box, but sometimes it helps to clear out the space first, and then add things back in.

Take out the trash and put the box(es) of items to be donated in the car. There is something satisfying about getting rid of stuff. Take the trash out and bring items to donate out to the car. This clears out the excess. Plus, with the donation items in the car, you're less likely to forget to actually take them to the donation center 🙂
Remove the boxes of items that belong elsewhere. If it doesn't belong in the craft room, get it out of there. I realize there may be a lot of stuff that doesn't belong in this space, so work on it over the coarse of time, but don't keep it in the space you're trying to organize. It's just extra stuff that doesn't allow you to move forward.
Sort through the items that belong in the Craft Room. You want to group like items together when you're working on a space. Scrap paper all together. Yarn? All together. This is going to help you find a home for everything you want to keep in the space.
Find a home for everything. I don't recommend going and buying items to organize until you know exactly what you need. Why buy 27 plastic totes, only to find out you needed 10. When it comes to organizing I recommend several budget-friendly ideas:

Use Items You Already Have. If you have totes, baskets or boxes already, don't go buy more. Shop your house and use what you have.
Reuse Trash Items. I just wrote a post last week about using "trash" to organize. Think cereal boxes, soup cans, glass jars from jelly or spaghetti sauce, tissue boxes… the list goes on. For more ideas, check out this post.
Buy Items and Give Them A Makeover. I love heading out to the local dollar store and buying their plastic bins. You can get 1 large, or 2 smaller bins for $1. Add some spray paint, and you can completely change their look. I did this in our mudroom, coat closet, and master bathroom.
This post shares even more ideas on making over plastic dollar store bins if you're looking for other options
4. Other Budget-Friendly Organizing Options. There are some items I love for organizing, and depending on how much of your budget you use in other areas, you might be able to splurge a little here. Here are some ideas (Click on the image for more details):

*Cost: Free-$100+
The great part is, Laura already has shelving and cabinet space, she just needs some containers to hold her supplies.
Depending on what you find around your house, and how creative you're willing to get with trash, you could technically organize everything for free. If you're okay with spray painting a bunch of plastic bins, you might spend $10-20 on bins and factor in $10-$20 on spray paint. Or you could use your entire budget, all on organizing containers.
Goal 2: Bright and Happy Room to Motivate
Paint. Laura chose out the yellow wall color and no longer likes it. This happens a lot. A color that seemed perfect ten years ago (or 6 months ago), may no longer fit our taste. Paint is an easy fix. It's cheap and makes a huge difference in a space. Laura mentioned that she loves both red and gray. If the goal is brighter, I would go with a light gray. While there are beautiful reds out there, they tend to be darker and can make a room seem smaller. Instead of painting the room red, I'd go with light gray on the walls and add some red accents for a pop of color. (The red could come in the form of a rug, a red chair, or artwork.) Here are some paint colors that might look amazing in here:
Benjamin Moore Graytint ↓
Benjamin Moore Edgecomb Gray ↓
Benjamin Moore Stonington Gray ↓
Photo by REFINED LLC – More contemporary home office ideas
*Cost: Free-$30
I always recommend going to your local recycle center to see if they have any paint. That's how I painted our entire master bedroom for free. I found two half-filled 5 gallon buckets of paint (that looked similar in color), poured them together, and painted our room. Another option is to check out discounted paint at your local hardware store. Sometimes colors don't mix right, and you can get them at a deeply discounted price. If none of those options work out, one gallon of paint should suffice for this space. Remember that you can often color match in cheaper paint. For example, if you fall in love with a color by a certain brand that happens to be really expensive, you can head over to Home Depot, and they'll color match it in their more budget-friendly Behr paint.
Remove/Replace the Curtains. Another idea to brighten the space is removing the curtains, and either leaving them off entirely to allow light in, or finding a lighter, more sheer fabric to hang. This would, obviously, be an additional cost if you go with new curtains, but you can find curtains that are rather cheap for around $10 (Check out IKEA or Kohl's. That's where I've had luck.)
*Cost: Free-$20
Personally, I would just take down the curtains and leave the window open to let in more light, which would be free 🙂
Add some Accessories. This is a great time to "shop your house" for items you may already have. Add some seating (better if it's red 🙂 ) or a rug to add a pop of color and some warmth to this space.
*Cost: Free-$100+
Add some Wall Art or A Command Center. The last idea for brightening and motivating is to add some artwork or a command center as décor. This doesn't have to cost much (if anything). My go-to for free art is Pinterest (as matter of fact, I have a whole board dedicated to Printables, and most are free for personal use.) You can simply frame them and hang them in a gallery, or scatter them around the room. Most of us have frames on hand, but, if not, the dollar store is a great place to find them. Check out this post for more ideas on free wall decor. Another idea is to add a "command center". This could be as simple as adding a large bulletin board (like the image above) or adding several items, like a calendar, hanging wall files, and/or a chalkboard/whiteboard.
*Cost: Free-$100+
Goal 3: Layout for the Table and Cabinets
Storage is always great in a craft room, and Laura has a lot in here. The table is a great asset as it provides a place to work on her crafting. She can spread out everything she needs while working. I'd keep this table for sure. I also love the shelving unit. This allows for storage containers to be housed. You can line the shelves with jars holding pens, markers, paintbrushes, etc. Larger containers can hold washi tape, gun sticks, etc. Baskets can hold other crafting materials, and everything can be placed in this unit for storage. There is also a unit with drawers. Another great asset for holding crafting items that may not fit into containers.
Then there is a unit that has double doors with a shelf and rod for hanging. I, personally, would take this unit out of the room. It doesn't serve much purpose as there aren't many crafting supplies that you would hang.
Laura also has some cabinets that she'd like to hang. This is a little tricky, being that I'm not actually in the room to see all the options, and honestly, room layouts are not my forte. I feel like cabinets floating on a wall would look a bit strange, so you'd want to balance it with something underneath. I would say maybe above the unit with the drawers, but this may look, again, like floating shelves, especially if they stick out from the wall more than the "drawer unit".
Based solely on what I'm seeing, this is what I would do, but I've got some amazing readers that I'm sure could weigh in with some advice.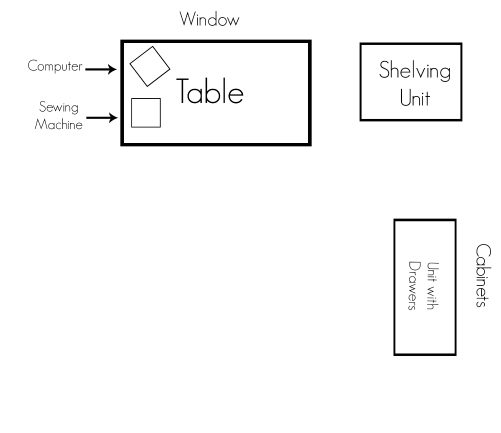 Goal 4: Place for Sewing Machine and Computer
Laura wants to have a designated space for her sewing machine and computer. I think the best spot would be at the end of the table, as you can see in the image above. While I would typically put these items in the middle of a desk or table, since this is a craft room, you want a lot of surface space for projects.
Total Budget-
Organizing Items- Free-$100+
Paint- Free-$30
Curtains?- Free-$50
Assessories- Free-$100+
Wall Art- Free-$100
Room Layout- Free
Here's what I would budget for: I would expect to spend $30 on paint. While it's wonderful to be able to find it free or discounted, you can't depend on that. I would then use about $30 on organizing items. Obviously, Laura has a lot of craft supplies, so she may be able to DIY some organizing items herself, but there are probably some items that she could splurge on to get a cohesive look. The last $40, I would spend on some accessories for the room. Maybe a rug to add in some of that red color Laura loves; maybe a vintage wood chair to paint red, or perhaps some frames, or wall art.
*All costs are estimates based on standard retail prices. This could be higher or lower depending on where you live.
Love it? Pin it!