I have been waiting for this day all month long… It's reveal day!!! And this time, it's not just one room reveal, there are 24! Just in case you are stopping by for the first time, let me quickly explain the $100 Room Challenge: Choose one room in your home. Make it over in one month… and do it all with only $100. During the month of January, I worked on a dining room makeover, and I am so excited to show you what it looks like.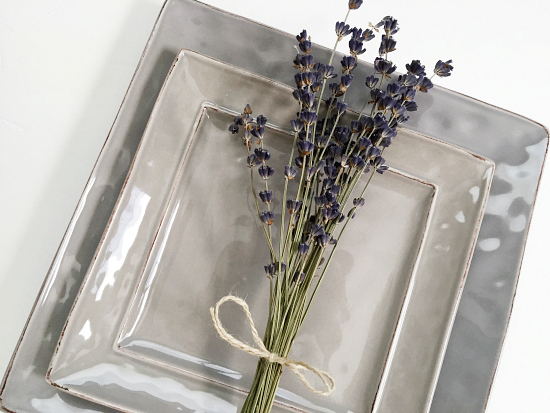 Before we get to the pretty pictures, let's take a look at this room back at the beginning of October…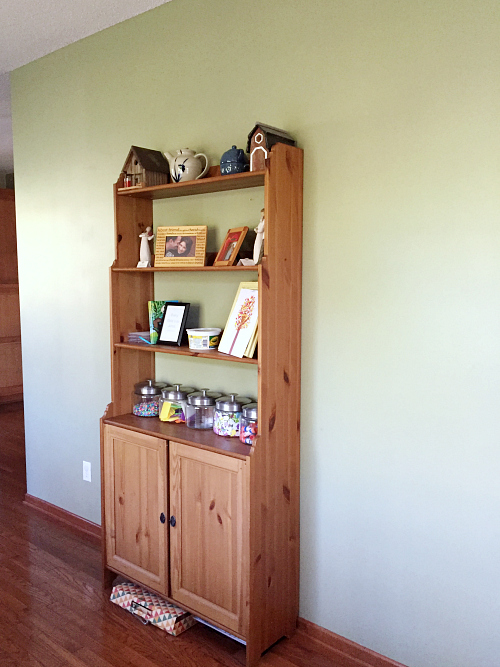 See that huge wall with a tiny little hutch? During October and November we made this area into a coffee station. By mid-November, we had this…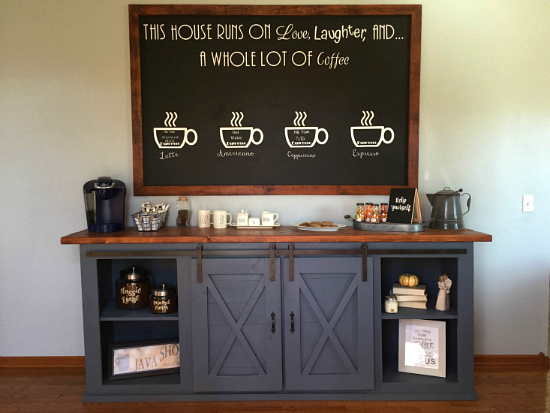 Can you believe that's the same space? While I was absolutely in love with the coffee station, the actual dining area still looked like this.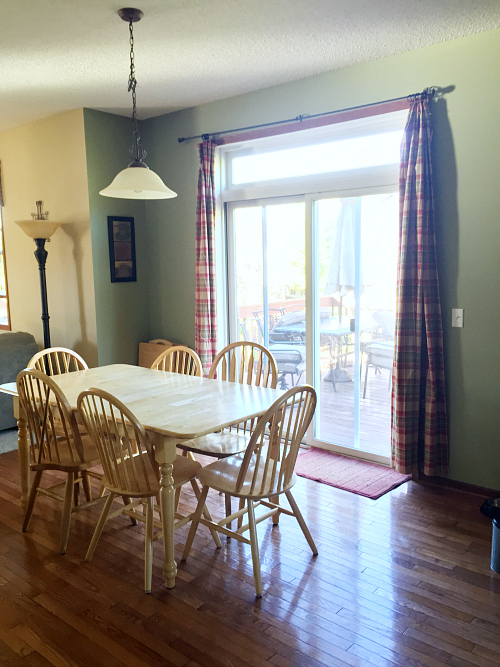 That's why this month was used to make the dining space cohesive with the coffee station, but I only had $100 that I could spend. Let's take a look back at the goals I had during week 1
Our $100 Dining Room Makeover
Goal 1: Paint
I'm not sure how well it shows in the above images, but the wall with the coffee station is bluish gray, and the other walls are kind of a sage green. These two colors do not go together… at all. During week 2 of this challenge, I completed the rest of the area in Lunar Surface by Behr.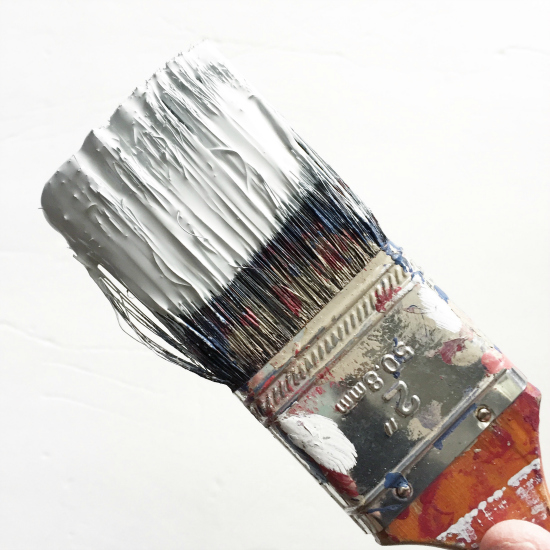 Goal 2: Redo Table and Chairs
So… let's talk about that pine table and chairs. They match nothing. My hope was to complete both the table and seating, but this was only half accomplished. While we were able to finish the table, we had an unexpected trip to Phoenix to attend a friend's memorial service. I wouldn't have missed it for the world, and certainly not to stay home and redo some chairs. So table: Done. Seating: Still on the to do list. You can learn more about the table transformation here.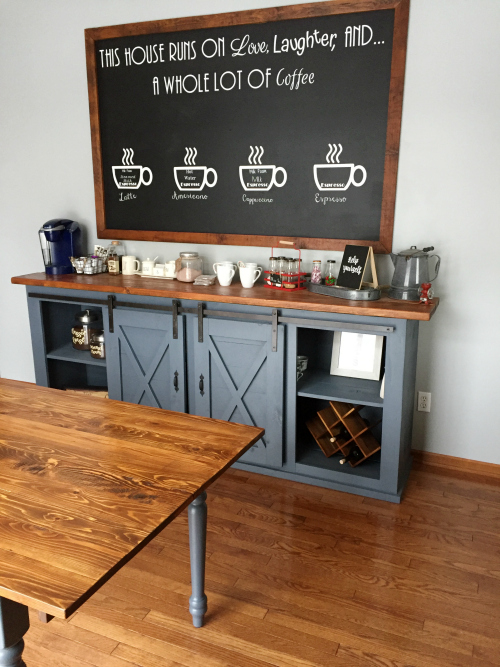 Goal 3: New Curtains
Last week, I shared a few "budget friendly" curtains options, because with a tight budget, there's not a lot you can spend. I ended up finding two panels at IKEA for a grand total of $14.99. Perfect. (You may remember that my previous curtains shrunk in the wash, so they were hanging about 6 inches off the ground… not anymore.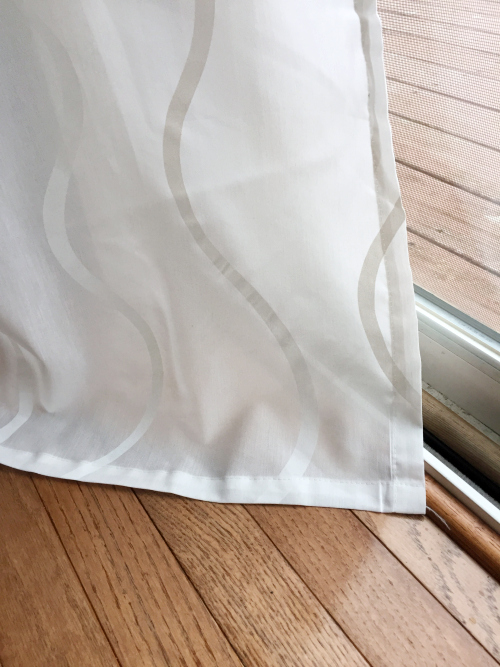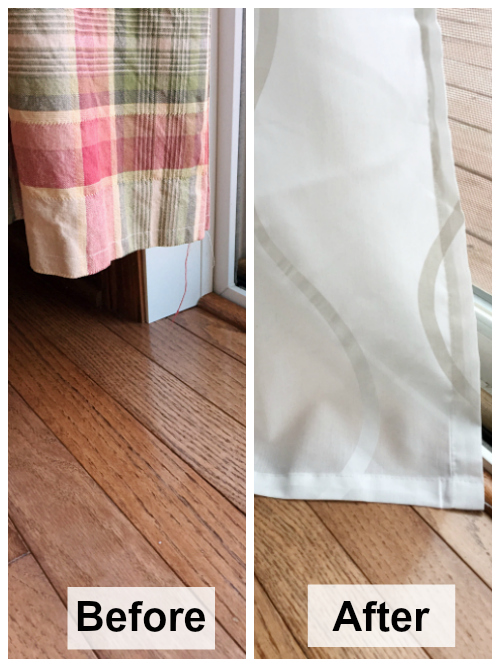 Goal 4: Wall Décor
While I had "coffee décor" already hanging up, it didn't seem to have the right vibe. I really love the farmhouse simplicity and use of rustic materials, so I had my dear husband make me a couple things: one plant holder from leftover wood from the coffee bar, and two wooden signs out of some old barnwood we already had. (I did do the sanding, staining, and lettering though 🙂 )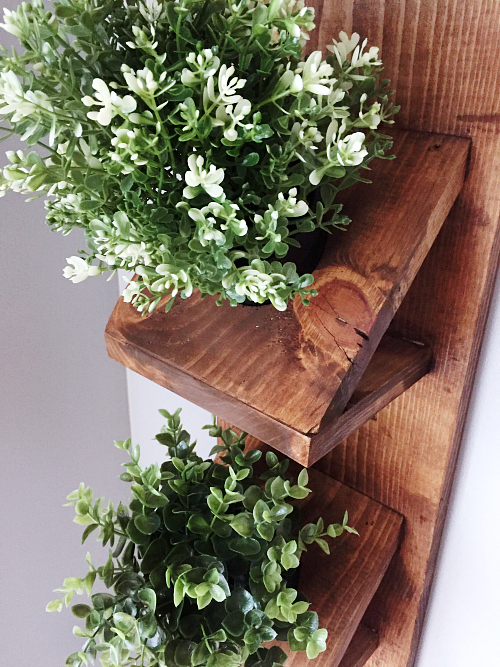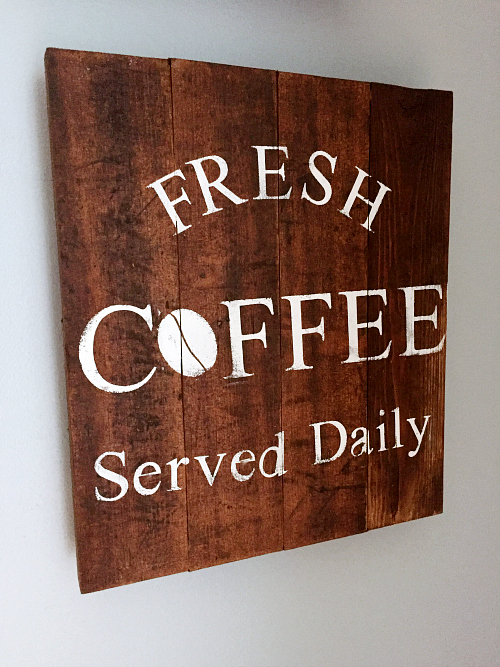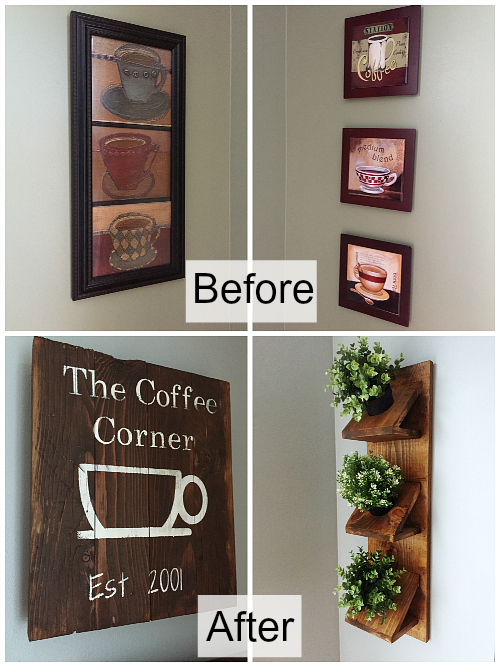 Yes. Those are fake plants in the planter (another IKEA purchase). I seriously kill everything that comes in the form of a plant.
Goal 5: New Light Fixture
Honestly, I didn't really think this was going to happen, and it didn't. While I love a good challenge, finding a light fixture I really love, on a tight budget, is tough. I have some idea of what I want… something like this DIY from Love, Create, Celebrate.
Source: Love Create Celebrate
How incredible is that!? I'll have to convince my husband to add to his to-do list. (Wish me luck 🙂 )
Alright. Are you ready for some pretty pictures? Here you go.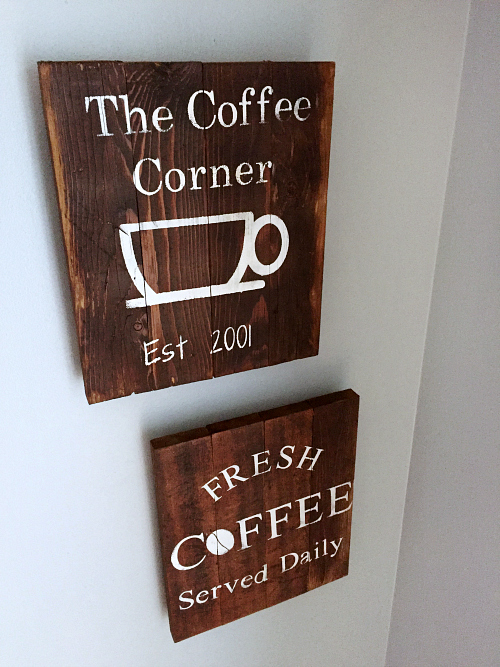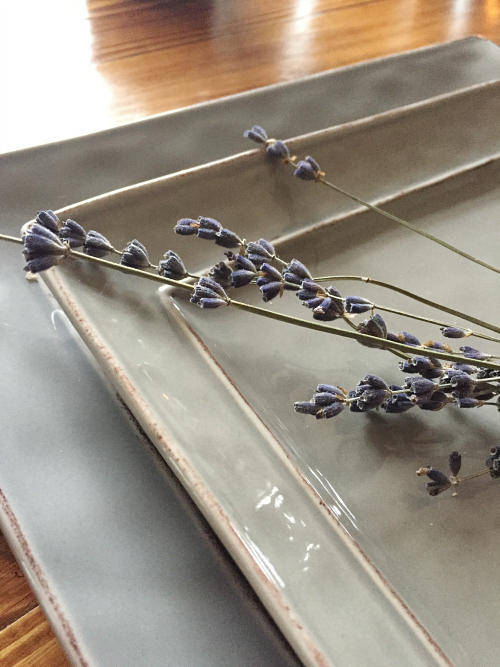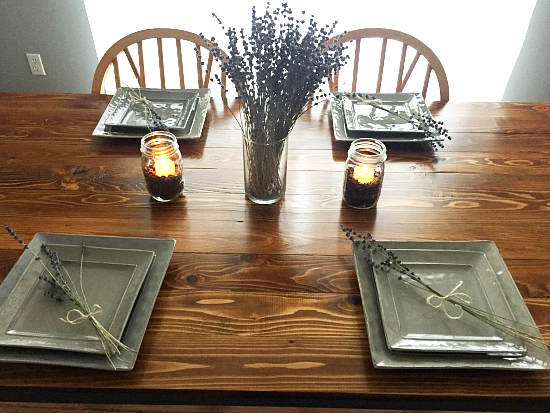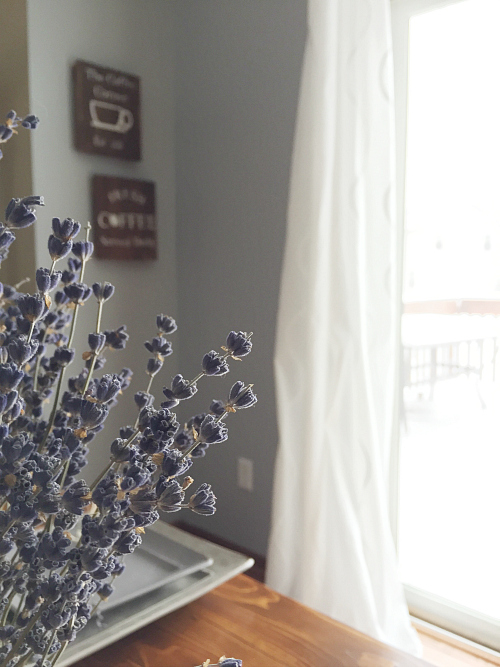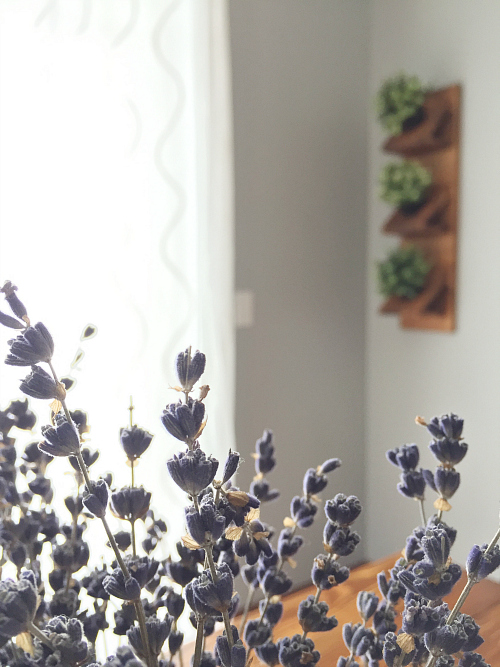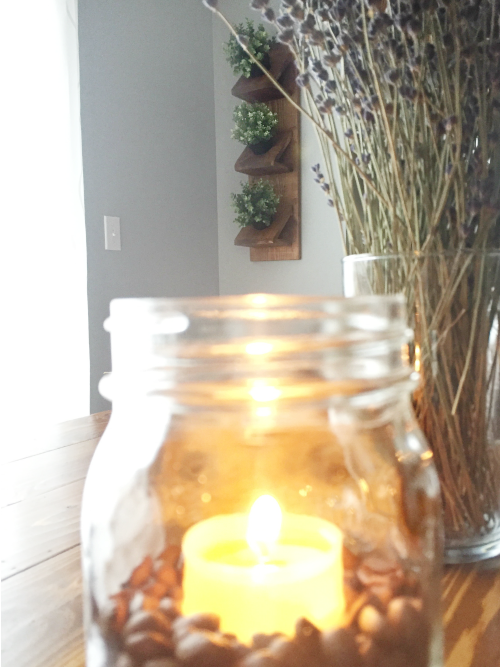 Some coffee beans in a mason jar with a vanilla tea candle? Perfect centerpiece… that smells amazing, by the way.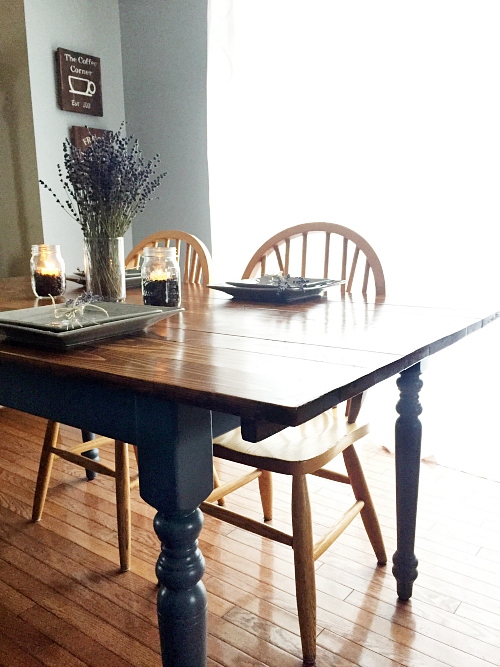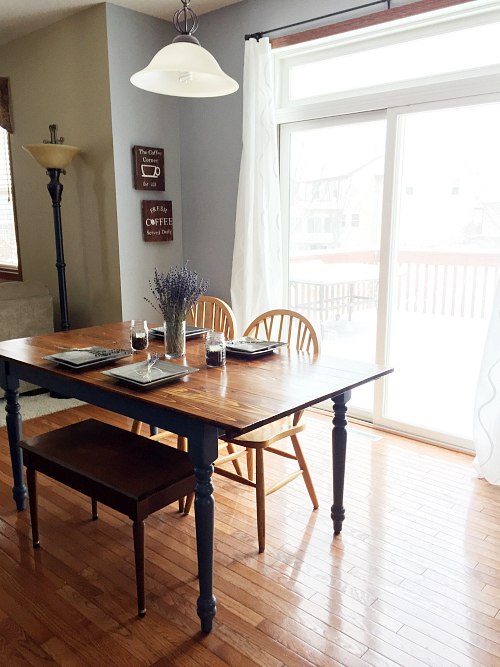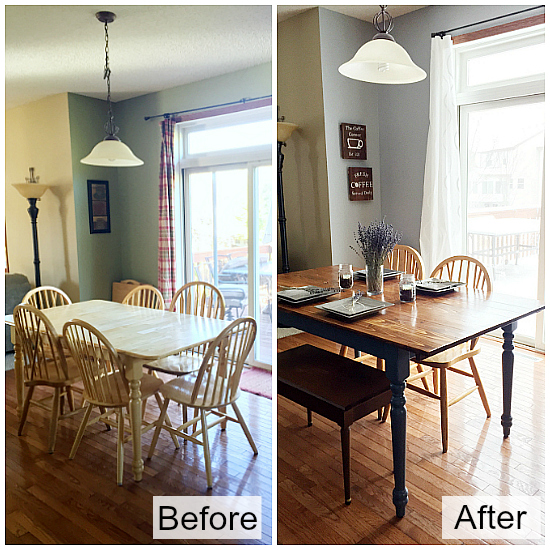 That bench? That's our piano bench. No, we're not keeping it here; just wanted you to see the concept of what I had planned. Hopefully we'll get a bench ready to go in the near future.
The Budget
After week two (the table transformation), I had spent $49.87. Week 3 was simply a week of shopping curtains, but I didn't spend any more money. Let's take a look at what I spent this week, shall we?
Curtains– $14.99
Planter & Fake Plants– $17.09
Wood- Free (Already had)
Stain- Free (Already had)
Fake Plants x3- $11.97 ($3.99 each)
Screws (Ran out part way through)- $3.18
Saw Tooth Hangers- $1.94
Barnwood Signs– FREE
Barnwood- FREE (Already had)
Stain- FREE (Already had)
Contact Paper- FREE (Already had)
White Paint- FREE (Already had)
Sponge Brush- FREE (Already had)
Total Spent- $81.95… $18.05 under budget… with a bit left to do 🙂
Remember to check out all the amazing rooms that were transformed this month… with only $100!
Wanna Catch Up?
Week 1 // Week 2 // Week 3 // Week 4
Love it? Pin it!