I am always drawn to pretty homemade hand soaps at craft fairs and farmer's markets. They look so pretty with their little specks of vanilla bean or lemon peel or coffee beans. I pick them up and breath in their aroma… then I look at the price tag and quietly set them back down. I just can't justify spending so much on a bar of soap.

Last week I was, once again, sniffing bars of soap at the store. (I'm not the only one that smells stuff at the store, right?) In a moment of weakness, I almost bought a bar, when my daughter says, "Mom. Why don't you just make some?" Light bulb moment. I actually have soap-making supplies in my basement. I bought them a long time ago. I had made, like, 4 bars as Christmas gifts, and forgot all about it… until now. So, let's make some pretty homemade hand soap, shall we?
What You Need to Make Homemade Hand Soap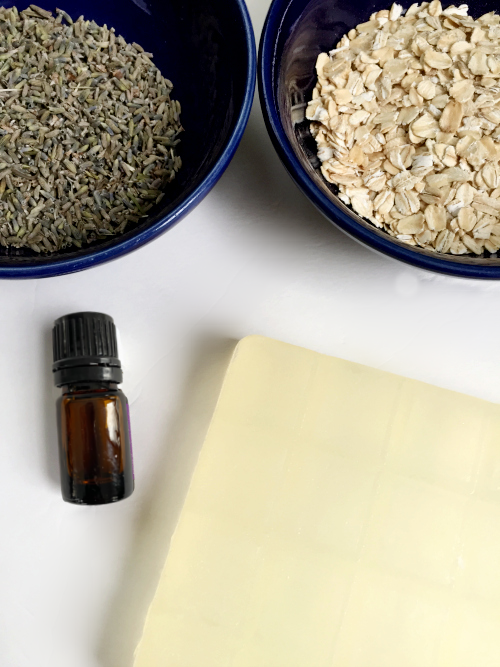 Affiliate links may be used. Please see our advertising disclosure for more information.
How to Make Homemade Hand Soap
Some soap bases come scored, and others require you to cut them. In either case you'll need about eight 1″ squares of soap base. Start by placing your squares into a glass measuring cup. Place it into the microwave and heat, on high, for approximately 30 seconds. Stir with a wooden craft stick, and continue to microwave, on high, in 10 second increments; stirring in between. This stuff melts pretty quickly, so don't overdo it.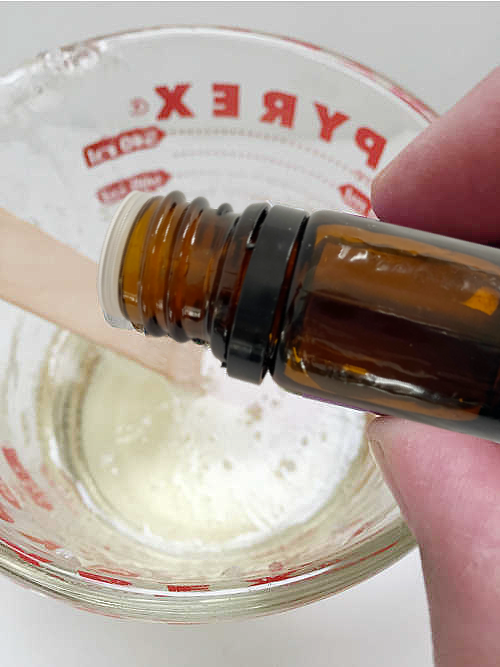 Quickly add in the lavender essential oil and stir it in with the craft stick. (I ended up using the rest of my bottle, so I didn't get enough. I'd go with 20-30 drops.)  The soap begins to harden right away, so you need to move fast.
Pour the liquid into your soap mold.
Sprinkle on a small handful of oats and a small handful of dried lavender, and stir it in. Remember: Move fast.
Allow the soap to cool and harden in the mold, and then pop it out. That's all there is to it. You now have pretty homemade soap.
UPDATE (12/11/19): I made this soap again (a little more than 3 years later) and discovered a version I like better than the original. (You can also see how this works by viewing the video below). First, I changed the soap base to an oatmeal soap base vs. glycerin. I then used a coffee grinder to grind about 1/2 Tbsp. of dried oats and 1/2 Tbsp of dried lavender. I poured this directly into the soap base (prior to pouring it into the mold). After mixing in the dried oats and lavender, I added 20 drops of lavender essential oil and gave that a good stir. Then I poured it into my mold (Similar snowflake mold can be found here). You can see how this turned out below.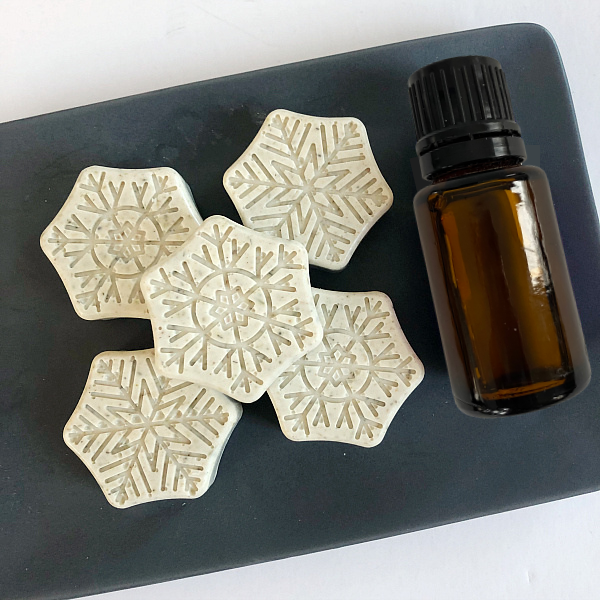 With the original recipe, here is how the soap turned out.
Depending on the size of your soap mold, the amount you can make will vary.
Love it? Pin it!