Sharing some beautiful summer mantel inspiration as you prepare your home for the warm months ahead.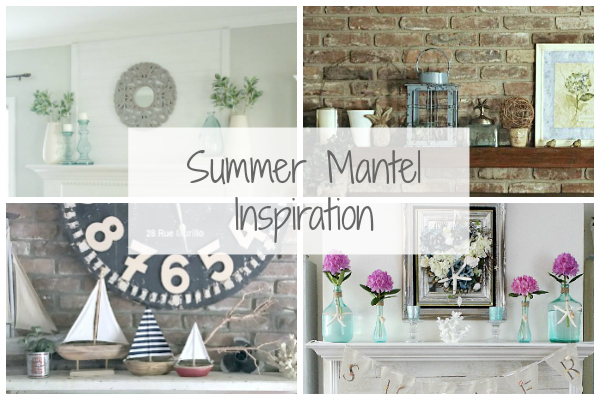 It is week 2 of the $100 Room Challenge! For those just tuning in, this challenge involves taking on one space, and giving it a makeover, in one month's time, with $100. About two dozen of my blogging friends have joined me this month, and I love seeing what everyone comes up with. For July, I am working on our living room. It's a big space, and I have a lot planned. However, I'm beginning to think this is going to be a sprint at the finish line 🙂 July is filled with summer activities, so not a whole lot of progress has happened… yet. But that last week of July is wide open, and I'm going to have to hammer it out.
This week, I did a little research on how to decorate the fireplace mantel. (If you recall, it currently has a tobacco basket on it… and that's it… Oh, and an antenna hanging down onto the hearth… Classy.)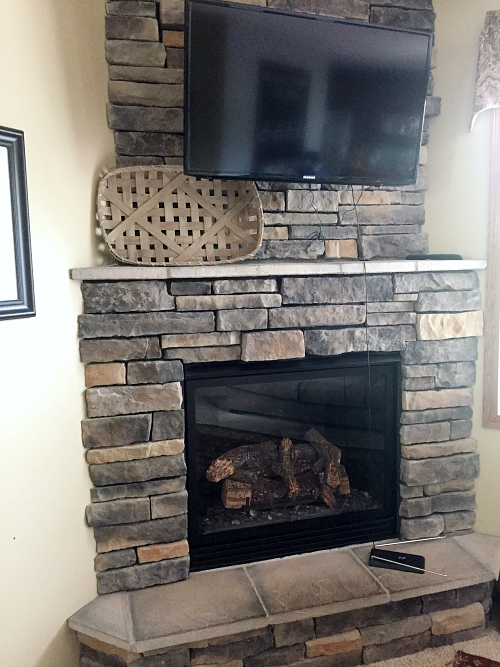 When I'm not sure where to start, I ask my blogging friends (who actually know what they're doing) and I scour Pinterest. Here are a few ideas I found.
Summer Mantel Inspiration
A Wonderful Thought
I absolutely love the rustic nature of this mantel from A Wonderful Thought: The cotton stems, old lanterns and fan, as well as the barn wood backdrop to the book page dahlia wreath. Gorgeous!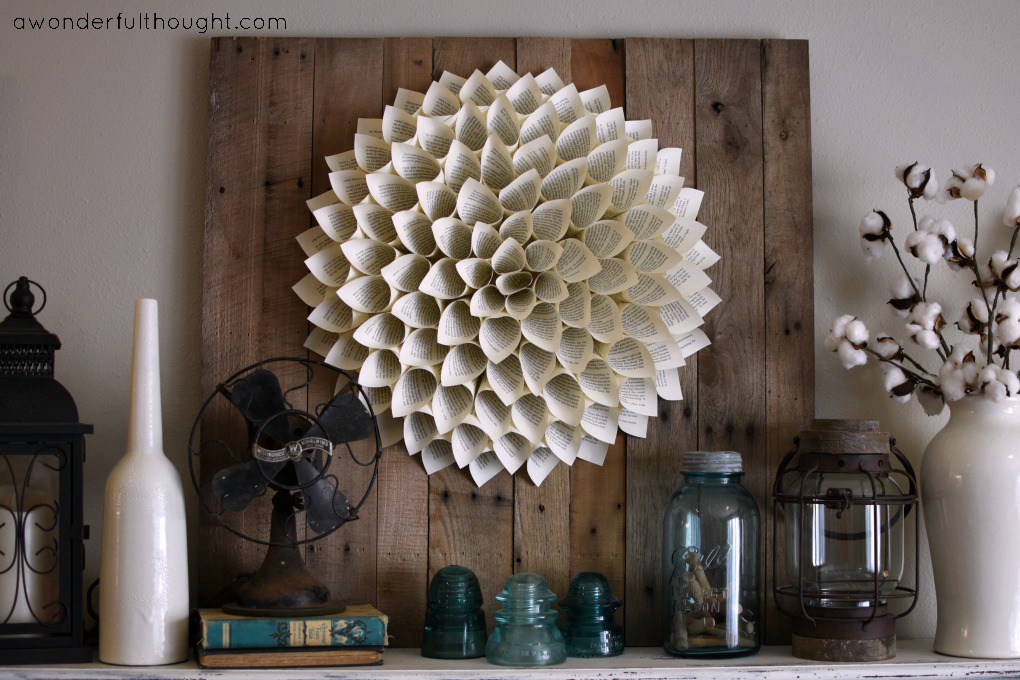 Image via A Wonderful Thought
Cottage In the Oaks
So much to love on this mantel… that huge clock?! And the wooden sailboats give it the perfect summery feel.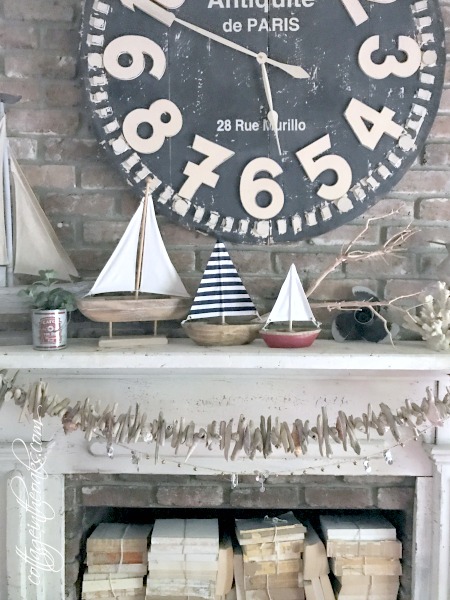 Image via Cottage in the Oaks
Hearth & Vine
Because I have a stone fireplace, I know I'm going to need items that stand out, versus blending into the background. This mantel form Hearth & Vine combines blues and creams perfectly.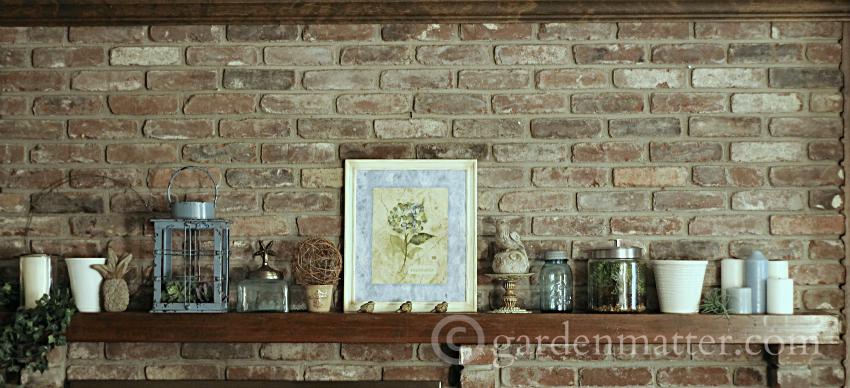 Image via Hearth & Vine
Little Bits of Home
I love the simplicity of this mantel from Little Bits of Home. While this fireplace has a white background, I think the creamy tones would be perfect on my mantel. Not only that, I actually found some faux eucalyptus at IKEA, and bought it not knowing exactly what I was going to do with it. Maybe the mantel is the perfect spot.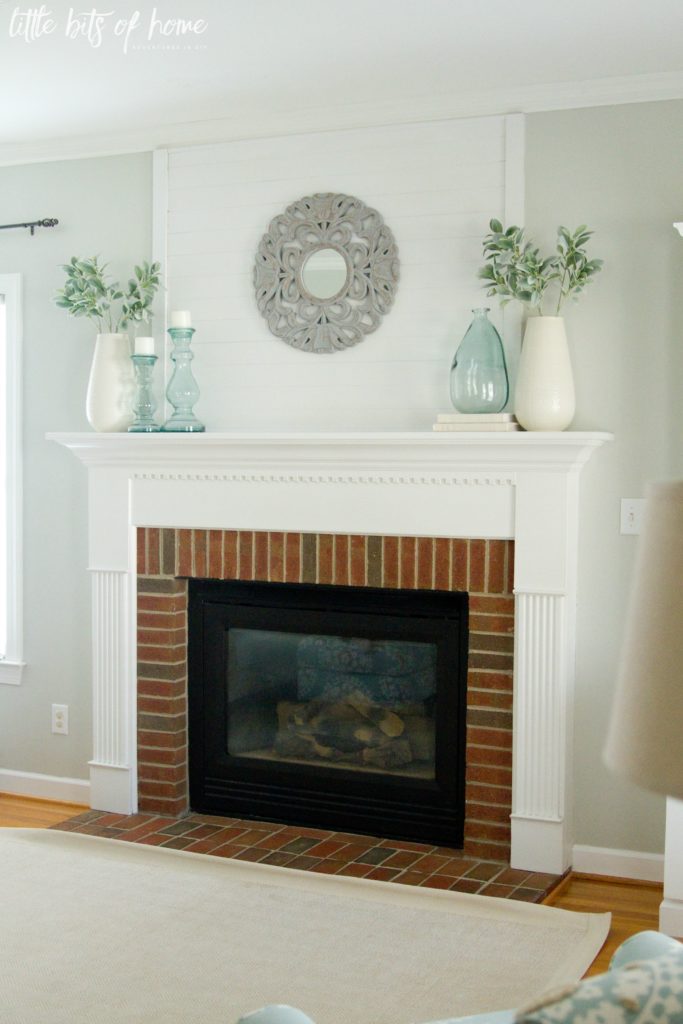 Image via Little Bits of Home
Our Crafty Mom
Again, lovin' the blue glass bottles with those pops of pink. Adding the shells to the bottle is a great way to add a little summer in the mix.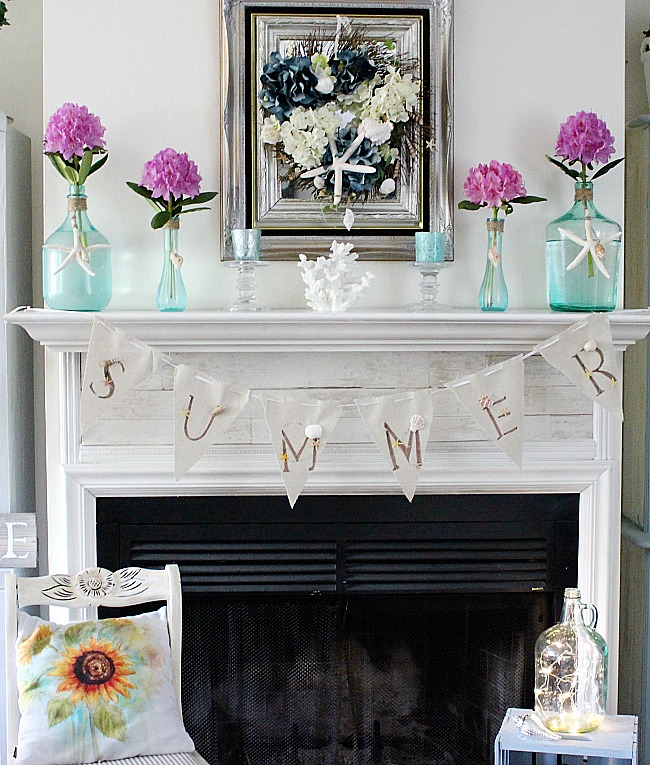 Image via Our Crafty Mom
The Turquoise Home
Yet another beautiful mantel, ready for spring/summer. I love the addition of the old window in the background. I actually have some in my garage, but fear our TV will get in the way…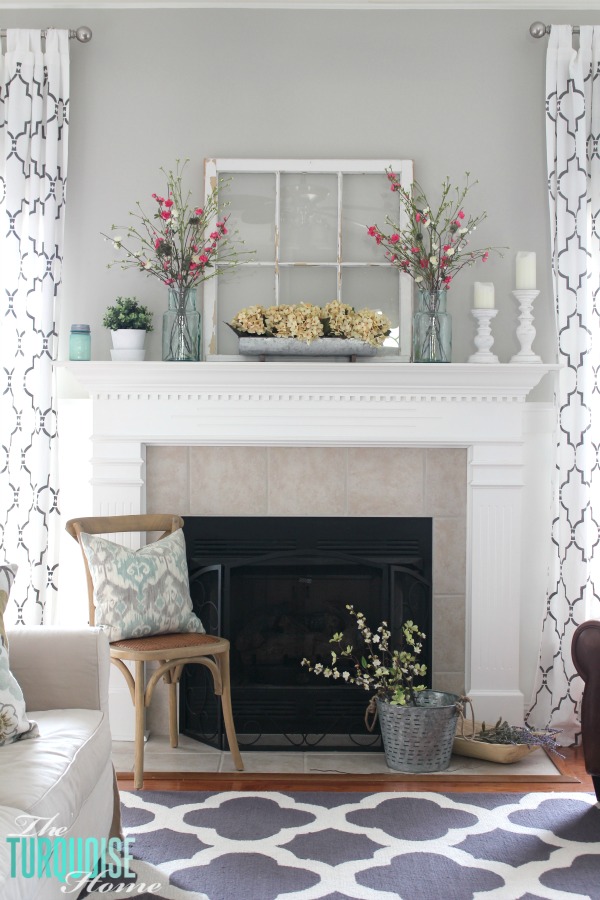 Image via The Turquoise Home
This Is Our Bliss
Speaking of working around the TV… I love this mantel from This is Our Bliss. A little greenery, a few pops of gold, and some black to tie it all together.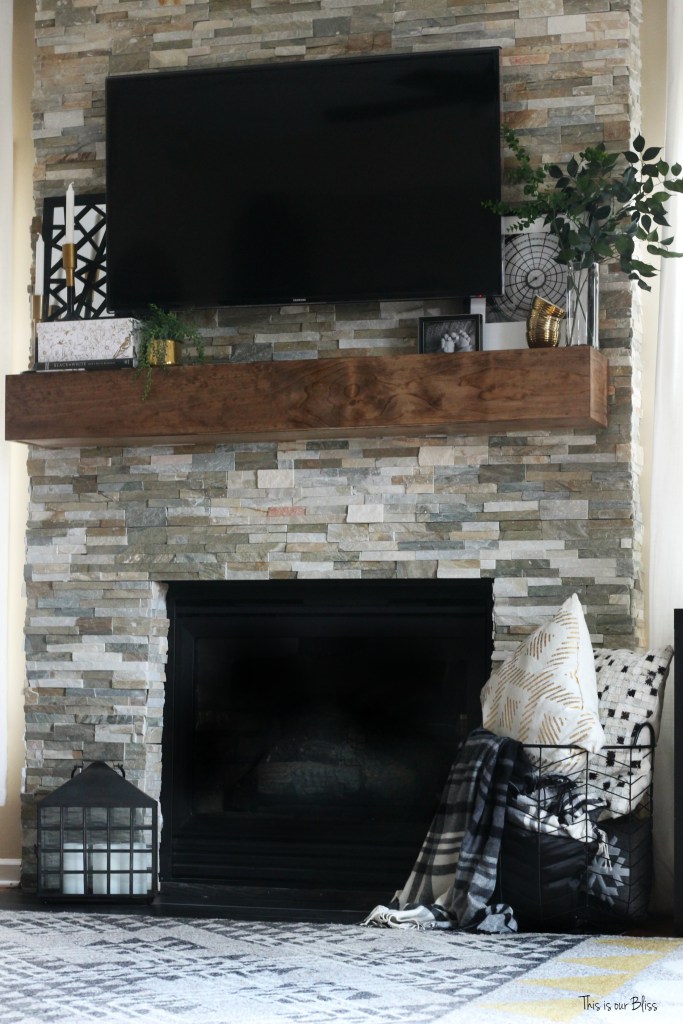 Image via This is Our Bliss
In other news…
I did take down the valances over the windows, and yesterday I took advantage of Amazon's Prime Day, and bought this rug to replace our current (outdated) one.
Really hoping it'll work in this space… I'm not going to count it in the budget quite yet, as I want to make sure it's not too light. (But, I did get it for $55.99 yesterday 🙂 )
Be sure to check out all the other bloggers that are participating in this challenge.
Check Out Other Participants Here
Wanna Catch Up or Jump Ahead
Week 1 // Week 2 // Week 3 // Week 4
Love it? Pin it!