Happy Friday and Happy December! I am so excited to share this month's featured shop and provide another Giveway (Giveaway details provided at the end of this post.) I met Kristin, from Weathered Wulf Design Co. over on Instagram… and you guys, her shop is ah-mazing! Every time I see one of her signs scroll past my feed, I am in love.
Kristin allowed me to choose a sign from her shop (I chose this one) and I thought I knew exactly where I was going to hang it, but then, I got these amazing printer trays from an auction. I decked one out for Christmas, as you can see below…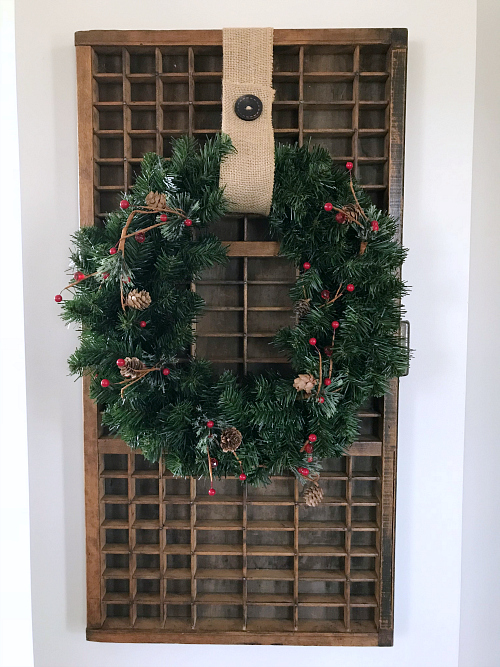 Problem was, I didn't know what to do once Christmas was over, but when this sign arrived… Ta da!
This printer tray hangs right in our entry, so the saying on this May This Home… Sign is perfect.
Honestly, I had thought the printing was done on a heavy paper, but nope; it's canvas. Love it!
*Please note: These signs may take up to two weeks to create and deliver.
Here's a little info. on Kristin and her ah-mazing signs!

1.) Location
Hi! I'm Kristin of Weathered Wulf Design Co. In my shop, you'll find scroll signs that have a modern rustic/farmhouse feel but are neutral enough to be perfect for any style decor. I pour my heart and love into creating pieces that will add joy, warmth, and inspiration to your home. Weathered Wulf is based out of Goshen, a small town in Northern Indiana.
2.) Tell us a little about yourself: Family… Pets… Interesting Facts
I am married to the most amazing man and am a mama to 3 beautiful children – two rowdy boys and one strong-willed girl. I'm also a mama to a sweet and spoiled pup – a Cavalier King Charles Spaniel named Cooper Lou. Being a wife and mama keeps me on my toes. Being a maker keeps me sane.
3.) How did your shop get its name?
One of the things I get asked the most is if I have realized I spelled "Wulf" incorrectly in "Weathered Wulf". I promise I know how to spell "wolf"! My last name is DeWulf, so I thought it would be a fun play on words. Little did I know, I'd confuse a lot of people! Ha!
4.) What inspired you to start a shop? How did your shop get started?
Weathered Wulf Design Co. all started with a few teachers gifts for my kiddos last spring. I wanted to make signs, but I knew I needed to come up with something different. Once they were complete, I shared photos with friends on Instagram and Facebook and shortly after, the requests to make signs for others came flooding in through DM's, PM's, phone calls, and text messages! I rolled with it and, after much encouragement from others, I took the leap and started selling on Etsy. It's been such a fun adventure and I feel so blessed to have the support of so many fellow makers, friends, and family!
5.) What is your favorite product in your shop?
I would have to say my current favorite product in the shop would be my Laundry Stain Removal Guide. I love that it's not only a cute decor piece for the laundry room, but essential and functional as well. If you're anything like me, any tips for the laundry is welcomed with open arms! Having three children, I feel I've dealt with any and all stains possible.
Laundry Stain Sign via Weathered Wulf Design Co.
6.) What is your "why"? In other words, why do you do what you do?
I truly am having such a blast with Weathered Wulf and am so blessed to have met so many through this adventure, such as Erin! I feel honored to be a part of this community and look forward to the many more friendships made and bonds formed along the journey. Thank you!
Follow Weather Wulf Design Co.
Giveaway Details!– This giveaway is now closed.

Want to Follow Along with Lemons, Lavender, & Laundry?
Subscribe!
Social media more your style?
Facebook // Pinterest // Instagram // Twitter
Love it? Pin it!