For those of you that are interested in the full cost breakdown for the $100 (actually $85.79) Laundry Room Makeover… here you go:
Painting the Room: $4.77
Paint: Free (I had about 1/2 gallon of white paint, and two sample paint cans of blue paint, left over from my last One Room Challenge. I mixed these together in order to create the color for the room.)
Roller: $4.77
Painting the Dryer: $9.51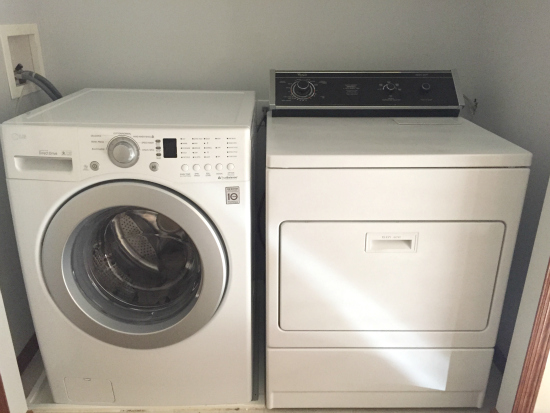 Appliance Spray Paint x2: $7.52 ($3.76 each)
Weldbond Glue: $1.99
You can read all about the appliance painting process here.
Shelf: $19.03
Cedar Picket Fence Posts x5: $11.25 ($2.25 each)
Stain: Free (I already had it from this project)
Wood Glue: Free (We already had some)
5/16″ Dowel Pins: Free (We already had some)
Polyurethane Spray: $7.78
Lint Box: $7.77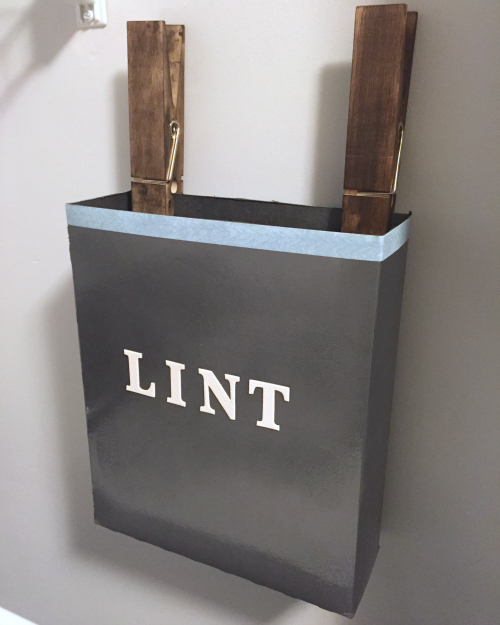 Cereal Box: Free
Spray Paint: $5.39
Sticker Letters: Free (Already had from when I made these)
Washi Tape: Free (Already had from when I made this)
Large Wooden Clothes Pins x2: $2.38 ($1.19 each)
Stain Used on the Clothes Pins: Free (Already had)
Command Strips: Free (Already had some from this project)
Detergent & Clothespin Jars: $22.50
I splurged a little on these jars because they are my absolute favorite jars, but I did check Goodwill, and there were options for less, I just chose not to go with them…
Hanging Printables: $1.96
Printables: Free
Hangers: Free (Already had on hand)
Gray Cardstock x2: 78¢ ( 39¢ each I applied a 40% off coupon)
Knobs: Free (Already had from last year's ORC)
Hanger Bolts: $1.18
Storage Baskets: $20.25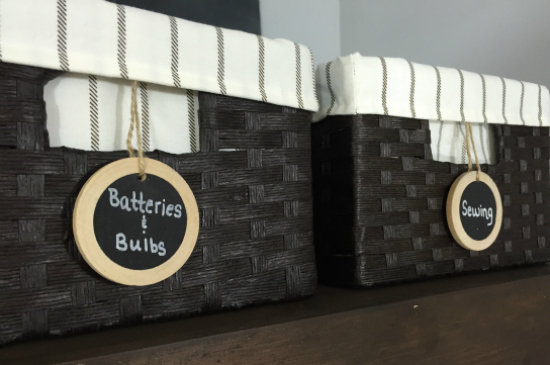 Baskets x2: $19.30 (They are $12.79 each, but I used my Target Redcard and got 5% off, so $12.15 each; plus I got an additional $5 off for a promotion they were running… Buy $25 worth of storage, get $5 off.)
Labels: 95¢ (Using my Target Redcard to get 5% off the dollar section labels 🙂 )
Finger Bowl & Plant in Tin: Free
Finger Bowl for Loose Change: Free
Tin with Fake Plant ('cause I can't keep real plants alive 🙂 ): Free
These are both items I already had around the house; they just didn't have a home… until now.
Cardboard Chalkboard Sign: Free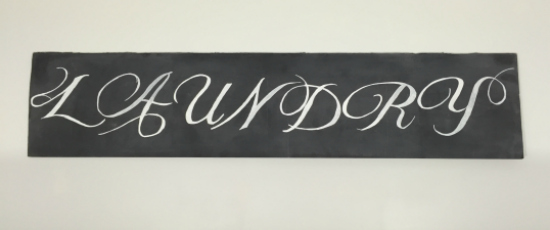 Cardboard: Free (I found it in our recycle pile in the garage)
Chalkboard Paint: Free (We painted one wall in my daughter's room with chalkboard paint, and we had some leftover)
Chalk Marker: Free (Already had)
Final Cost:
$85.79!