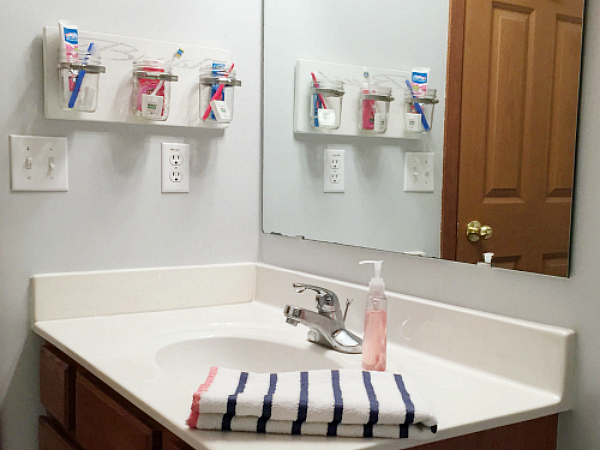 It is week 3 of the $100 Room Challenge and I am sharing my DIY Mason Jar Toothbrush Holder with you. To be completely fair, this idea is all over Pinterest, but each person seems to put their own twist on the idea. Here's mine…
What You Need to Make A Mason Jar Toothbrush Holder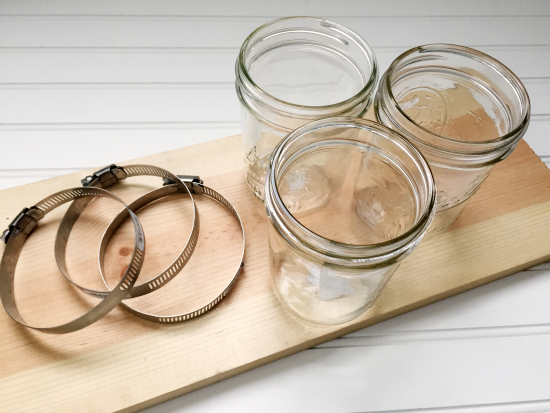 Affiliate links may be used. Please see our advertising disclosure for more information.
How to Make A Mason Jar Toothbrush Holder
Step 1: Paint and Distress (Optional)
I was lucky enough to have a scrape piece of wood out in the garage, so I grabbed that and my hubby cut it to size.
I chose to paint mine white and distress it with a little sandpaper. If you chose to distress your wood, wait until the paint dries and rub sandpaper in various spots on the front and sides.
Step 2: Image Transfer (Optional)
READ THIS FIRST: You can certainly go ahead and try the printed wax paper tutorial below, but I am going to advise against it. While it eventually did work, I believe there are some easier ways to achieve the look with a lot less struggle. Here are some options:
Use a Vinyl Cutting Machine- I now have a Cricut and love it! You can create any word, in any font, and simply cut it out of vinyl. Vinyl cutting machines are expensive, so if you don't have one, and have no plans to purchase one, try this second option…
Otherwise, you can sure try the following method 🙂
I also chose to add wording to the wood with an image transfer technique using wax paper. This was not the easiest step; as in, I jammed my printer with wax paper and it was out of commission for about 30-45 minutes while my husband and I tried to get the little scrap out. So let me share what finally ended up working for us (and what didn't).
I started by creating the word "Brush" in a font I liked. Then I printed a mirror image onto the wax paper. I knew the wax paper was too fine to go through the printer on its own, so I taped it to a piece of regular computer paper. The problem was that the printer was struggling to grab the slippery wax paper, and it would tear and crumple up. What finally worked for us was to cut the wax paper down to the size of the image and tape it to the computer paper, leaving the sides of the computer paper alone so the printer could grab it. (See image below):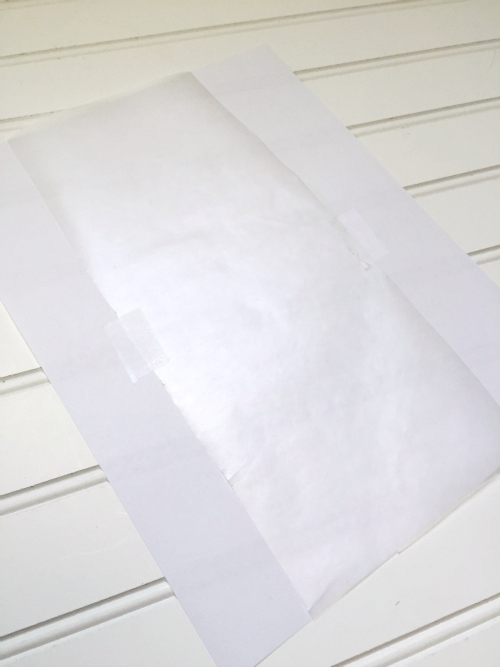 Make sure you do not add tape where the image is to go because the ink smudges. Also make sure not to touch the ink on the wax paper because, well, it smudges. Once you've get your image printed off, turn it ink side down onto the wood and tape it in place. Using a blunt object (I used the back of a rounded pen), rub over the image and the ink will transfer onto the wood.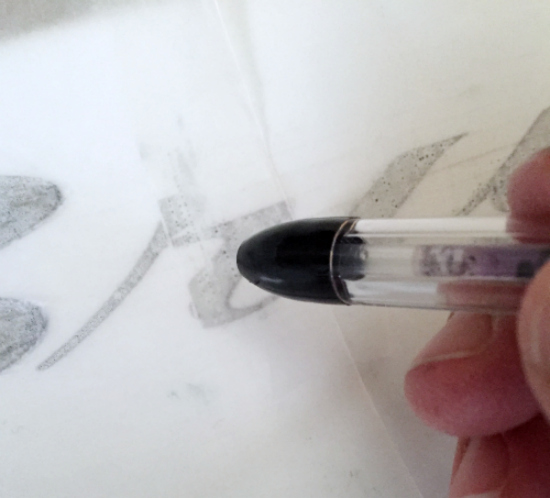 Step 3: Add the D Rings & Clamps
Before you add your clamps, you want to add D Rings to the back of your wood so you can hang it on the wall.
You would think that screwing a few clamps into the wood would be easy: Grab a drill and screw. Right? Wrong! These clamps are serious business and do not puncture easily. We finally discovered that you have to create a hole in the clamp using a drill bit first… and this is no easy task. You need to put some real work into it!. Once you have the hole, use your drill to adhere the clamp to the wood with a screw. Remember to measure and evenly space out your clamps.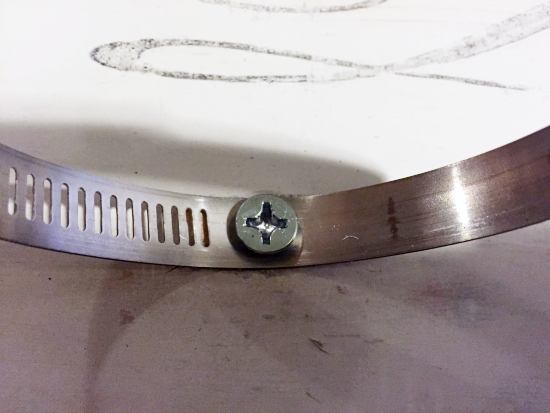 Step 4: Add Jars
There are lips on the mason jars, so the lip can rest on the clamp. Simply tighten the clamp around the jar using a screwdriver.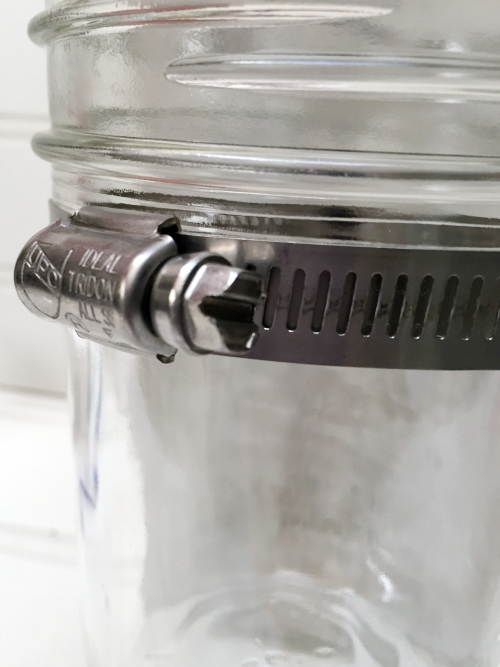 Now you can hang it on the wall and add toothbrushes, toothpaste, floss, etc. to the jars.
I strongly suggest using drywall anchors if you are not nailing into a stud due to the weight of the toothbrush holder.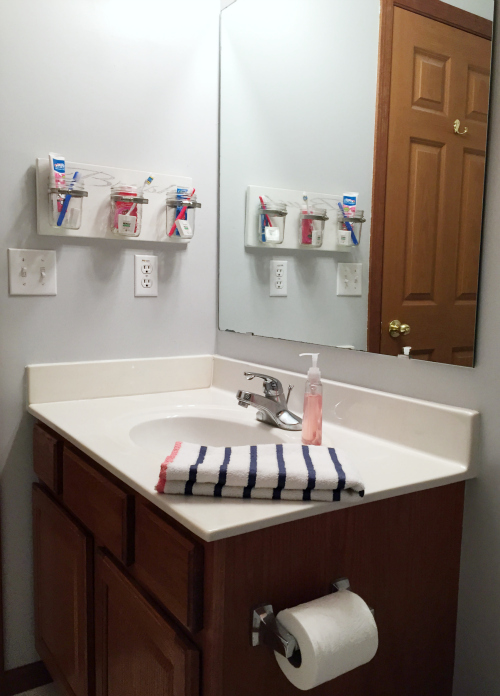 UPDATE– We moved a couple years after this bathroom makeover was complete. Our new house didn't have enough wall space for this mason jar toothbrush holder, so I changed it into something completely different. Check it out here.
The Budget So Far
Last week we left off having spent $31.25. Here's what I spent on the DIY Mason Jar Toothbrush Holder.
Toothbrush Holder– $7.82
Wood- FREE (Found in the garage)
Mason Jars x3- $1.98 (I already had one and purchased two for 99¢ each)
Hose Clamps x3- $4.35 ($1.45 each)
White Paint- FREE (Already had)
D- Rings- $1.49
Drywall Anchors- FREE (Already had)
Total So Far: $39.07
Wanna Catch Up or Jump Ahead?
Week 1 // Week 2 // Week 3 // Week 4 // Week 5
Love it? Pin it!