I would like to thank Minted for sending free product to help us with our office for the One Room Challenge. All opinions are 100% my own.
Welcome to week 2 of the One Room Challenge: A 6 week, room makeover challenge, hosted by Calling It Home. This is my fifth time participating in the challenge, and this time around, we decided to take on our office space.
Last week, I shared with you all the lovely "before" pictures of our home office. Each image showed, what appeared to have been, an office struck by hurricane-force winds… only we don't live anywhere near the ocean. Nope. Just a messy, disorganized office… without a hurricane to blame for any of it. This week the only visual progress is that the office has been cleaned up quite a bit (Yay!). Want proof?
Don't get too excited though… We no longer have a desk and the two office chairs; which is good news because we don't want them, but it also means there's a bunch of stuff on the floor where the desk used to be…
Sooo… outside of tidying up the office, I did get a few fun packages that are going to completely change the look of this room. This week, we're talking about curtains. Many of you may have heard Minted. They are very well known for supplying gorgeous artwork. (Seriously. Gorgeous!) Thing is, they also have a beautiful selection of curtains, which this office needs; because I am not loving the fabric blinds that cannot be cleaned…
Let's take a look at some of the options I was looking at for this space (Feel free to click on the images for more information):
Seriously, how do you choose? Right?
I love, love, love, gray and navy in combination, so I chose the Moroccan Diamond in Indigo to go with the light gray paint color for the walls, and guess what came in the mail?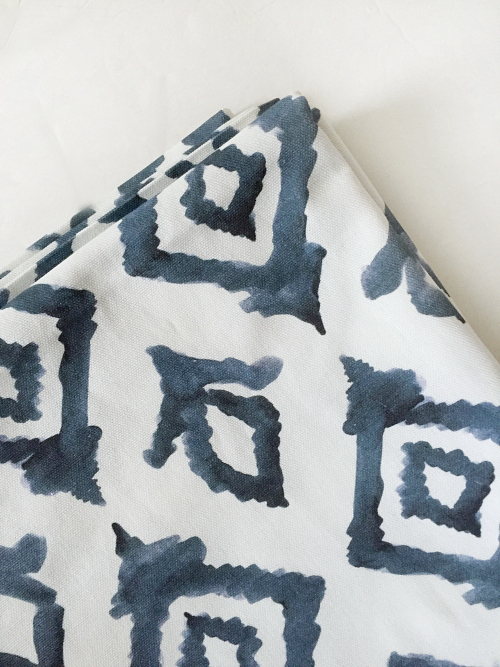 I cannot wait to paint the walls and hang these stunning curtains. They are going to add so much to this space.
Need to catch up or want to skip ahead?
Week 1 // Week 2 // No Week 3 // Week 4 // Week 5 // Week 6
Want to Follow Along with Lemons, Lavender, & Laundry?
Subscribe!
Social media more your style?
Facebook // Pinterest // Instagram // Twitter
Love it? Pin it!