Last Wednesday I wrapped up our Master Bathroom; done with a $100 budget. This week, I'm headed into another room challenge; but this time, the budget isn't quite so tight. Today marks week one of the One Room Challenge, hosted by Calling It Home. Myself, along with a whole lotta other bloggers, are taking on spaces in our homes and giving them a little love over the next 6 weeks.
Let me introduce you to our office… A.K.A. a room with random furniture that doesn't match 🙂 Please note: I do not touch this room for "before" pictures. This is exactly what my office looks like right now. Total. Mess.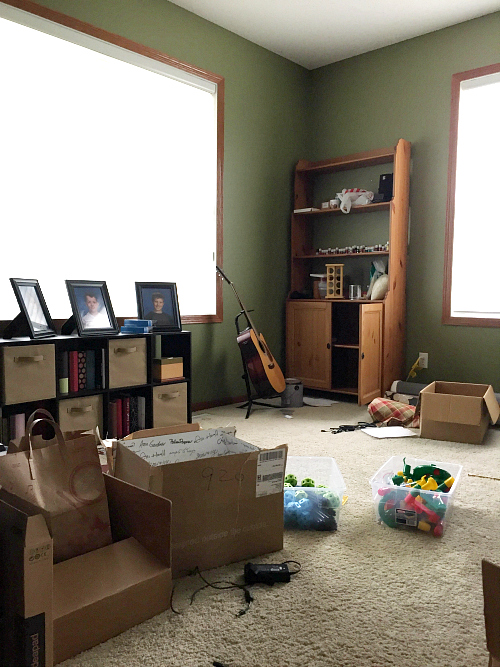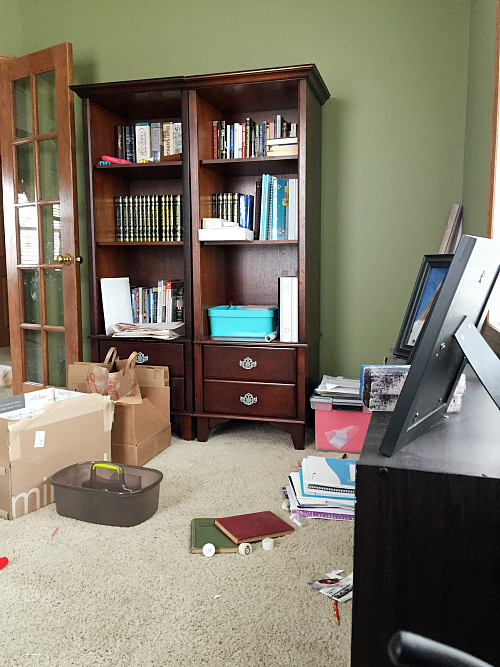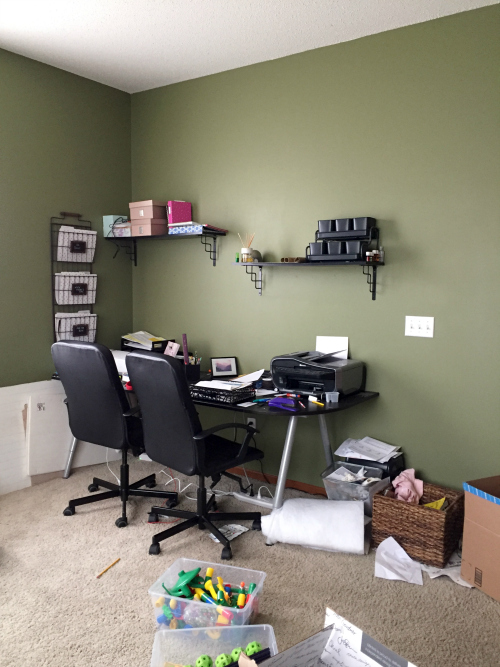 Let me tell you a little about this office space of ours. When I started blogging two years ago, I thought this would be "my space". I would be able to work on projects and write… and be super productive, but no. Guess where I do everything? Out in our living room. I typically plop my laptop on the floor and sprawl out… or I use a TV tray as a desk and sit on the couch. Why don't I actually use the office? It's not me. I don't feel at home in this space at all. Buuut… over the next few weeks, I plan to change all that. First, let's take a look at some office spaces I love, and then we'll talk about goals for my current space.
Office Inspiration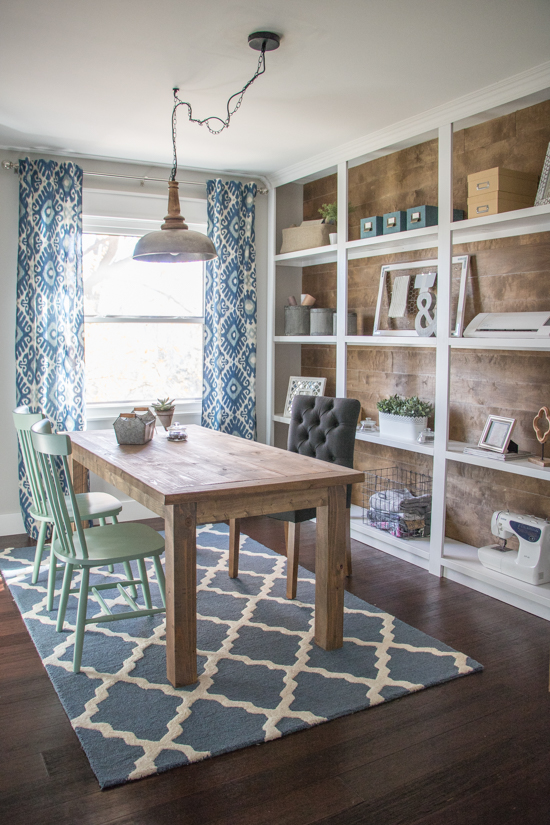 This office space, by Sypsie Designs, was actually shared as one of my favorite spaces from the last One Room Challenge.
Goals for the Space
Now do you see why the current space is so not me? I love white and bright. I love farmhouse style with wood accents. I love pops of navy/blue… I do not love dark green walls with "semi-modern" furniture mixed with traditional cherry wood bookshelves, and a cheap storage unit under the window. This office is getting a major cleaning out.
1.) Out With the Furniture
Every piece of furniture that is currently in this room is outta here (except for maybe the little cupboard/shelving combo that I took out of our dining room to create our coffee station 🙂 ). I don't really like any of it. Instead, I'm looking at a desk and shelving like you see below:
Image via World Market
I love campaign desks, but I wasn't sure whether I could find one that matched my love of "farmhouse style". Then I found this one at World Market. Perfect.
Image via IKEA
While I like this look, I have a DIY I'm planning to try for the shelving… with hopes it'll turn out looking something like these 🙂
2.) Paint the Walls
The dark "pea soup" color is not for me. I want to brighten up the space, and there is no better way to do that than with paint. I'm thinking I may go with Agreeable Gray because I found a free 5 gallon bucket of it at our local recycle center. I used it to paint our Master Bedroom, and still have a lot left over. I'll have to see if it's still good, being that it's a year old, but you can't beat free paint, right? Also, the Agreeable Gray has a little beige tinge to it, so it'll work with the current wood trim. (While I'd love to go with white trim, this office is visible to the rest of the house, and I'm not about to redo trim in our entire house…)
3.) Window Treatments
Currently we have some fabric blinds and they are incredibly dirty. Problem is, I have no idea how to clean them… and even if I could figure it out, I don't really love them, so they are getting the boot and I'm going with these curtains from Minted.
Image via Minted
4.) Lighting
So, I've heard our current lighting referred to as a "boob light" and I think you can see why.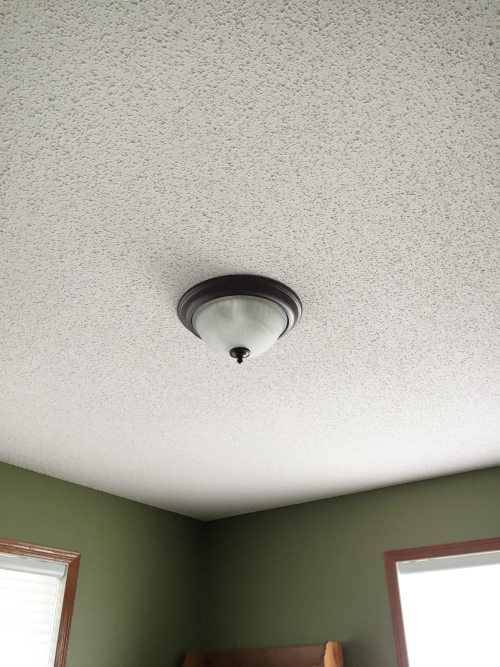 I have also learned that "boob lights" are no longer in style (Gasp). I will be replacing the ceiling light with this one from Lamps Plus.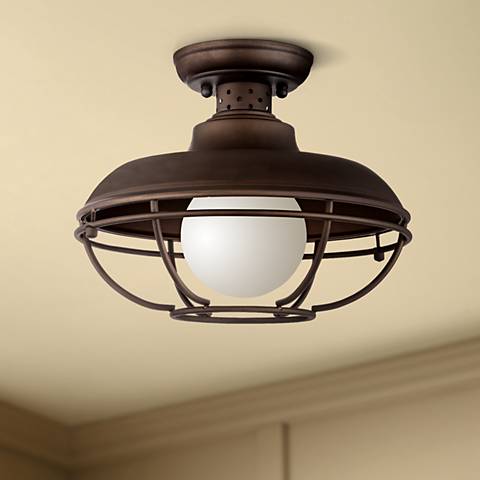 Image via Lamps Plus
5.) Command Center
As a blogger, I always feel like I'm juggling 72 things at once. I'd love a place to cohesively store thoughts/ideas/upcoming posts, etc. Something like this from Pottery Barn.
Image via Pottery Barn
I certainly have my work cut out for me, but I am so excited to turn this office into a space I love, and actually want to work in. For all the behind-the-scenes drama, come join me on Instagram. I'll also be pinning ideas galore over on my Office Inspiration Board. To see my previous One Room Challenge Reveals, click on the links below:
Want to catch up, or skip ahead?
Week 1 // Week 2 // Week 3 // Week 4 // Week 5 // Week 6
Want to Follow Along with Lemons, Lavender, & Laundry?
Subscribe!
Social media more your style?
Facebook // Pinterest // Instagram // Twitter