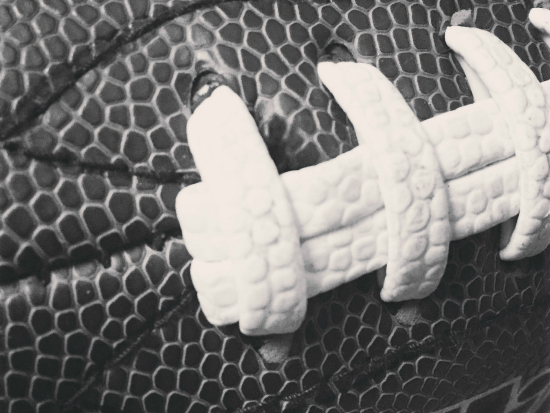 We're creating a football themed room for my 9 year old. Last week you were able to see his room in its current state; let's just call it messy and move on.
This week I want to share with you some ideas I have for this space.
The Plans
Football Wall
You may recall from last week that our intention (like, 3 years ago) was to create a football wall in this room. While we did paint one wall green, that was as far as we got. I have some idea of what I want this wall to look like, and the image above is the closest thing I could find to match my vision, however, I'm hoping to have it look a bit more "realistic" looking.
Dresser
My son's "dresser" is actually a floor model changing table we've had for 11 years. Two of the three drawers no longer exist… as in, they have broken and are sitting at the dump somewhere. One drawer is really not cutting it. I would love to do a locker type dresser (like the one above) vs. something more traditional, so I'll be searching Pinterest to see how I might do that… any ideas???
Something on the Walls
Right now, the walls are bare, bare, bare. While the football field wall will certainly be the focal point, I'd love to add some DIY "art" pieces. Some of my thoughts include: framing the image I used at the beginning of this post (the black & white football- I snapped the picture and shared it on Instagram for Superbowl Sunday, and I just love it), framing football plays or using some of the barn wood we have in our garage to create something similar to this… still thinking through exactly what I want to do.
Storage
I think all kids are great collectors of stuff. And all their stuff is treasure to them, so they have a hard time parting with it. My son is no exception. The top of his dresser… and the floor of his closet… and the shelf in his closet… are all proof that he has a lot of stuff. The problem is, there's nowhere to put it. I'd love to add something like these to contain some of his treasures.
I've been pinning ideas for this room, so you can see more of my inspiration here.
If you want to see how others are doing with this season's One Room Challenge, head on over to Calling It Home and have a look. There are 249 linking participants along with the 20 featured designers, so grab a little snack 'cause there's a whole lot to see!
Enjoy your week!
Erin
Week 1 // Week 2 // Week 3 // Week 4 // Week 5 // Week 6
Want to Follow Along with Lemons, Lavender, & Laundry?
Subscribe!
Social media more your style?
Facebook // Pinterest // Instagram // Twitter