The One Room Challenge takes place twice each year, and every time I am amazed at what was accomplished in just 6 weeks. Take a look at these jaw-dropping One Room Challenge Reveals!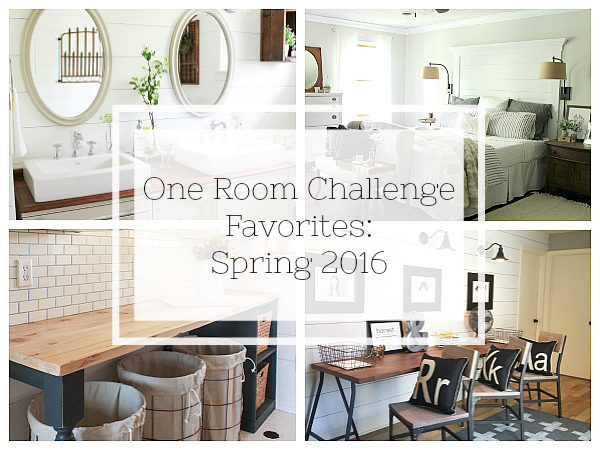 Two weeks ago, I posted my One Room Challenge reveal of our son's Football Themed Bedroom. But, I wasn't the only one working hard, trying to complete an entire room makeover in 5 weeks; there were 227 linking participants this round! You heard me right: Two-hundred-twenty-seven! I have visited every single room, and they are amazing. Today I'm sharing my favorite One Room Challenge reveals from this past round (and I may be a little biased for my love of the farmhouse style 🙂 ). These are in no particular order, I love them all.
My Favorite One Room Challenge Reveals
Kid's Homework Area by Postbox Designs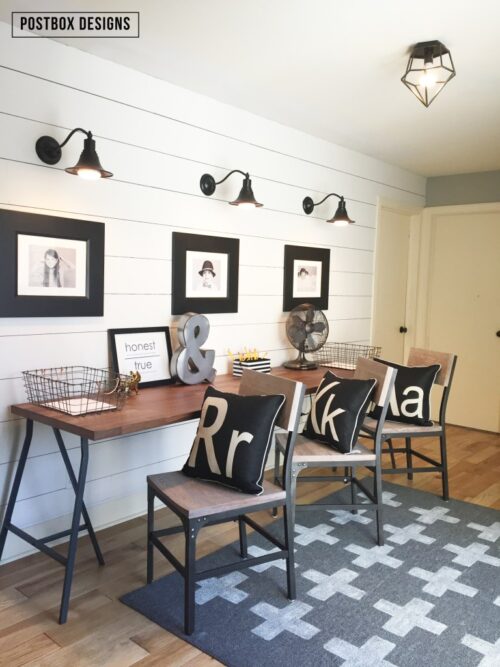 Holy Moly! How absolutely, adorably, amazing, is this space? Kristin, from Postbox Designs, created this area for her three kiddos to sit down and do their homework. You have got to pop over and see everything she incorporated (and check out where this space started… would you believe there were about 217 glass shelves in this space… total exaggeration, but still, there were a lot). You can see Kristin's full reveal HERE.
Dining Room by Little Red Brick House
I had the hardest time figuring out which image to pull for this room, because what you don't see in this picture in the cutest coffee station ever. Seriously. Cutest ever.
UPDATE: The links to this room reveal no longer work. If anyone has a current url, please let me know 🙂
Laundry Room by Twelve On Main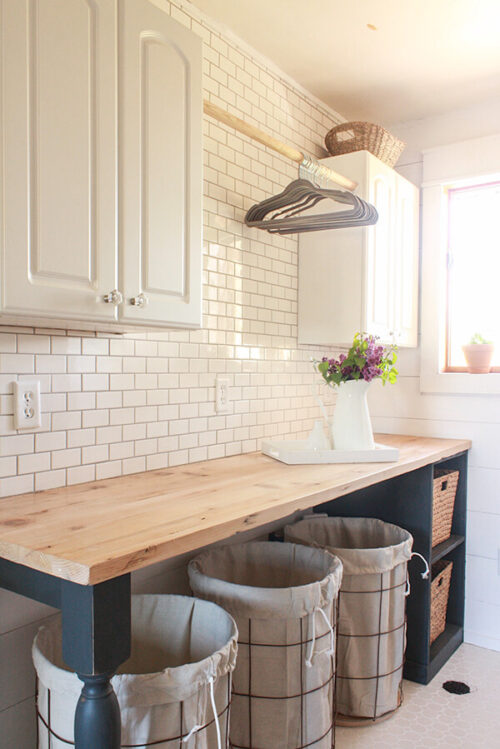 Last year, I did my laundry room for the One Room Challenge, but it's literally in a closet. If only I had a bigger space, I would pretty much copy everything Sara did in her laundry room. There is so much to see in here, but it can't all be captured in one photo. I will say, however, that when the shipment of her laundry baskets was delayed, she whipped up her own out of some old tomato cages and drop clothes. I adore them. You have to check out the barn door leading into this room, and the chalkboard wall. It's all so incredible. For the full post, click HERE.
Bathroom by Making It In The Mountains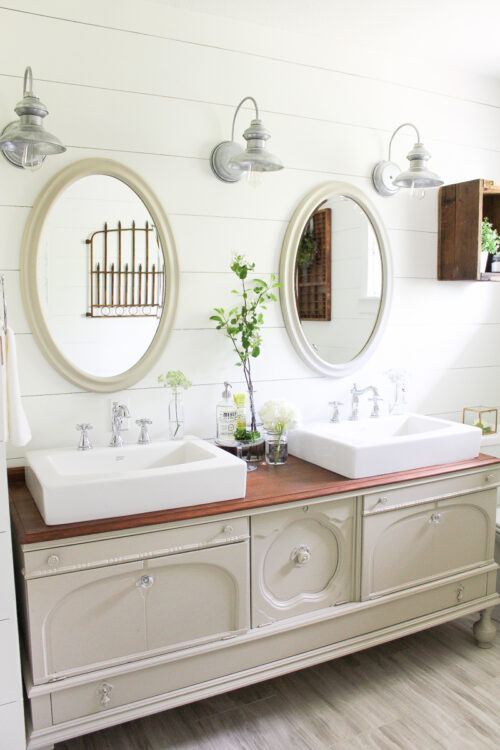 I know I keep saying this, but one image just cannot capture the beauty of these rooms, you have got to pop on over to see Kristi's full bathroom reveal. This space started off in a pretty humble state, and she completely transformed it. She has an amazing tub and wood accents on the other side of the bathroom… It's perfection. You can see Kristi's full reveal HERE.
Guest Bedroom by Love Create Celebrate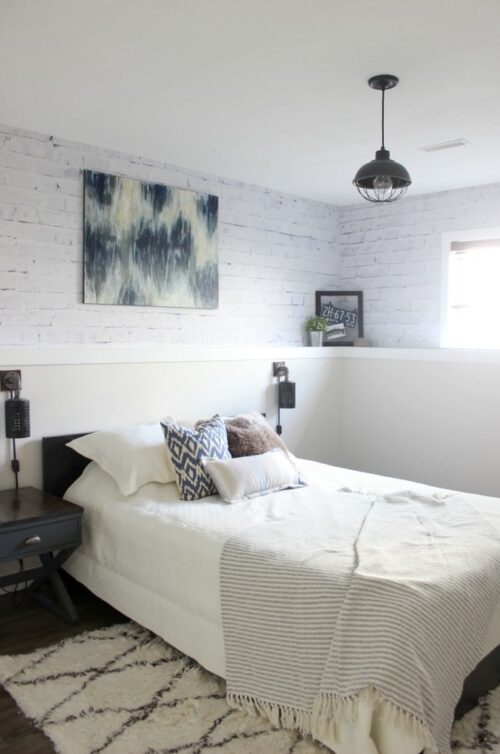 Lindi has thought of everything for her guest bedroom, from a place to drop your keys, to extra towels and blankets. She has so many wonderful elements in here. I am in love with the nightstand… and she made bedside light fixtures out of IKEA utensil holders… I know. Crazy, right? And yet it's perfect for this space. To see more, click HERE.
Boy's Bedroom by Paint Yourself A Smile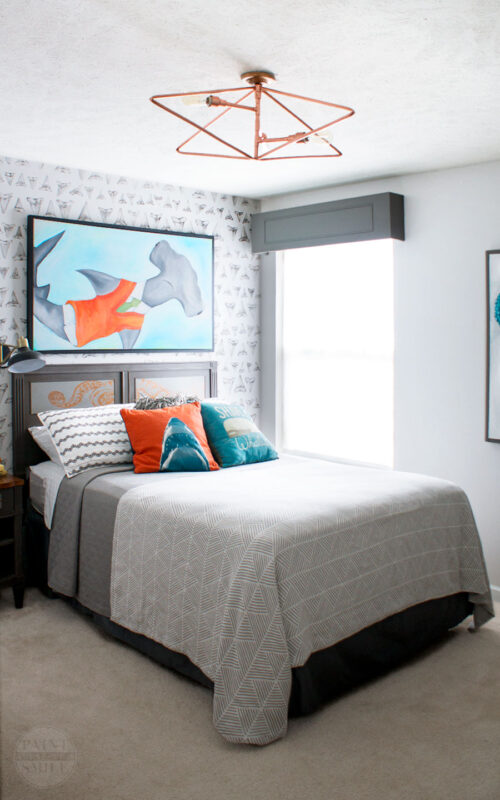 Do you see that wall? Looks like wallpaper, right? Nope. Jenny, from Paint Yourself A Smile, painted all those shark teeth! Can you even believe that? She is one amazing artist, and you'll find more of her work in the reveal post. One of my favorites in this room (not pictured) is an awesome desk made out of pipes and wood. It's incredible. Pop on over and check out the whole room reveal HERE.
Family Room by Place of My Taste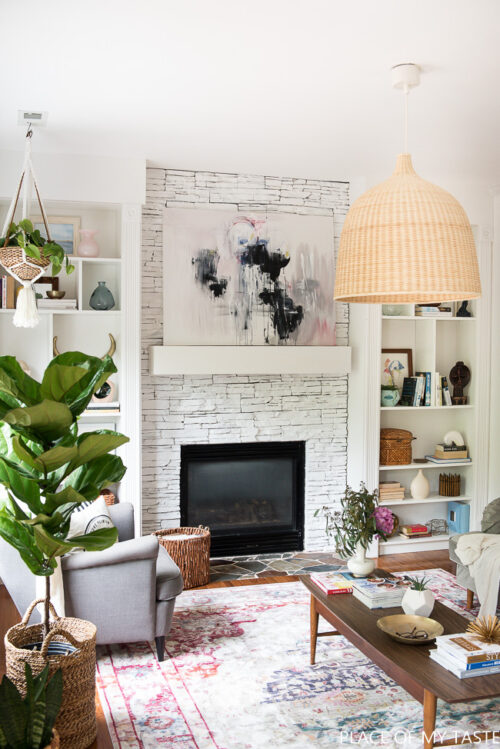 Aniko, from Place of My Taste, did an amazing job on this family room. The "before pictures" show a dark room, and look at it now. So bright and beautiful. Aniko actually has a few videos in her post on how she decorated and styled the shelves. And do you see that artwork? It's hers. Talk about some talented artists in this group. You can see her full reveal HERE.
Master Bedroom by Sincerely Marie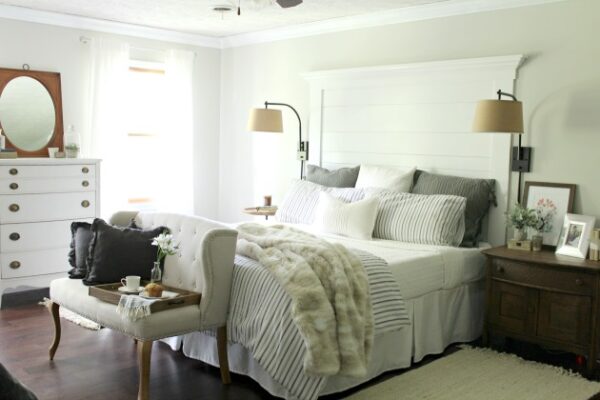 Who doesn't love a good before and after? This room started with a very humble beginning, but look at it now! I'm loving that paneled headboard (Amanda has the how-to in week 4 in case you're interested.) I'm pretty sure if this were my bedroom, I'd just stay in bed all day, staring at my gorgeous bedroom… To see all the beauty of this room, click HERE.
Pretty incredible, right?!
Love it? Pin it!