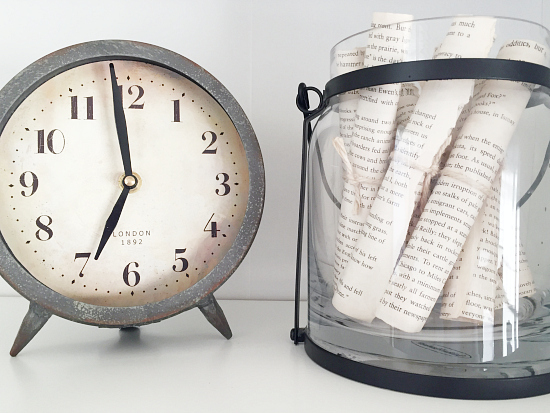 Welcome to week 5 of the One Room Challenge, hosted by Calling It Home. Last week I told you of my shelving and filing dilemma, and you were so helpful with your thoughts and ideas. I am happy to report that I have figured out what to do (almost… I've got another idea to throw out there this week 🙂 ). Let's start with the shelving…
Shelving Solution
Last week I showed you my original plan; to turn these galvanized steel pantry shelves "industrial style" by spray painting them oil rubbed bronze and adding wood to the shelves…
… but many of you agreed that they were just too small for the space. I loved the idea of adding something underneath to elevate the shelves, or creating height by adding something above them, but in the end, I decided to scrap the idea and instead bought two white Billy bookcases from IKEA.
I figured it was meant to me when we headed to the "scratch and dent area" and found one of the bookcases marked down 35%. Apparently, it had been a display model, but I could not find anything wrong with it. No scratches. No dings. Gotta love that!
Filing Solution
I was racking my brain trying to figure out what to do for file storage, because we seem to have a ton of files. I'm not a huge fan of filing cabinets, because most don't look that great (unless you want to pay big bucks; which I don't). I thought about doing file boxes and covering them in fabric to create something cute that way, but file boxes are pretty big and wouldn't fit nicely in the bookcase.
As I was working on the shelves in the office, it just hit me. I decided to store our files vertically in magazine holders that fit beautifully on the shelf. Best part is, these magazine holders are sold in packages of 2 for $4.99. I bought a total of 4 packages, so all my files are stored for a mere $19.96.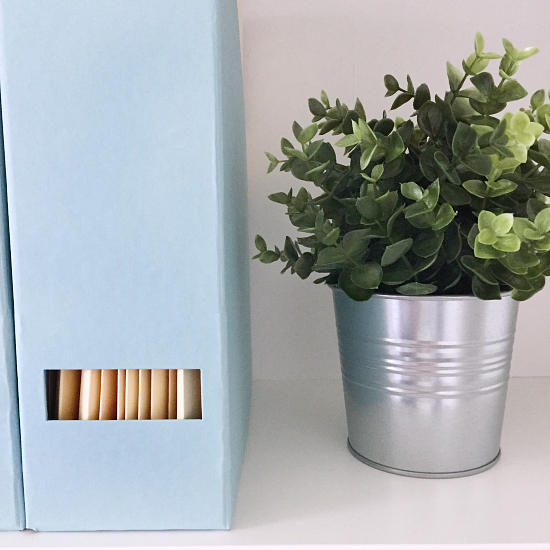 I am so happy to have those two issues figured out… But that's not all, I also went shopping and found some awesome deals.
Shopping Deals
First, I bought my desk, but 3 days after I brought it home, I got an email saying all desks at World Market were on sale for one day only. Luckily, I was able to bring in my receipt and they refunded the difference. My husband assembled the desk for me last night, and here it is. Love it! (Don't mind the mess… every single thing that needs to be in the office is currently sprawled across the floor 🙂 )
Originally $229.99. Bought on sale for $136.
I also shopped Target and got 20-30% off curtain rods and a rug by shopping online (where they often have deals that aren't offered in store). Even if you want to get it the same day, you can order online to get the deal, and arrange for in-store pick-up vs having it shipped.
Originally $32.99. Bought on sale for $26.64 (using my RedCard in addition to the sale).
Originally $99.99. Bought on sale for $66.49 (using my RedCard in addition to the sale).
The last little deal was over at Hobby Lobby, where I picked up this framed white-board calendar… If you ever shop Hobby Lobby, they always have 40% off coupons you can use.
Originally $59.99. Bought on sale for $35.99 with coupon.
This Week's Dilemma
Last week, one of my readers suggested I create a window seat between the two bookshelves. I think it's a super cute idea, but not sure I can find a seat that's the same depth as the shelving units. Is it weird to have the seat stick out from the bookcases? Let me know what you think in the comments section below 🙂
Left To Do
I have exactly one week to get this office ready for its reveal, and I have a ton of stuff to do…
Put Up Curtain Rod & Hang the Curtains
Assemble Dresser (Yes. You heard me correctly, a dresser.)- Also on sale right now using IKEA family 🙂 Originally $169, on sale for $135.20.
Create the Command Center
Clean Up and Get Everything Organized
Send coffee please 🙂
Erin
Need to catch up or want to skip ahead?
Week 1 // Week 2 // No Week 3 // Week 4 // Week 5 // Week 6
Want to Follow Along with Lemons, Lavender, & Laundry?
Subscribe!
Social media more your style?
Facebook // Pinterest // Instagram // Twitter