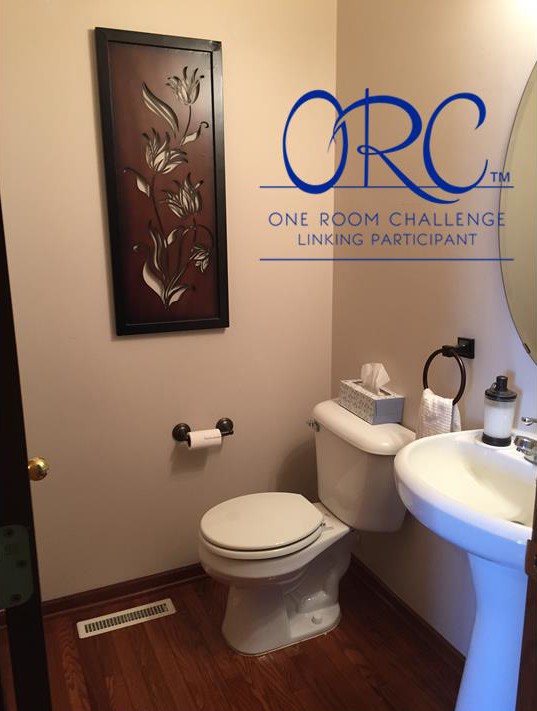 I am super excited about today's post because I am joining the One Room Challenge over at Calling It Home. (Thank you Linda, for hosting this fun event!) I just heard about this challenge yesterday, and it starts today, so I have got to get going! Here's the deal: I get 6 weeks (really 5 weeks, 6 posts) to transform one room in my home. Every Thursday, for 6 weeks, I post the progress. There are 20 designers that participate in the challenge, and you can track their progress here. The designers update on Wednesdays. Other bloggers can link up and participate as well. You can see their updates on Thursdays here. If you have some time, it would be great to check out what everyone is doing and offer up some encouragement. If you are here for the first time, Welcome! I hope you stop back to check up on the progress and have a look around.
So, without further ado, let me tell you a little about the room I am choosing to transform over the next few weeks.
This is the bathroom on the main floor of our house. It's the most plain, boring, non-functional bathroom ever! There's a toilet and a sink…that's it! I can't even store extra rolls of toilet paper in here. It needs help.
I've collected a few ideas for this space on my Main Bathroom Ideas Pinterest board.
Here are my thoughts on what I'd like to see happen in here:
Trim- Oh how I would LOVE to have white trim. Not just in this little bathroom, but throughout my entire house. There's a slight problem though… if I paint the trim in the bathroom, I end up with white trim and a brown door. Paint the door, and it won't match on the other side. Not sure that's an option.
Wainscoting- I LOVE the idea of wainscoting. I think it adds such a freshness, but, herein comes that white vs. brown issue again. I want white wainscoting- white wainscoting, brown trim?… I think not!
Paint- Paint is a definite! This creamy blah color is about as boring as you can get! I want gray with blue undertones. Something like these (I like all the ones with the word silver it them- thoughts?):
Storage- I want a place to put some basic essentials for the bathroom, like toilet paper! So, shelving or a cabinet is a must.
Sink- Although I'm not entirely thrilled with our sink, I think it's fine for the space we have, but our faucet drips, so that could be replaced for sure. And what is up with our mirror? It's been that way since we moved in 4+ years ago. I will be more than happy to say goodbye and replace it with something better! (So glad I included the trash can in the picture- just keepin' it real).
Lighting- I'm not a fan of this light fixture. Again, it is boring!
Little extras- I'd like a patterned rug and some pops of color (I'm thinking navy or yellow) in the towels, artwork, or décor.
Let's see what we can do! I'm open to any thoughts, ideas, or inspirations you may have! Just leave them in the comments below.
If you are participating in the One Room Challenge with me, I would love to check out your room. Leave a comment with your site address and I will be sure to stop by.
If you want to watch the progress, here are the links to the following weeks:
Week 1 // Week 2 // Week 3 // Week 4 // Week 5 // Week 6
Want to Follow Along with Lemons, Lavender, & Laundry?
Subscribe!
Social media more your style?
Facebook // Pinterest // Instagram // Twitter