This week has been an experience, to say the least. The most dramatic moment was accidentally locking myself in the bathroom after my husband had removed the door knob, but not the latch. Oops! No worries, I was only locked in for a few brief minutes- nothing a screwdriver couldn't fix. Here are the updates for this week:
Paint
Oh my goodness- there are a lot of grayish paints out there. I picked up a handful, (literal hand.full.) of paint samples and taped them up… here's where we started: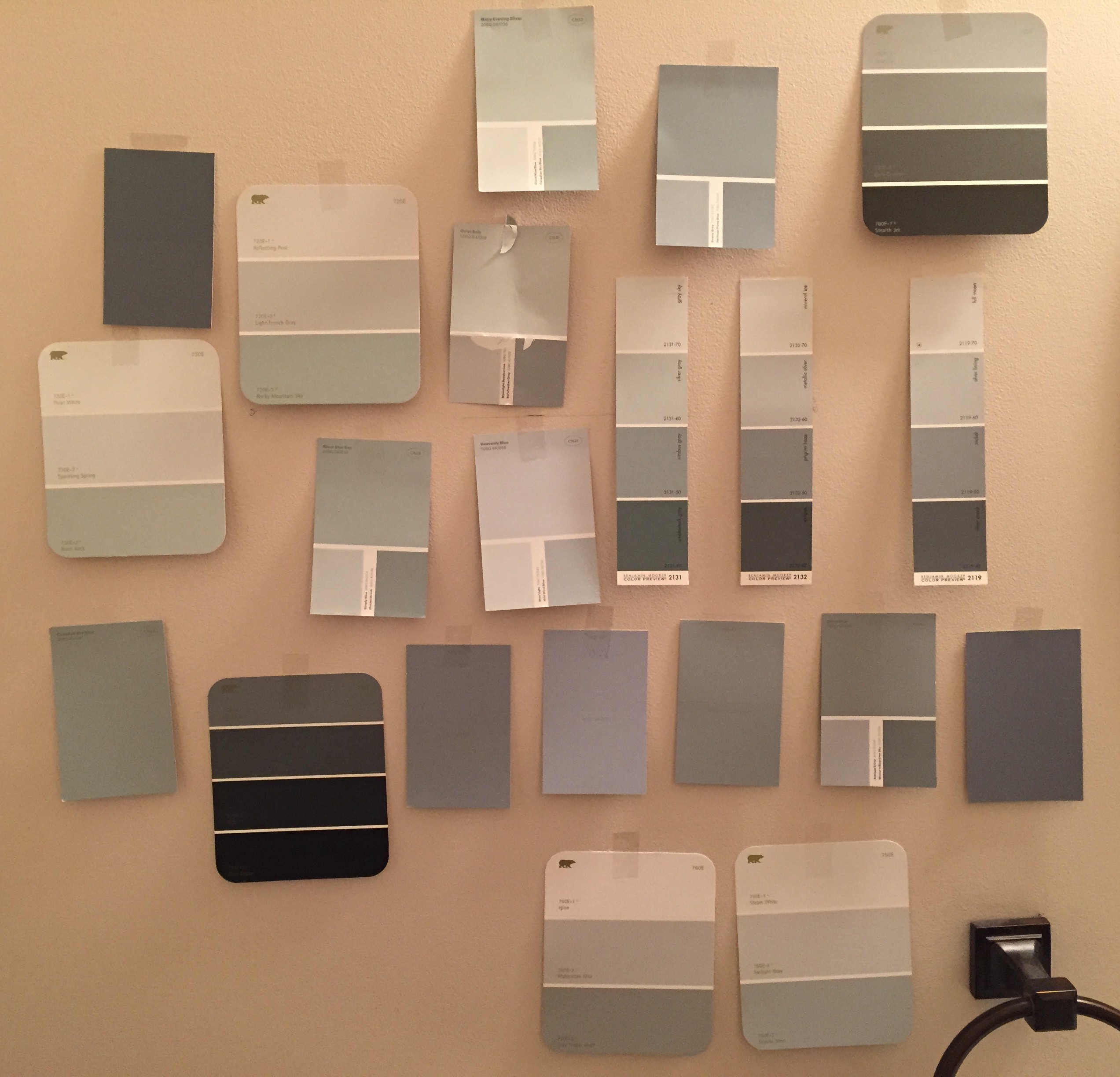 Please, keep in mind, there is no natural light in this bathroom, so this will be how the paint looks in the day or evening. I was able to eliminate quite a few right away because they looked more greenish and I really want a bluish undertone. Others, I was able to toss because they were just too dark. We narrowed it down to these few and tried them on another wall in the bathroom.
We all liked the 3rd ones down on the strips and the big swatch on the other sample. Honestly, I can't tell the colors apart! (I know they look different in the picture- bad lighting.) The thing is, this is a very small bathroom and I don't want to go too dark (however, there will be a lot of white in the space too.) I got a sample for the Benjamin Moore Nickel (darker) and the Benjamin Moore Silver Lining (lighter). I would love to hear your thoughts!!! (Although, I do have a favorite.)
Here's how they look in the bathroom (you can see them in the mirror on the other wall and they seem to have a lighter hue- this is true not only in the pictures, but in the bathroom as well.)
Here's a close up of the colors with the white baseboard. (Trying to get an 10 foot piece of baseboard to cooperate for the picture was not an easy task.)
Please forgive that paint job… I did that with a small Crayola paintbrush I got from my children's paint bin. Apparently we have no other usable paintbrushes at this time. And the last one is just a nice close-up of the two colors. Please vote in the comments section!
Trim
While going through ideas for our bathroom, I discovered my husband and I have very different tastes- he likes a rich, dark wood scheme, and me, I like bright and warm. However, he has agreed to let me have control over the bathroom for the most part (Thank you Honey). And, yes, he has agreed to the white trim and door so we can do the wainscoting! I'm so excited!!! I think it is going to make this space so much more inviting. We have purchased new baseboards because ours were just plain boring.
Wainscoting
I would love some advice in the area. There are multiple ways to do wainscoting:
Panels- Pros: It's a cheaper way to go and it's a pretty easy install. Cons: It's hard to hide the nail holes and you have seams between each piece.
Image from Home Depot
Tongue & Groove- Pros: It will probably look better. Cons: The cost is significantly more (like 3x more). Obviously, we would paint it white!
Wallpaper- I have seen wallpaper that looks exactly like wainscoting on other sites, but have never seen it in person. It certainly is a much cheaper way to go and it may be handy because we need to work around plumbing. Any thoughts on the wallpaper idea? Have any of you actually used it?


Shelf vs. Cabinet
In week one, I had an idea that I would use a cabinet in the bathroom, but, of course, as time went on (and I hunted around Pinterest for awhile), I found a shelving unit that I loved!, But how often can you actually find that same shelving unit that someone pinned 3 years ago? Then, my husband, in a stroke of brilliance, found the plans to make the shelf. We have to make the shelf a little smaller in order to fit, but I am so excited! (Finally, a place to put toilet paper!)
Other
We bought 2 different light fixtures to try out. One is chrome and one is brushed nickel. This will help determine our future faucet. I'm also struggling with my mirror idea. I thought I'd do a white framed mirror, but then thought maybe I should go with a little more "artsy" mirror like this one. Thoughts?
For those of you participating in the One Room Challenge, I hope your rooms are making progress! If you have some time, and want to check out other participates in the One Room Challenge, you can find the "professionals" here and other linking participants here.
Thanks for stopping by and if you have any ideas, I'd be more than happy to hear them. (All those comments about painting the door and trim white sure did help last week!)
If you want to see continued progress, you can follow the links below:
Week 1 // Week 2 // Week 3 // Week 4 // Week 5 // Week 6
Want to Follow Along with Lemons, Lavender, & Laundry?
Subscribe!
Social media more your style?
Facebook // Pinterest // Instagram // Twitter