I received a discount on the products from Grove Collaborative in order to share with you their special offer this month.
Not long ago I started using trays as a way to corral clutter. It started in my office as a way to tame the paper piles, then I moved onto the kitchen, and used a tray to get organized under the kitchen sink. Just a few months ago, after our master bathroom makeover, I found a tray to organize our hygiene products. The use of trays has been a game changer in how I organize and keep clutter at bay… I'm sharing a few ideas for using trays around your home, and there's an offer for a free ceramic tray, along with some free Mrs. Meyer's cleaning products. (Details at the end of this post.)
Office
Paper Piles
Office spaces are notorious for collecting a lot of paper piles. Using a tray to hold onto papers until they can be sorted and filed is a perfect solution.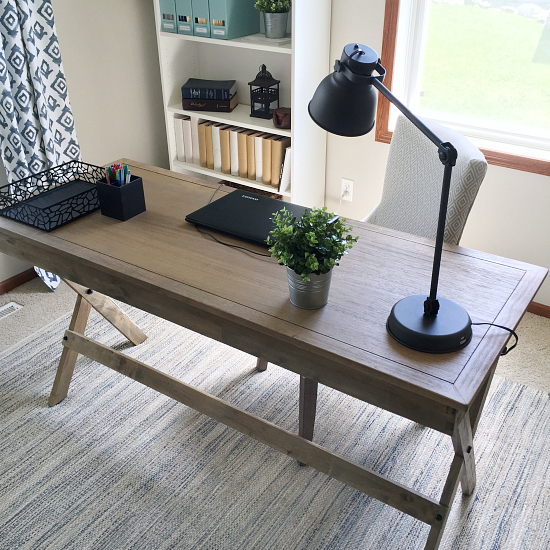 Office Supplies
Office supplies are another thing that can start to overtake our work areas; everything from writing utensils and scissors to notepads and paperclips. Finding a tray with dividers is a perfect way to keep all those office supplies neat and organized.
Kitchen
Cleaning Items
Our kitchens store a lot of cleaning products, and they are typically in one of two places: on the counter or under the sink. I used to have everything stashed under our sink, but it got so cluttered I had a hard time finding what I needed. A couple years ago I bought a tray and put all my kitchen cleaning items together: garbage disposal bombs, dishwasher detergent, countertop spray, rinse aid, etc. Corralling all these items into one tray makes it easy to find what I need, and looks cohesive sitting behind my sink.
Soaps & Lotions
A simple ceramic tray is a perfect spot for storing soaps and lotions. It's looks cute and prevents drips on your countertops. (Get this tray, along with the hand soap, dish soap, and lotion free! Details at the end of this post.)
Cooking Items
You can also use trays to store common cooking items like utensils, oils, vinegars, and spices.
Image via Inspiration for Moms
Entry
The entry area tends to become a drop zone for everything: keys, mail, grocery bags, phone, etc. Adding a simple tray for mail and a small dish for keys makes a world of difference.
Image via Postcards from the Ridge
Bathrooms
For the longest time my husband and I had all our toiletry items sprawled on top of our bathroom vanity. In March, I redid our bathroom and knew I couldn't let the sink become cluttered with lotions, deodorants and perfumes any longer. Adding a tray keeps everything together, preventing items from overtaking the vanity… again.
Living Spaces
The most common clutter filling our living spaces are remotes and reading material. Adding a simple tray to a coffee table helps keep everything in one spot for easy access and an organized feel.
Free Tray and Cleaning Products
As mentioned, I have an offer from Grove Collaborative for some freebies 🙂
Grove Collaborative is an online retailer dedicated to providing natural products at affordable prices. Each month you can choose which products you would like delivered, and if you don't need anything, just clear your cart and skip the delivery. (You will receive a couple emails prior to your chosen ship date so you can make changes.) I have been using Grove for about 8 months and absolutely love their products and commitment to providing safe, natural products for your home.
As a new member of Grove Collaborative, you will receive the following items free with a $20 purchase:
Mrs. Meyer's Dish Soap
Mrs. Meyer's Hand Soap
Mrs. Meyer's Body Lotion
Grove Collaborative Ceramic Tray
60 Day VIP Membership (This includes some additional benefits such as free shipping and a few freebies throughout the year.)
If you are already a Grove member, you will receive 25% off of the ceramic tray.
Here's How to Place your Order:
Sign up for Grove Collaborative HERE. Membership is free.
To receive your free products, place a $20 order (Need some ideas? Check out some of my favorite products below). (Remember shipping will be free.) There are a ton of amazing products to choose from. I also shared about them on Facebook Live.
Finish & Pay
Grove Favorites
Bee's Wrap
Blood Orange Hand Sanitizer
Bubble Up Dish Brush
Glass Spray Bottle
Lip Balm
All Natural Soy Candle
Natural Sponges
Dish Towel
Dish Brush
Happy Organizing!
Erin
Want to Follow Along with Lemons, Lavender, & Laundry?
Subscribe!
Social media more your style?
Facebook // Pinterest // Instagram // Twitter
Love it? Pin it!