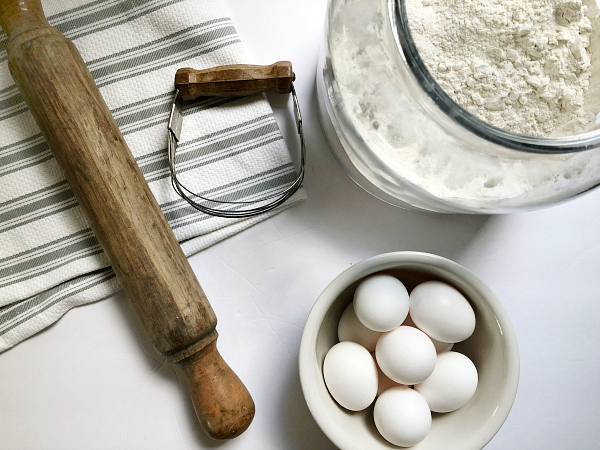 It is the first Friday of the month (Happy June!) and that means I'm sharing a Friday Favorite AND this month's Subscriber Giveaway… (more on that a little later 🙂 ).
At the end of March, my family and I took a road trip from Minnesota to Texas, and along the way we stopped in Pawhuska, Oklahoma to visit the Pioneer Woman's Mercantile and Guest House/Ranch (where she films her television show). You can learn a little more about the experience here.
Here's the thing… I seriously love Ree Drummond's recipes! I have all her cookbooks (except her newest one), and I use them all. the. time! So, today I thought I'd share my favorite recipe(s) from each cookbook I own, and then I've got an opportunity for you to win one of her cookbooks for yourself… Ready?
The Pioneer Woman Cooks: Dinnertime
Favorite Recipes
Burrito Bowls– I seriously make this chicken seasoned with salt, pepper, cumin, and chili powder once a week. It is amazing… add it to a bowl of rice with all the fixings… Yum!
Croissant French Toast– Does this even require an explanation? So good topped with strawberries and powdered sugar. Find the recipe here.
The Pioneer Woman Cooks: A Year of Holidays
Favorite Recipe
Beef and Chicken Fajitas– This cookbook is definitely geared more towards holiday cooking, so the recipes are  suited for days of festivities, but I'm pretty sure you can have fajitas anytime, even if it's not Cinco de Mayo, right?
The Pioneer Woman Cooks: Food From My Frontier
Favorite Recipes
Make-Ahead Muffin Melts- While this is supposed to be "make-ahead", I just make 'em and eat 'em. There is something about the mixture (with mayo, mustard and Worcestershire) that makes these so incredibly delicious! You can find the recipe here.
Drip Beef- Being from Minnesota, we don't often do a lot of "spice", but adding peperoncinis to the beef while it cooks adds the perfect amount of heat.
The Pioneer Woman Cooks: Recipes from an Accidental Country Girl
Favorite Recipe
Spicy Pulled Pork– I always mark recipes I want to try using page flags and once I try them, I use small sticky notes to write myself notes about the recipe. I have a whole lotta pages flagged in this book, but haven't tried nearly enough of the recipes. I do have this Spicy Pulled Pork marked as GOOD! though 🙂
The Pioneer Woman Cooks: Come and Get It!
This is the newest cookbook that I do not yet own, so I don't have a favorite to share… yet 🙂
As mentioned above, I'm giving you the opportunity to win a Pioneer Woman cookbook. Every month I do a Subscriber Giveaway, which is offered to those on my subscriber list, so if you'd like to follow along and receive our emails, you'll be entered to win (see official rules here). I am not one to overwhelm you with emails you aren't interested in receiving, so simply fill out your information and choose to receive emails from the categories that interest you most; just click HERE to sign up. (Please remember to confirm your subscription or you will not be added to the subscriber list.) Want additional entries? Just follow along on social media below. (You do need to be on our subscriber list in order for these entries to count).
I am constantly looking for new recipes and cookbooks, so if you have a favorite, share it in the comments below!
Want to Follow Along with Lemons, Lavender, & Laundry?
Subscribe!
Social media more your style?
Facebook // Pinterest // Instagram // Twitter
Love it? Pin it!