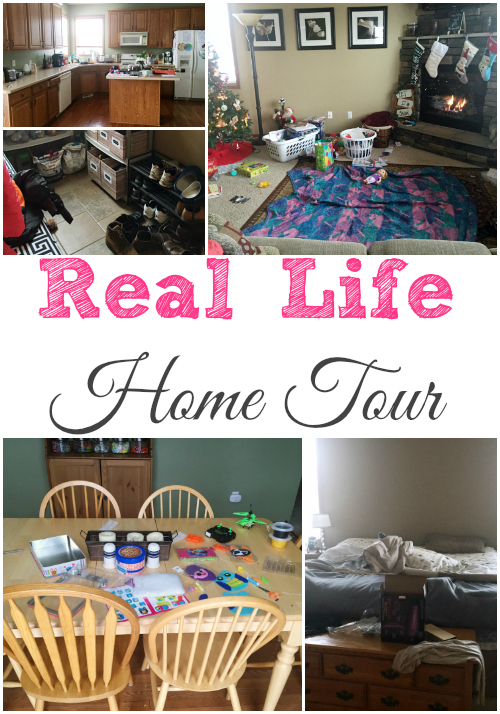 How is everybody doing on this fine Monday? Today is the first day since last Tuesday that I'm not celebrating Christmas somewhere. The past five days… yes, five… we have had some sort of gathering involving food, gifts, and time with family. Isn't Christmas the best?
Speaking of Christmas, did you get a chance to see all the incredible home tours this season? Some people have absolutely gorgeous homes, bursting with holiday cheer. (Here's a peek at my favorite!) Today I'm giving you a tour that will not look anything like what you saw over the holidays. See, I'm here to give you a little dose of reality… my reality anyway.
Often times we put our best face forward. We want people to see our perfectly clean home, even if that means shoving all our crap in a closet somewhere. We serve a beautiful dinner when guests arrive and they have no clue you've eaten frozen pizza the past three nights. I, for one, flip through the Better Homes and Gardens magazines and wonder how on earth every home that's featured keeps so tidy with their 5 kids running around. Sometimes I feel like I'm failing in the home department.
Here's the reality… often times the mess is cropped out of the picture. Well, not today. Today I'm keeping it real. My reality, for the past 120 hours, has been this: Wake up, try to be productive (one load of laundry, empty and fill the dishwasher, make the bed… Kidding. I don't think I've made the bed the last 5 days…), shower, grab gifts/food to take to the Christmas event of the day, stay out late, get home, throw the presents we received on the counters, floors, etc, get the kids (and myself) to bed… Repeat. My house kinda looks like Santa spilled his bag of presents everywhere… and then used all my dishes and just tossed them in the sink.
I created this tour to say this: If your home looks anything like mine, I've got a plan. After this lovely tour, I'm introducing you to the 8 Week Cleaning Challenge, so stay tuned.
Here's me. Here's my home. A beautiful mess that says we haven't had time to clean and tidy and cook elaborate meals.
My Real Life Home Tour
Mudroom/Pantry
You may remember the mudroom from my first $100 Room Challenge.
Powder Room
That's right. I've got a couple clean rooms in this house, and here's one of them. This, as you may recall, was the first room I worked on for the One Room Challenge.
Kitchen
Painting supplies from the kids' bathroom, presents, and birthday cake on the island. Dishes in the sink. Lovely.
Dining Room
That would be a peek at Christmas presents received: sewing kits, Playdoh, and a toy helicopter… on the dining room table… right where they belong.
Living Room
Yep. A bit of a disaster going on in here, but the fireplace makes it look like a cozy disaster… right? We've got laundry baskets full of more presents and an old blanket we used so the kids could eat pizza in the living room while watching the football game yesterday.
Office
Our office has become a breeding ground for all my blogging/crafting/diy projects. While this may be a great place to store it, I'm feeling confident that stacking it on the floor is not the best way to organize it.
Bedroom
It's a little embarrassing when your bedroom is in worse shape than your children's bedrooms. The sleeping bag on the floor is there because my youngest had a reaction to Amoxicillin and needed Benedryl around the clock for a few days. My sparking hairdryer was replaced, but apparently I thought that tossing the wrappers and box was just too much work 🙂 And making the bed has not been on the top of my list of priorities.
Laundry Room
Yay! The laundry room is still clean since its reveal as well! Although, I am doing laundry, so we've added a laundry basket and some clothes in the washer. (I apologize for the grainy "quality". It's a cloudy, cloudy today.)
Loft
This room is usually the messiest place in our house. It's the loft above our garage, but doubles as a playroom. I guess since all the fun toys are downstairs, it hasn't been used as much this week.
I have left out my children's bedrooms as they look "typical": beds are not made, a few odds-and-ends on the floors, but nothing you wouldn't see on a daily basis. I also left out the kids' bathroom since its reveal is coming up on Wednesday. I didn't want to ruin the surprise. Also not shown are the basement and garage. Hey, I didn't want to scare you too much.
Introducing the 8 Week Cleaning Challenge
As you may very well be aware, the new year is upon us. Friday marks the beginning of 2016, and with a new year comes a fresh start. Many people create resolutions, and the top two are lose weight and get organized. Let's focus on that second one. It can feel overwhelming to "get organized". Starting on Monday, January 4th, I will be creating a plan for us, (Yes. I said us. Did you just see my house???) Each week during the months of January and February we will concentrate on one area of the house. For example, the first week, we'll focus on bathrooms. Just bathrooms. I'll share ideas for getting them clean and organized. Week two, we'll move onto another area. After 8 weeks, your house will be cleaner and more organized. I hope you'll join me on the journey.
UPDATE: While this challenge originated in 2016, you can start the 8 Week Cleaning Challenge any time. All posts were updated in 2020 to bring you even more cleaning and organizing ideas for your home.
Start the 8 Week Cleaning Challenge Today!
Want to Follow Along with Lemons, Lavender, & Laundry?
Subscribe!
Social media more your style?
Facebook // Pinterest // Instagram // Twitter