My mom introduced me to Norwex products awhile back and I cannot believe how well they clean glass! (And no, this is not a sponsored post- just my opinion). The best part is, you do not use any glass cleaner, just water.
Here's What You'll Need
Typically these products are sold through a consultant at in-home parties. I found mine at The Minneapolis Farmer's Market. But you can buy both these items, as a package, at Amazon here.
Directions
Get the blue, microfiber cloth wet, not dripping wet, just wet it down and wring it out. Wipe down your mirror or window, whatever you're cleaning. Then use the "magic" purple window cloth. It acts like a squeegee, removing all the water and gross grime with it. I used to use paper towels to wipe down all my glass and it would leave lint behind everywhere! Not with these cloths, it leaves a streak-free, lint-free shine. Here's my children's bathroom mirror before cleaning- all those blurry spots are splattered toothpaste, or just "child grime":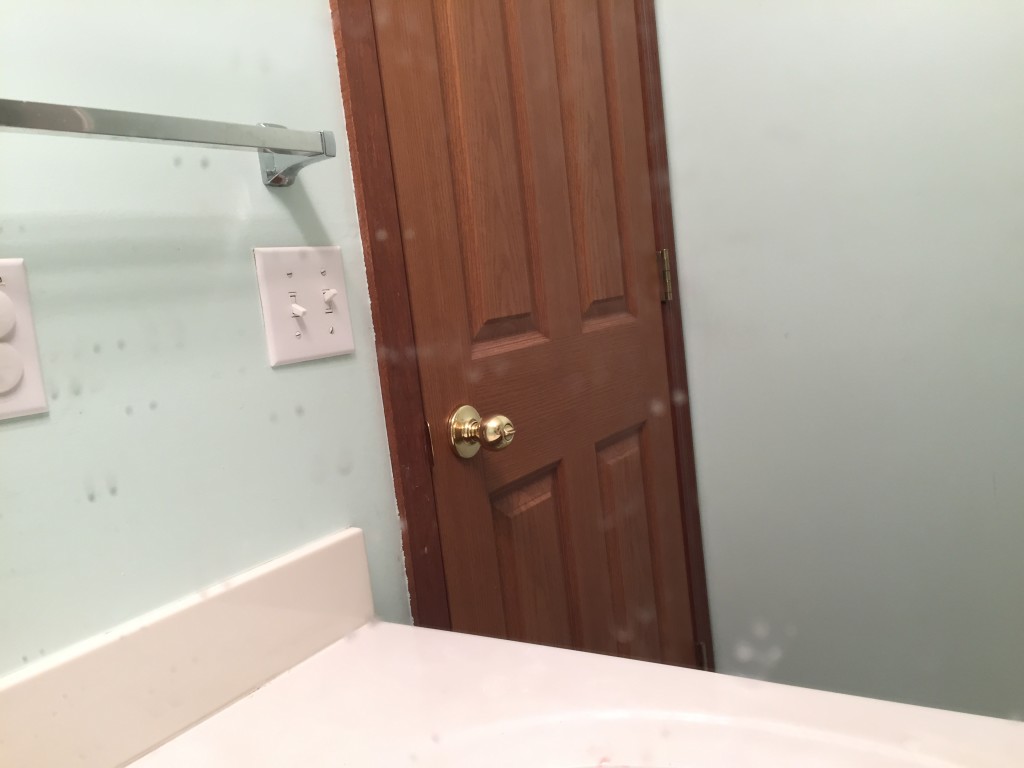 Here's the after- seriously took less than one minute (and there's a little paint splatter on the door frame, not from the glass):
You are not encouraged to wash these until they appear dirty. Once there's noticeable grime on them, or if you've used them to clean a germ-infested area, you can throw them in a hot wash cycle- DO NOT use fabric softener. Do not dry them as this removes some of their cleaning/antibacterial properties, just let them air day.
How Much Do You Save?
Buying Glass Cleaner & Paper Towels at the Store
Glass Cleaner: Windex Glass Cleaner was priced best at Walmart for $2.83 for 32 fluid ounces (or 8.8¢ per ounce).
Paper Towels: Best price was at Walmart for $1.25 per roll of 168 sheets (when you buy a 12 pk for $14.97)
Honestly, I'm not sure how many paper towel rolls it will take to use up the entire bottle of Windex, but you get the picture of pricing.
Buying the Two Norwex Products
Package through Amazon $39.99 (I paid approximately this same amount directly from Norwex sellers at the Minnesota Farmers Market).
Savings
I know buying the Norwex products is a bigger upfront cost, however, in the long run, you buy them once and they last a very long time- I've had mine for at least 5 years, if not longer- (you may use yours more often than I do, so the longevity may vary depending on usage). But, how many bottles of Windex and how many rolls of paper towels would you use over a 5 year period? My guess is the total cost would be much higher than $39.99. Plus, you get the added benefit of not using a chemically cleaning product.
Want to Follow Along with Lemons, Lavender, & Laundry?
Subscribe!
Social media more your style?
Facebook // Pinterest // Instagram // Twitter