My mom introduced me to Norwex products awhile back and I cannot believe how well they work at cleaning glass! (And no, this is not a sponsored post- and I do not sell Norwex). The best part is, you do not use any glass cleaner, just water.
The Best Products to Clean Glass

Norwex Antibacterial Microfiber Cloth and Window Cloth
Typically these products are sold through a consultant at in-home parties. I found mine at The Farmer's Market. But you can buy both these items, as a package, at Amazon here.
How to Use Your Norwex Cloths to Clean Glass
Get the blue microfiber cloth wet; not dripping wet, just wet it down and wring it out. Wipe down your mirror or window, or whatever you're cleaning. Then use the "magic" purple window cloth. It acts like a squeegee, removing all the water and gross grime with it. I used to use paper towels to clean my glass and it would leave lint behind everywhere! Not with these cloths, it leaves a streak-free, lint-free shine. Here is my children's bathroom mirror before cleaning- all those blurry spots are splattered toothpaste, or just "child grime".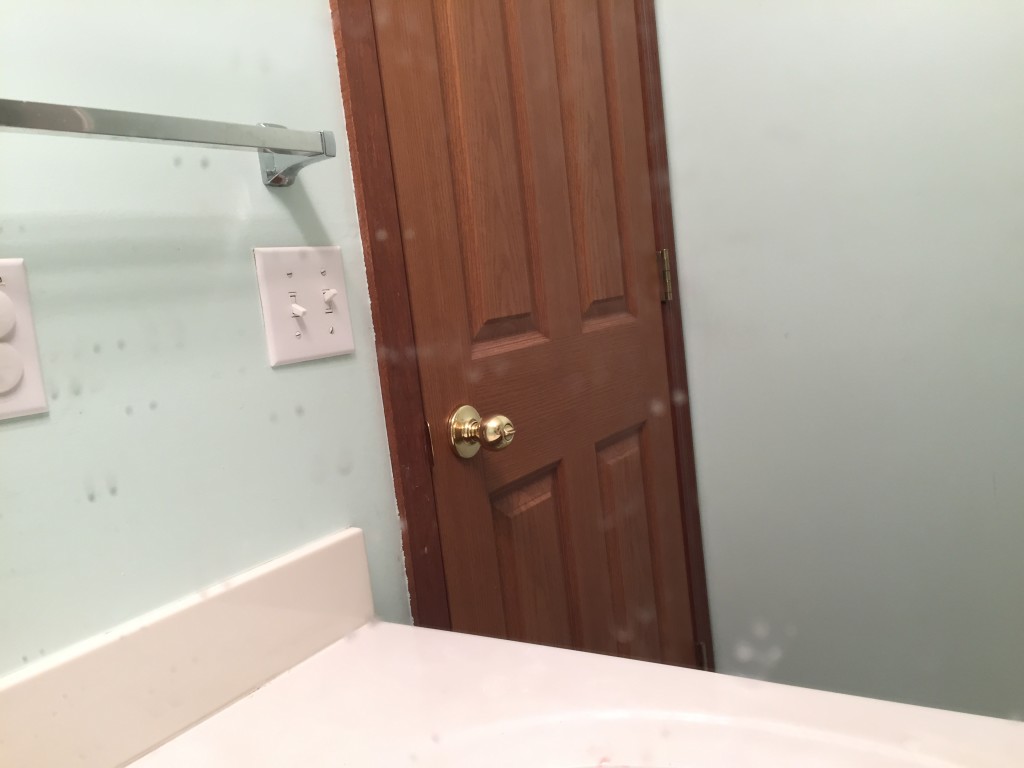 And here is the after. It seriously took less than one minute (and there's a little paint splatter on the door frame, not from the glass).
How to Clean Your Norwex Cloths
It is best to wait on washing your Norwex cloths until they are noticeably dirty, or have cleaned up a germ-infestation. When the time comes to wash your cloths, throw them in with your towels and wash in hot water. Do not use fabric softener as this removes some of their cleaning/antibacterial properties. Allow them to air dry. Do not dry in the dryer. That's it!
While these cloths can be a bit spend-y, they are totally worth it! I have had mine for 10+ years and still use them all the time.
To see my favorite products for dusting, click here.