Typically I take on one room in my own home and completely make it over in one month's time… with $100. It's what I like to call the $100 Room Challenge. While I love doing these challenges, I decided that, in the month of February, I would take a look at rooms submitted by my readers, and share how I would re-do them with a $100 budget. So far we've looked at a family room and a craft room. This week I'm working on a space I know well. This is my parents' bathroom. Let's take a look at its current state.
Goals for the Bathroom
This is not my space, so I don't determine the goals. When I asked my mom what she wanted to see happen, here were her thoughts:
Paint
I'm not gonna lie, I was shocked when my mom told me she loved desert colors. I'm not sure if it's because she was recently in Phoenix, and got inspired by the color scheme or what. Since this bathroom is rather small, keeping the paint color light is best. I would go with a beige that has desert color undertones. Here are a few ideas:
Hampshire Taupe by Benjamin Moore ↓ (Red Undertone)
Photo by Cardea Building Co. – Browse traditional bedroom photos
Gobi Deset by Behr ↓ (Yellow Undertone)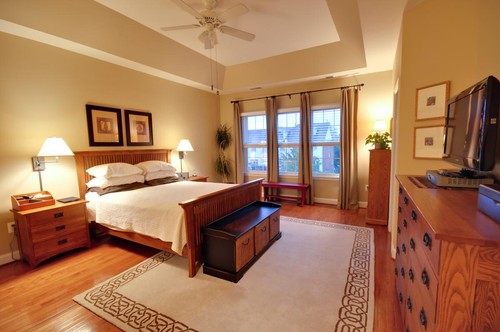 Photo by Weaver Home Photography – Look for eclectic home design design inspiration
Mohave Desert by Benjamin Moore ↓ (Orange Undertone)
Photo by Visbeen Architects – Search contemporary bathroom pictures
*Cost: Free- $30
I've said it before and I'm gonna say it again: You can paint your house for FREE! Yes. I've done it… in our Master Bedroom. The entire thing was painted for free! How? Head over to your local recycle center. Often times they accept leftover paint, and you can browse through the selection, and bring it home at no cost. However, I admit that sometimes the color choices are slim, and you can't find exactly what you're looking for. In this case, you can check your local hardware store for discounted paint, or you can buy a can. Remember that you can often color-match any brand's paint colors in a more budget-friendly option.
Update the Vanity
I'm not sure how my mom feels about the top of the vanity, but I don't think it's that bad, so I would just leave it alone. The bottom portion (with that dark, dark wood) needs an update, and I think I've got just the thing.
Last month, a bunch of bloggers participated in the $100 Room Challenge, and Meredith, from The Palette Muse, updated her vanity. It started out worse than this one. (I'm talkin' a shell sink). She used DecoArt's Satin Enamel (which you can also find at your local craft stores… and those craft stores often have coupons available for 40% off 🙂 . So a $9 jar will actually cost about $5.40.) The enamel comes in 21 different colors, so there's plenty to choose from. You can check out some projects done with the Satin Enamel here. Depending on the level of bravery, I'm lovin' those blue tones.
*Cost: $6
Update the Lighting to Make It Brighter
Well. None of the images of this bathroom actually shows the current lighting situation, but it has been described to me as two separate light fixtures (sconce style) with frosted, tulip-style shades. (Funny. I've used this bathroom, probably, 200 times, and I haven't a clue what the light fixtures look like.) I was told she doesn't mind the two separate lights, so updating the shades from frosted to clear might be just what's needed to brighten this space. Here are a few ideas for changing out the shades:


*Cost: $20-$100+
Just replacing the shades isn't too much of a cost at about $10 each. The other option is to replace the sconces, however, that will cost more money.
Add Some Photography
Typically I try to go cheap/free when it comes to wall décor, but my mom loves photography. While we'd all love to take professional photographs, we sometimes need to turn to the actual professionals to get the quality we want; so this is going to be the place to spend a little money. My mom mentioned that she enjoys groupings of photography. She gave the example of colorful doors, or bicycles. Here's the issue: Vibrant photographs against a desert palette might not mesh well. I would either soften the photography, or go with a neutral beige on the walls (vs. the desert undertone) and then go vibrant. Etsy was my go-to for this because many shops sell several prints together, in a gallery-type way. (Since my dad is typically the one using this bathroom, I added some old barn galleries as well, since that's his style.)
If we soften the photography and "go desert" with the wall color, here are some ideas (Click on Images for More Details):


If we go with vibrant photography and a more neutral wall color, here are a few options (Click on Images for More Details):

Did you see those orange and yellow flowers? Those are vibrant and could go with the desert palette. 🙂
Most of these are prints, so you'd also need frames. My recommendation is to shop your house. I feel like we all have frames hanging around that aren't being used. Otherwise, shop thrift stores or garage sales; you are sure to find some there. If you discover that the frames aren't your favorite color, you can always paint them with spray paint; or grab a sample of paint for about $3 at your local hardware store.
*Cost: $25-$100+
Total Budget
Paint- $0-30
Vanity- $6-15
Lighting- $20-100+
Wall Art- $25-100+
Here's what I would budget for this space- Since finding free/cheap paint is never guaranteed, I would budget $30. Because this bathroom has a tiled shower area, one gallon of paint should suffice. I would then budget $6 for the vanity and use the satin enamel. (Seriously, can you beat that price?). I would replace the shades on the sconces to allow for more light, and a budget of $20 should be sufficient. The art is going to be the biggest expense, but getting any artwork for under $50 is great. With a wide variety of prints to choose from, you should be able to get some you love for $30-50 (which might put you a little over the $100 mark).
*All costs are estimates based on standard retail prices. This could be higher or lower depending on where you live.
What do you think? How would you spend $100 in this space?
Next week I am excited to announce that another round of the $100 Room Challenge is starting up again… and I've got more bloggers joining in! Some old faces and some new. I cannot wait!!!
Want to Follow Along with Lemons, Lavender, & Laundry?
Subscribe!
Social media more your style?
Facebook // Pinterest // Instagram // Twitter
Love it? Pin it!