Many people do not realize the (potentially) negative impact of the products they use on a daily basis; whether it be cleaning products sprayed around the house or personal care items being applied to the body.
Years ago I started switching out my cleaning products from store-bought to DIY versions. Initially I did this as a way to save money, but soon realized how much better these homemade products were for the safety and health of my family.
For a few ideas on stretching your cleaning products, check out these posts:
It wasn't until recently that I started switching out my personal care items. However, in making this switch, I noticed that products using high-quality, natural ingredients tend to be more expensive than the brands I had been using. So, this budget-friendly girl decided to figure out how to stretch those natural products to make them last a lot longer. All you need are a few foaming hand soap dispensers and distilled water.


Young Living products are being used in the examples below because they are what use. I do not know for certain whether other brands can be stretched in the same way, however, you can always give it a try.
Shampoo
Shampoo is something I use every single day, and I'm sure that's the case for many of you as well. Here's the thing about shampoos and soaps: they often contain Sodium Lauryl Sulfate (SLS) or Sodium Laureth Sulfate (SLES), which are skin irritants. Doesn't that seem weird? Adding a skin irritant to a product you're applying to your skin? Both of these ingredients are cheap to produce and are added as an emulsifier and foaming agent. Yep… all those suds you see are because a chemical was added to create them. Natural shampoos and soaps will often avoid using SLS and SLES, which means you probably won't get that same foaming action you're used to… No worries. I've gotcha covered. Using a foaming hand soap dispenser will not only allow you to get more out of your bottle of shampoo, it will also produce suds.
Stretch your natural shampoo from 10 oz to 40 oz
Directions
Start by grabbing an 8-9 oz foaming hand soap dispenser and add 2 ounces (1/4 cup) of shampoo to the dispenser. (It's totally fine to eyeball it by filling the dispenser about 1/4 of the way.) Then fill the remainder of the dispenser with distilled water*. Shake to combine. (I noticed the shampoo took a little more shaking than other products, so if you are seeing the shampoo settle to the bottom, give it a good shake for a couple days. Eventually, you will notice consistency throughout the dispenser.) I use about 4 pumps on my shoulder length hair each morning. You may require more or less depending on the length of your hair.
*It is recommended that you use distilled water because tap water contains natural impurities that can lead to bacteria growth. It is also recommended that you only make one dispenser at a time, storing the concentrated product in its original container until you're ready to make another batch.
Conditioner
Conditioner is another "daily use" product for me. Before we learn how to stretch it, let's chat about one of the most common ingredients added to personal care products: Fragrance. I know. It doesn't sound all that bad, right? But did you know that there are 3,999 materials used in the creation of "fragrance"?! 3,999!!! And guess what? Because "fragrance" is considered proprietary in nature, brands do not have to disclose which materials they've added. (You can find the full list of materials used in fragrance from The International Fragrance Association here.) If you have Netflix, check out the documentary "Stink!"
Stretch your natural conditioner from 10 oz to 20 oz.
Directions
I'm not sure about other natural conditioners out there, but Young Living's Copaiba Vanilla Conditioner is thick. About half way through bottle, I was having a hard time getting it out due to its consistency, so I filled the bottle up with distilled water and gave it a good shake. At first the conditioner had a bit of a watery consistency, however, while we were on vacation for a week, the bottle sat in our shower and upon arrival home, the consistency was perfect. Take a look…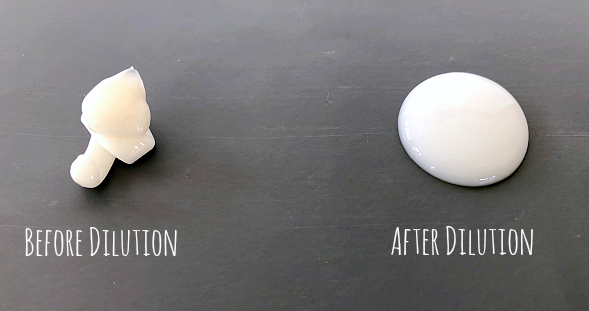 You simply combine 1 part conditioner to 1 part distilled water and shake. Maybe let is sit a few days to come together, and you're done. From here on out, I will continue using the original bottle, filling it half full with conditioner and then adding distilled water to fill the 10 oz bottle. If you order this conditioner for the first time, simply store 1/2 of the conditioner in a separate container until you are ready to make your second batch.
Body Wash
I have been a faithful body wash user for as long as I can remember, however, I recently tried Morning Start Bar Soap instead and I don't know if I'll ever go back to body wash. My biggest concern in trying a bar soap was that it would dry out my skin, but guess what? It had the opposite effect. The natural bar soap was less drying to my skin than the body wash I'd been using… So I start researching why this might be and found that many surfactants used in soap can be drying, but even more crazy is what I found out about antibacterial soaps. For many years, Triclosan was used as the antibacterial agent in soap, but in September 2016, the FDA stated it was no longer allowed to be used in products as it was not proven safe or effective. Now, makers of antibacterial soap are adding other ingredients, such as Benzalkonium Chloride, instead. Guess what? Benzalkonium Chloride has insufficient data on safety and effectiveness, so the FDA differed their ruling on its use for one year. In other words, we're not sure whether it's actually safe or not, but until we know, you can keep using it in your products… What?!
Stretch your natural body wash from 8 oz to 32 oz.
Directions
We are going to follow the exact same directions as the shampoo above. Grab a 8-9 oz foaming hand dispenser. Fill it with 2 oz of body wash (or just eyeball 1/4 of the container). Fill the rest of the dispenser with distilled water and give it a shake.
If you are ready to get started on ditching those store-bought brands for safer, healthier alternatives, I would love to help! Click here for details.
Want to Follow Along with Lemons, Lavender, & Laundry?
Subscribe!
Social media more your style?
Facebook // Pinterest // Instagram // Twitter
Love it? Pin it!