You and I both know the bathroom can be a source of, ahem, unpleasant smells. Today, I've got two versions of a super simple DIY air freshener to share with you.
What You Need to Make DIY Air Freshener
Affiliate links may be used. Please see our advertising disclosure for more information.
For Both Air Fresheners
Version One: Using Baking Soda & Essential Oils
Version 2: Using Coffee
How to Make A DIY Air Freshener
Target's spices come in the cutest jars, and they are perfect for this project. However, any spice jar will work if you don't happen to have these lying around.
Go ahead and decorate the outside any way you choose. I thought a simple go-round with washi tape would be easy enough, but feel free to let your creativity flow. I think burlap, ribbon, and/or buttons would also work well. If cutesy isn't your thing, you can just leave the jar alone, and not decorate it at all. Totally up to you.
You now have a couple options on how you want to freshen the air…
Baking Soda & Essential Oil
Depending on the size of your jar, mix together 1/4-1/2 cup baking soda and 6-10 drops of essential oil. I will admit that I had never bought essential oils until I made these. There are a variety of fragrances, so choose one you enjoy. (I'm not sure what's with the oils at the Health Food Store; most did not smell great to me… at all. I finally went with AmyrisBergamot, and apparently every time I use it to freshen the bathroom, I will feel centered and cheerful 🙂 Sounds good to me.) Use a silicone funnel to fill the jar with the baking soda/essential oil mixture. The baking soda is great for absorbing odors, and the essential oil will create a pleasant scent.
Coffee Grounds
Use a silicone funnel to fill your spice jar with fresh coffee grounds. Easy enough. A nurse I worked with swears that coffee grounds are great for alleviating odors. While working in the hospital, she would put coffee grounds in a patient's room when there were less-than-ideal odors wafting into the hall. Within minutes, the smell was gone. This makes sense because I remember using coffee beans as a way to "cleanse" my nose when smelling perfume samples.
Replace the lid with the holes in it as this will allow the freshener to do its job.
You can also replace the regular lid in order to keep the odor-absorbing power in the jar until needed.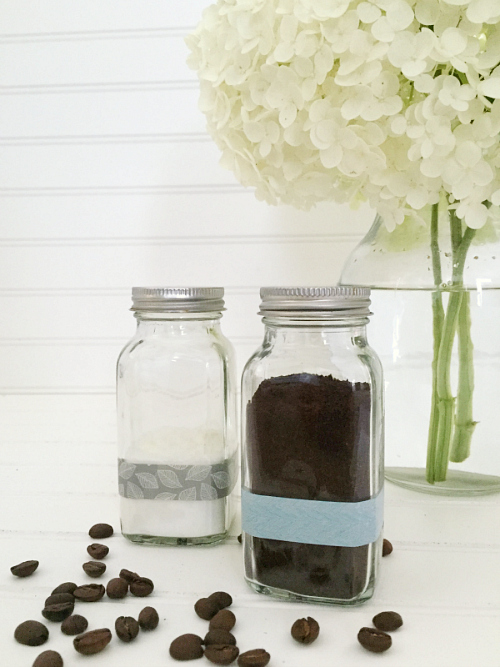 Now set them on a shelf or vanity and use as needed.
Love it? Pin it!