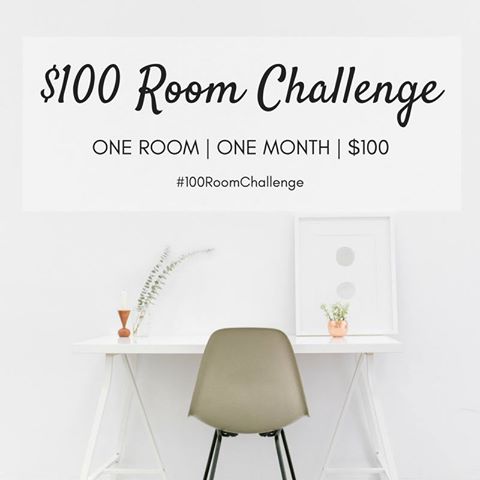 As Seen on the Rachael Ray Show!!!
To see my segment with Rachael Ray, click here.
How The Challenge Started…
I used to scroll through Pinterest, or flip through magazines, and see absolutely gorgeous photos of kitchens, bedrooms, and pantries. I'd look longingly at these images knowing I didn't have hundreds-of-thousands of dollars to spend renovating my home to create these looks for myself… nor did I have a professional photographer and a team of designers 🙂
Then one day it hit me…
I might not be able to afford my dream kitchen, but I can certainly make the spaces around my home better; not "magazine-photo-shoot-ready", but more organized and more "me". I would need to get creative, and spend money wisely, but I thought about all the things I could do for a mere $100, and I started to get excited…
I decided to start a series…
In September 2015, I decided to share this journey, and the $100 Room Challenge was born. Beginning the first Wednesday of each month, I gave myself 1 month and $100 to make-over a space in my home. My hope is that you will find some inspiration, and realize that, even if you don't have thousands of dollars to spend, you can still create a beautiful space.
Wanna Join The $100 Room Challenge?
For Bloggers:
In January of 2017, this challenge was opened up to other bloggers that wanted to participate. If you are a blogger, and think this would be a fun challenge to take on, I'd love to have you join us. The $100 Room Challenge takes place every January and September. For more details on joining the challenge, please email me at lemonslavenderlaundry@gmail.com or use my contact form.
For Everyone:
If you would like to try this challenge for yourself, I would love to see what you come up with. Use the hashtag #100RoomChallenge on Instagram.
Need some budget-friendly ideas for your home? Join our Facebook group where you can ask questions and find ways to create a space you love, for less! Click HERE to join us.
Want to Follow Along?  Subscribe & Win!
Every email subscriber is entered into a monthly giveaway for products I think you're gonna love. You can sign up HERE.
Social media more your style? I'd love to have you follow along:
Facebook // Pinterest // Instagram // Twitter // Google+ // Bloglovin'
$100 Room Challenge Spaces
Currently Working On:
Next challenge begins January 2018!
Completed Spaces:
Here are the spaces I have completed. Click on the image and it will take you to the reveal: