There are so many options when it comes to buying essential oils. How are you supposed to know which brand to buy? This page is meant to give you information so you can make that choice for yourself.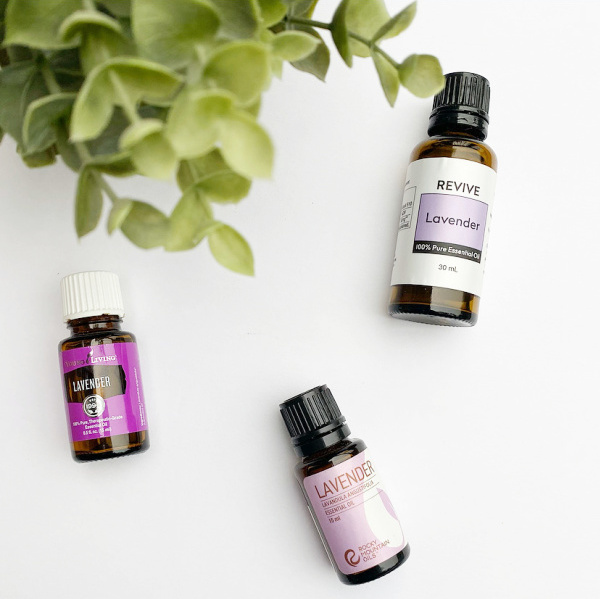 THIS POST CONTAINS TWO PARTS
Part 1: Types of Essential Oil Companies
Part 2: Things To Look for When Choosing An Essential Oil Company
*There is a comparison chart of popular essential oil companies at the bottom of this post for reference.*
Types of Essential Oil Companies
MLM Companies
If you have done any research into essential oils, I'm sure you have come across at least a few Multi-Level Marketing companies. A MLM typically requires you to purchase a starter kit in order to join their network. MLMs provide the opportunity to earn commissions through recruiting others to join their network. (Please reference their compensation disclosures for a true representation of earning. MLMs may require you to purchase product each month in order to earn a commission, and often commissions amount to just a few dollars each year.) MLMs typically have the highest pricing in the industry, however, they may also offer incentives, such as reward programs, where you can earn points for future purchases. This can be great if you are purchasing a lot of oils/products each month.
Direct-to-Consumer
As essential oils become more popular, it seems a new company pops up every day. Direct-to-Consumer companies are selling their products (typically online) directly to you. You place an order and they ship it to your door. The positive of this is that you can order as much (or as little) as you want, without having to purchase a starter kit. You can also place orders as often as you wish, or never again, with no strings attached. Costs tend to be a lower than MLM companies. However, please read about pricing below. If the deal is too good to be true, it probably is.
Retail
It seems you can now buy essential oils at whole food stores, grocery stores, drug stores… even Walmart. You may be tempted to buy these oils because, after all, you can get them with your weekly grocery purchase, and the prices seem affordable… BUT, I would caution you about these oils: If the price seems too good to be true, it probably is.
Let's talk about that a little further…
Three Questions to Ask When Choosing Where to Buy Essential Oils
Does the Company Provide GC/MS Test Results?
As a consumer, the best tool you have is a GC/MS test. This test breaks down the properties of an essential oil sample to make sure the oil is pure and unadulterated. Many companies provide GC/MS test results for their oils, and I would highly suggest finding a company that does. You need to be careful and know what to look for as companies can alter oils to get a "passing grade" or use outdated reports that are not relevant to the lot number on the bottles being sold. (See this post on Facebook for more on what to look for.)
Popular Essential Oil Companies that Provide GC/MS Results on their Essential Oils
Does the Company Provide CORRECT Information on How to Use Essential Oils Safely?
Proper Dilution: Essential oils are potent and every single one should be properly diluted. I, personally, would steer clear of essential oil companies that recommend applying oils "neat" (undiluted) or at high concentrations (such as a 50% ratio, which would be 1 drop essential oil to 1 drop carrier oil). Essential oils should really be diluted to 1-5%, meaning no more than 5 drops of essential oil in a teaspoon of carrier oil; and this is only suggested for short-term use. If you are using an oil long-term, it should really be diluted to a 1-2% (or 1-2 drops/teaspoon of carrier oil). Any suggestion of applying an essential oil undiluted or at high-concentration means you increase your risk of skin reactions or developing sensitization issues later on.
Internal Use of Essential Oil: I know this is can be a highly debated topic, and some will say that they've ingested essential oils for years and are better for it. However, I (personally) don't think internal use of essential oils offers the best benefit; and should certainly not be done without supervision from a medical professional with proper training on the internal use of essential oils.
Popular Essential Oil Companies that Provide Safe Usage Standards for Their Essential Oils
Safe Usage is defined as providing proper dilution rates and advising internal use by done under medical supervision, or not at all.
How Much Do the Essential Oils Cost?
There is a wide range of pricing when it comes to essential oils. Let's take a look at Frankincense, for example; specifically Boswellia Carterii (look at the scientific name because there are different species). If go to a MLM company, this oil costs between $180-$200+/ounce (retail). Go to a Direct-to-Consumer company, and it costs about $45-$120/ounce. Go to Walmart, and you can get it for $3.50/ounce! Ummm… that just doesn't add up! You're being scammed. Don't believe me? Check out this video from a man that tests essential oils for a living. He takes one of the bottles of "cheap" frankincense and tests it… Spoiler alert: it's not real, despite the label reading "100% pure essential oil".
I would definitely avoid super cheap essential oils at the grocery store, but if you're asked to pay double the price of what the essential oil should cost, that's not fair either. Below are a few prices of popular essential oil companies for comparison.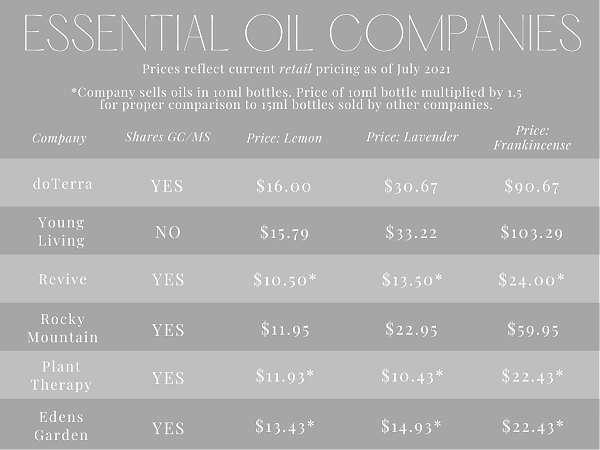 I truly hope you have found this information to be helpful as you look for an essential oil company to call your own.
Love it? Pin it!