It's week 3 of the $100 Room Challenge, and you guys, I am so excited for all the amazing spaces that are being made over with tight, tight $100 budgets… New to the challenge? You can read all about it here.
As you might be able to tell from the title, I've got some news to share… Big news, actually.
In June(ish) of 2016, my husband and I saw this house on a piece of land that made our hearts pitter-patter. The 6+ acres were simply perfect… The house? Not so much. It was literally falling apart. We didn't put an offer on the house, because we were in no financial position to purchase a house that was in need of such repair, but it started us on a journey of looking for a non-falling-apart-house on a property with trees and land where our kids could run and play (I mean, you can do that on our little lot, but it's not the same).
My husband grew up on a dairy farm, surrounded by fields, and every time we visit his parents' house, I love the quiet simplicity of that way of life… only I need a Target within a 5 mile radius 🙂
On the farm where my husband grew up.
So, this little family of mine began our search for a house, with land to go with it. No joke, I think we've walked through two dozen houses, and put offers on a half-dozen. None worked out and I finally said, "I'm done. I don't want to look at any more houses until after the holidays." December 20th my husband comes and shows me a house. It sits at the end of a dirt road with a whole lotta land. We see it. We write an offer. They accept.
I thought we'd have to wait awhile for our own home to sell, so I jumped into this challenge with every intention of making our mudroom look awesome for showings. But a curveball was thrown our way. Before our house even hit the market, we had an offer.
We're moving.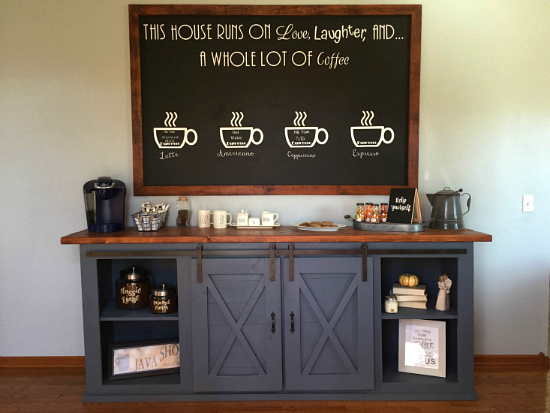 I'm not going to lie. I have been on an emotional wreck these last few days. I have been in tears… because I love our house, and I'm not sure I really want to say goodbye. Like, our coffee station… My husband made it for our One Room Challenge just over a year ago, and of course, the buyers wanted it. (Who wouldn't?) I have pretty much touched every single space and created something I love. If only I could put our house on a moving truck and take it to this property, I'd be set 🙂 But, obviously, that can't happen, so…
Now what? Well, this $100 Room Challenge is continuing on… just without me (and just for this month. I will be back at it, 'cause I'll have a whole new house to makeover!). I love this challenge, and I'll be everyone's biggest cheerleader. It just doesn't make sense for me to paint the mudroom door black when the new owners saw it white, and it doesn't make sense to furnish a mudroom, when our new house doesn't have one.
Each week I'll be following all the 40+ room makeovers that are taking place (and I hope you will too), and I will continue to share the links to all the rooms so you can follow along. I'll also be sharing some of my own heart's journey as it's been a hard month, and why not share that with my readers? Life isn't always easy, and I can share that with you, right?!
So, today, please go check out all these lovely room makeovers that are happening… and if you've been through a hard move, I'd love to hear your story, because I could use a little encouragement right now 🙂
Be sure to check out all the participants in this month's challenge using the links below!
Erin
Want to Follow Along with Lemons, Lavender, & Laundry?
Subscribe!
Social media more your style?
Facebook // Pinterest // Instagram // Twitter