I absolutely love office supplies. With all the back-to-school sales, I'm like a kid in the candy store, drinkin' a latte. There's something exciting about fresh boxes of crayons, crisp notebooks, and planners waiting to be filled… I'm weird. I know. I'm okay with that. Today I'm going to put all these supplies into an organized homework caddy so my kids are ready when it's time for school.
Awhile ago, I organized our art and craft supplies. The set-up is in our kitchen, close to the table where homework is done. This creates easy access to needed supplies, like glue sticks and scissors, but some items, like crayons and markers, are in larger jars, so I thought I'd take a few out and put them in a caddy to control the chaos creativity. Other supplies are not included in the art area at all, so instead of running a marathon through the house looking for things like, a protractor… (Do we even have a protractor? We do. Somewhere. I know I saw it last year.)… everything is together in one place.
My hope is for a reduction in the time spent searching for needed items, which in turn will reduce the time needed to complete assignments, which in turn will reduce the amount of whining about needing to do homework in the first place. Wishful thinking on the no whining. I know.
I started by coming up with a list of must-haves for homework assignments. Here's my list, but yours may be different depending on the ages of your kiddos.
For the writing/coloring utensils, I wrapped tin cans in scrapbook paper.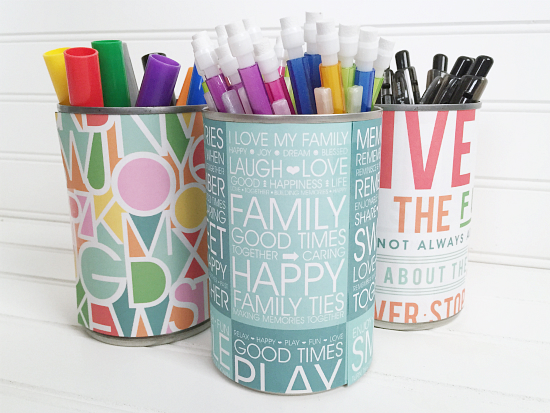 I looked high and low for something to hold all the other supplies, and finally found an organizer that worked perfectly; love when that happens. (I found mine at Target, but they don't seem to sell them anymore, but here is one that is very similar on Amazon.) There are six small containers within a larger bin. I labeled each of the containers so we would know what went where.
I had some extra bins, and Stephanie, from Casa Watkins, used this same organizer to hold flashcards. I happened to have 3 empty bins and 3 sets of flashcards… perfect.
The other containers held miscellaneous items:
All my items went into the caddy, and now I have everything ready for the first homework assignments… well, everything except my kids; I don't think they're ever ready for homework.
Want to Follow Along with Lemons, Lavender, & Laundry?
Subscribe!
Social media more your style?
Facebook // Pinterest // Instagram // Twitter
Love it? Pin it!