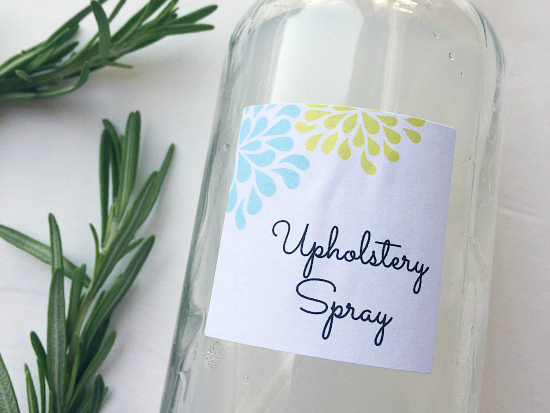 Right before school starts I always get an urge to deep-clean my house. During this phase I start doing "deep-cleaning things", like spraying my upholstery for a fresh scent. There's a small issue, however. I do not like the smell of store-bought upholstery sprays. I spray it and think, "Why am I doing this?".  So, before I put myself through another round of spraying stuff I don't love, I thought I'd do a little Pinterest search. Did you know there are about 116 DIY Upholstery Spray recipes to choose from? I went with one that seemed to get good results, and was made with ingredients I already had on hand… sort of… I'll explain in a second…
Here's What You'll Need
Distilled Water
Vinegar
Fabric Softener (Store Bought or a DIY version described below)
Spray Bottle- Originally, I dumped out my Febreze bottle and used it for this spray, but then I found these glass spray bottles on Amazon, and I love them!
I have never, in my life, bought fabric softener. Never. I actually don't even know how you use fabric softener. Once again, Pinterest to the rescue. Here is a post that tells you how to make your own fabric softener: DIY Fabric Softener. (I was super excited that the post uses a Rosemary Mint conditioner because I actually use the same stuff, and love the scent!) If you're like me and don't buy fabric softener, don't go making the entire recipe or you'll end up with 9 cups, and you only need 1/4 cup. Instead do 3 Tablespoons water, 1 1/2 Tablespoons vinegar, and 1 Tablespoon conditioner.
Directions
Mix together 1/2 cup distilled water, 1/2 cup vinegar, and 1/4 cup fabric softener (store-bought, or the homemade version mentioned above). Pour this mixture into a spray bottle. Go ahead and give that a little shake and start spraying away. Give it a little time to dry, and you'll notice your pillows smell like Rosemary Mint… or whatever scent you're using.
What I love about this recipe is the mild scent. I'm not looking for a lavender field growing in my house, I just want to lay my head down and smell a slight scent of the spray. That's exactly what this does.
How Much Do You Save?
Buying Upholstery Spray at the Store:
Febreze= The cheapest Febreze I could find was at Walmart for 18.3¢ per fluid ounce ($4.94 for 27 ounces).
Making Your Upholstery Spray:
1/2 Cup Vinegar= about 7.6¢ (based on Walmart's price of $2.48 for 128 oz., or 1.9¢ per fluid ounce)
1/2 Cup Distilled Water= about 2.8¢ (based on Walmart's price of 88¢ per gallon, or 128 ounces)
1/4 cup Fabric Softener= My DIY version cost 8¢ (3 Tablespoons water= $0 ~ 1 1/2 Tablespoons Vinegar= 2.85¢ ~ 1 Tablespoon Conditioner= 5.15¢)
My solution makes about 10 oz. for 18.4¢
Savings:
This means that for the 27 ounces of Febreze from Walmart for $4.94, you could make 27 ounces of your own for 50¢, saving yourself $4.44. And remember that Walmart's price is the cheapest price I could find for the Febreze!
Thanks for letting me take a little break from cleaning to share this fabulous recipe with you!
Erin
Want to Follow Along with Lemons, Lavender, & Laundry?
Subscribe!
Social media more your style?
Facebook // Pinterest // Instagram // Twitter
Love it? Pin it!