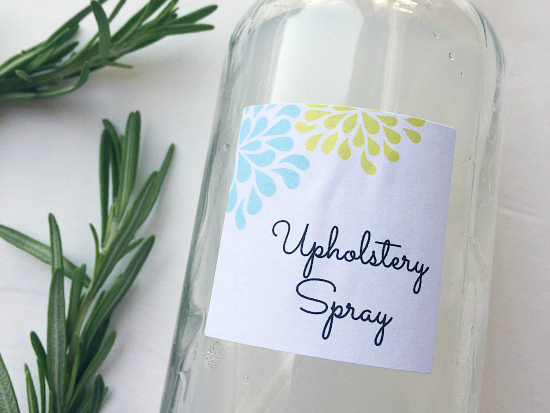 Right before school starts I always get the urge to deep-clean my house. During this phase I start doing "deep-cleaning things", like spraying my upholstery for a fresh scent. There's a small issue, however: I do not like the smell of store-bought upholstery sprays. They are so strong and have a fake chemically smell to them.  So, before I put myself through another round of spraying stuff I don't love, I thought I'd try my hand at making my own DIY upholstery spray.
What You Need to Make Your Own Upholstery Spray
Affiliate links may be used. Please see our advertising disclosure for more information.
Fabric Softener (I used a DIY version described below)
Spray Bottle– Originally, I dumped out my Febreze bottle and used it for this spray, but then I found these glass spray bottles on Amazon, and I love them!
DIY Fabric Softener
I have never, in my life, bought fabric softener. Never. I actually don't even know how you use fabric softener. Pinterest to the rescue. Here is a post that tells you how to make your own fabric softener. (I was super excited that the post uses a Rosemary Mint conditioner because I actually use the same stuff, and love the scent!) If you're like me and don't buy fabric softener, don't go making the entire recipe or you'll end up with 9 cups, and you only need 1/4 cup. Instead do 3 Tablespoons water, 1 1/2 Tablespoons vinegar, and 1 Tablespoon conditioner.
How to Make DIY Upholstery Spray
Mix together 1/2 cup distilled water, 1/2 cup vinegar, and 1/4 cup fabric softener (the homemade version mentioned above). Pour this mixture into a spray bottle. Go ahead and give that a little shake and start spraying away. Give it a little time to dry, and you'll notice your pillows smell like Rosemary Mint… or whatever scent you're using.
What I love about this recipe is the mild scent. I'm not looking for a lavender field growing in my house, I just want to lay my head down and smell a slight scent from the spray. That's exactly what this does.
Thanks for letting me take a little break from cleaning to share this fabulous recipe with you!
For a powder version of upholstery deodorizer, click here.
Love it? Pin it!