Hands down. This Natural Homemade Lip Balm recipe is one of the best things I've made. The lip balm is super nourishing, and takes only a few minutes to make. I hope you love it as much as I do!
Not only is this homemade lip balm easy to make, it contains just four simple ingredients… and you can pronounce them all 🙂
What You Need to Make Natural Homemade Lip Balm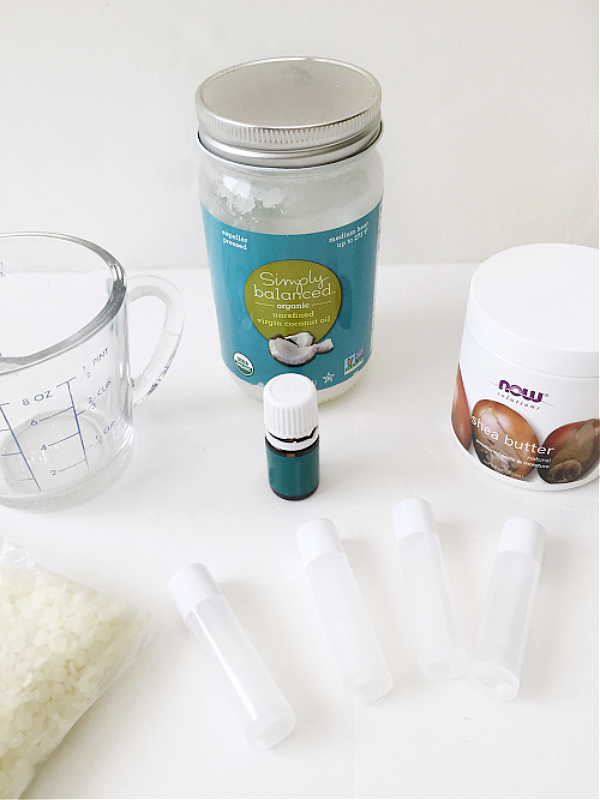 Affiliate links may be used. Please see our advertising disclosure for more information.
Ingredients Needed for Natural Lip Balm
The following lip balm recipe will make 4-6 tubes of lip balm.
*I link to essential oil brands I believe provide high quality oils and are transparent with their testing (in other words, the company publicly provides GC/MS results). I also try to link to the essential oil that will give you the "biggest bang for your buck" (often times buying a 30ml bottle of oil means greater savings per ml than purchasing a 10ml bottle). I provide more information on where to buy essential oils so you can choose a brand you feel is right for you.
Supplies Needed to Make Your Own Lip Balm
My daughter and I tried out several different combinations of ingredients in varying quantities, and this was everyone's favorite.
How to Make Natural Lip Balm At Home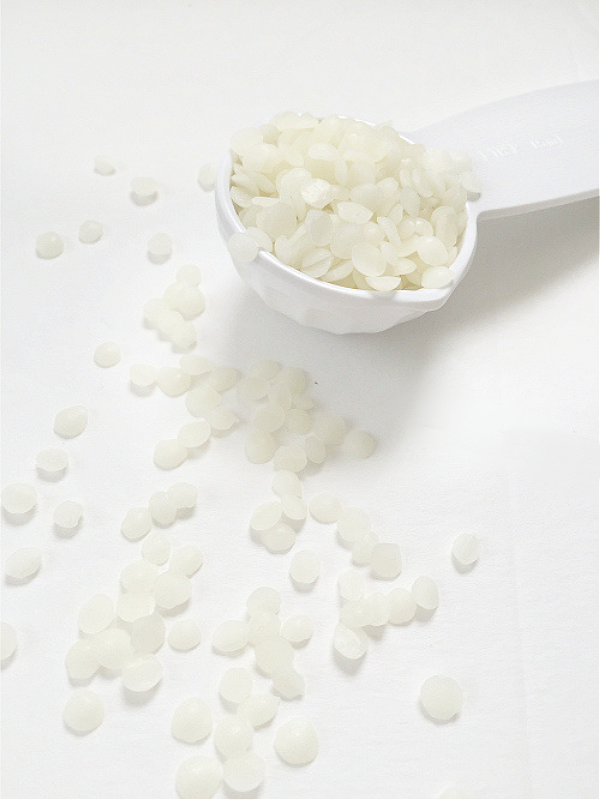 Beeswax takes a while to melt, so you want to start by placing 1 Tbsp. of Beeswax Pellets into your glass measuring cup. Microwave on high in 30 second increments; stirring each time with a wooden craft stick (this avoids getting wax on your kitchen utensils). Please remember this mixture, as well as the measuring cup, can get very hot. Use caution and an oven mitt.
If you choose to store your lip balm in the small tins, only use 1/2 Tbsp. of beeswax pellets. This gives the lip balm a softer consistency so it's easier to apply with your finger. Not gonna lie though, I like the recipe for the tubes much better 🙂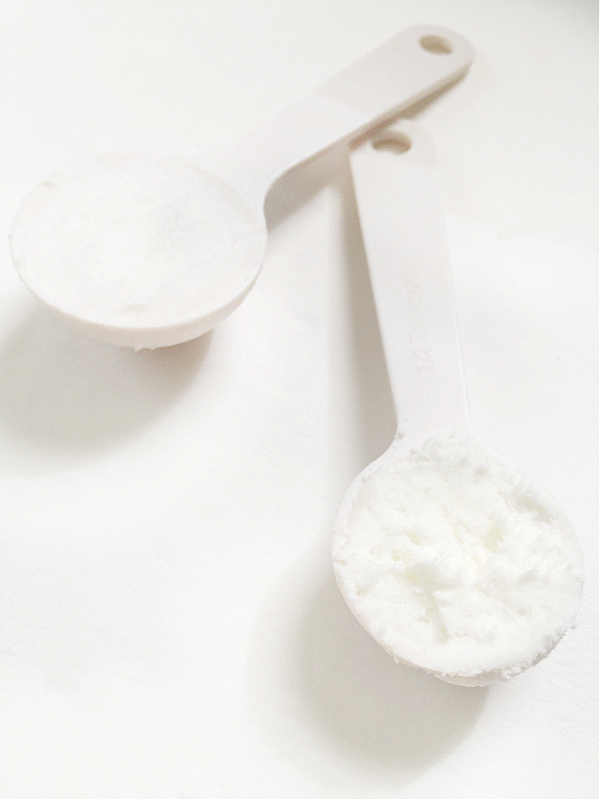 Once the wax is completely melted, add in 1 Tbsp. Coconut Oil and 1/2 Tbsp. Shea Butter. These two ingredients will start to melt in the hot wax, but you'll need to microwave for a little bit (10-20 seconds) in order for them to completely melt.
Once the mixture is completely melted, allow it to cool a bit. A lower temperature of the liquid will help enhance the scent of your essential oil. Once slightly cooled, add in 10 drops of Peppermint Essential Oil. Stir to combine.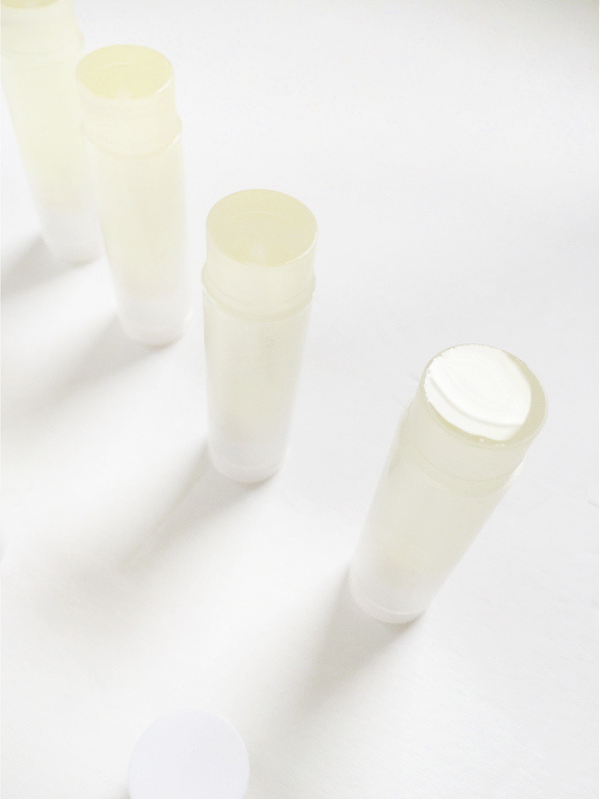 Carefully pour the liquid into your tubes or tins. (Remember this is going to be hot, so use caution!) If you are using the tubes (like I did), fill them to the very top. As the mixture hardens, it sinks down a bit, so filling it to the top minimizes the creation of a divot.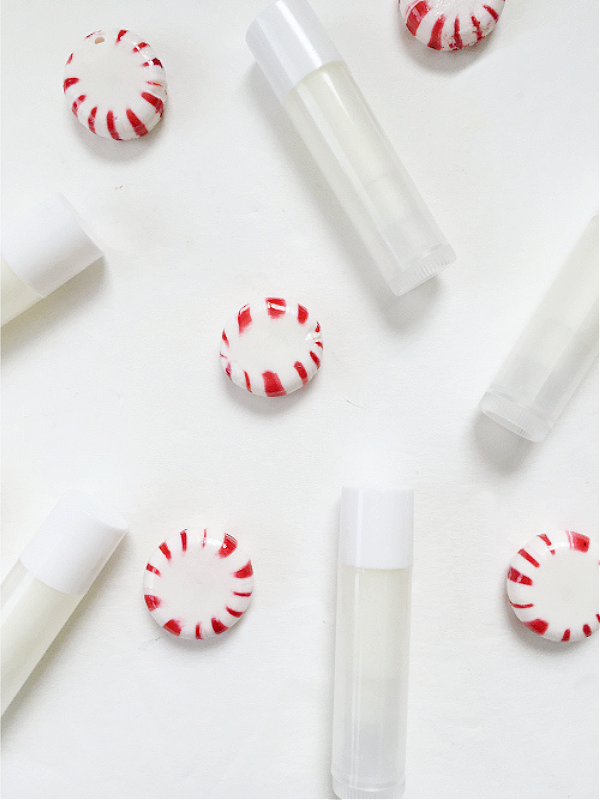 Allow the lip balm to cool and harden. This will only take 10-15 minutes.
Prior to trying any skin care product, it is strongly recommended that you test the product on a small patch of skin to make sure there is no reaction. Please see our disclaimer statement for more details.
This homemade lip balm recipe is so smooth and nourishing; simply apply as needed.
For exfoliating and added moisturizer, try our homemade lip scrub!
Troubleshooting Common Homemade Lip Balm Questions
Can I use other essential oils to naturally flavor my lip balm?
While this recipe uses peppermint essential oil, you are welcome to try other essential oils as a natural flavoring for your lip balm. However, there are a few essential oils I would strongly recommend you avoid.
Avoid These Essential Oils When Making Lip Balm
"Hot Oils"– There are some essential oils that, due to their properties, can cause skin irritation. Some common "hot oils" are Cinnamon Bark, Clove, Lemongrass, Oregano, Black Pepper, Ginger, and Thyme.
Citrus Oils– Citrus essential oils are photosensitive, meaning they increase UV sensitivity. If you are planning a day in the sun, avoid applying citrus oils to your skin.
Mildly Scented Oils– There is nothing wrong with essential oils that have a more mild scent, however, they will probably not come through in your lip balm. To get the brightest scent, add the essential oil as the wax/oil mixture cools a bit. However, you'll need to add it prior to mixture hardening.
Does homemade lip balm expire?
Because homemade lip balm contains natural ingredients, it will eventually expire. I would recommend using it within a year.
Why is my lip balm grainy?
I once made a batch of lip balm and after a couple weeks, I noticed the texture became gritty. I thought perhaps it was because I had used a different essential oil. However, with a little research, I discovered this grainy texture is common when using shea butter, as it can crystalize when melted and then slowly cooled. While there is nothing truly "wrong" with the lip balm, it sure doesn't feel smooth going on your lips. If you want to avoid this gritty texture, it is recommended that you heat the shea butter to 175° Fahrenheit in a double boiler, and hold it at that temperature for 20 minutes before adding it to the recipe. Another piece of advice is to place the finished lip balm in the refrigerator for quick cooling, which also helps avoid crystallization.
Resource: The Natural Beauty Workshop- Troubleshooting: Grainy Balms & Butters
What Do I Do If My Lip Balm is Too Hard/Soft?
Beeswax is typically the culprit when it comes to the consistency of homemade lip balm. Too much and your lip balm becomes hard. Not enough, and you'll end up with a lip balm that's too soft. In either case, you would need to melt down the lip balm, then add a little more beeswax if your lip balm is too soft; a bit more coconut oil if your lip balm is too hard. Honestly, I have never had an issue with the consistency using the measurements in this lip balm recipe.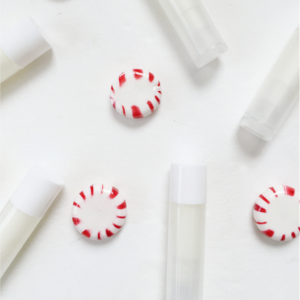 Natural Homemade Lip Balm Recipe
Natural Homemade Lip Balm Using Four Simple Ingredients
Ingredients
1

Tablespoon

Beeswax Pellets

Use ½ Tablespoon if using tins instead of tubes

1

Tablespoon

Coconut Oil

½

Tablespoon

Shea Butter

10

Drops

Peppermint Essential Oil

or another essential oil of your choosing
Supplies
Microwave Safe Glass Measuring Cup

Wooden Craft Stick

Lip Balm Containers
Instructions
Place your beeswax pellets into a microwave-safe glass measuring cup and melt in the microwave by heating (on high) in 30 second increments. Stir at each increment.

Once the wax has melted add in the coconut oil and shea butter. These will begin to melt in the hot wax, but may need another 10 seconds in the microwave to melt completely.

Allow your wax/oil mixture to cool about 30-60 seconds and then stir in the essential oil

Pour mixture into lip balm tubes or tins and allow to cool until hardened
Love it? Pin it!