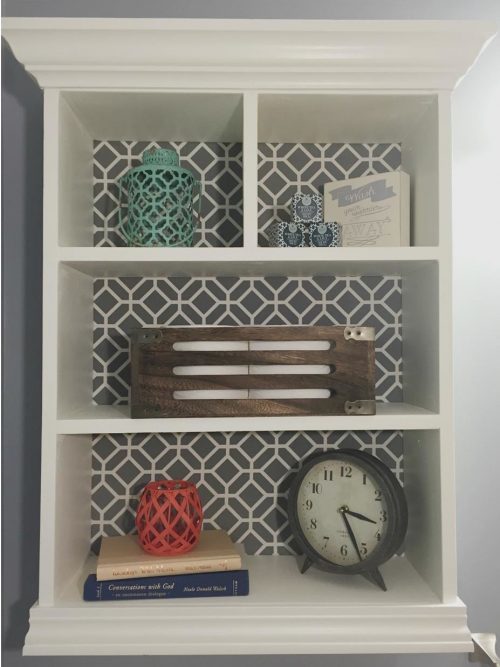 As promised in my One Room Challenge reveal, here is the tutorial on how to add a little twist to your shelving unit using fabric. I first saw the idea of decorating the back of your shelves at A House Full of Sunshine. However, she used a stencil to create the pattern on the back. During the One Room Challenge, I saw another example from Winder and Main, and she used a shower curtain for her backing. Clever, right? I'm sure there are multiple options for how you could pull off this look (I also thought wallpaper…), but I'll tell you how I ended up doing the shelving unit for our powder room.
Here's What You'll Need to Spruce Up Your Shelving Unit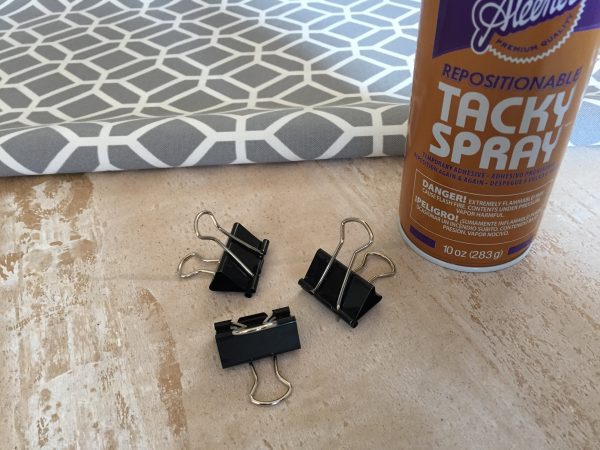 Fabric- I chose an outdoor fabric as it was much more durable than other types of fabric. You want your fabric piece to be at least an inch wider than your shelf backing all the way around.
Adhesive Spray– There are options when it comes to adhesives sprays. You can get one that will permanently hold things in place, or you can get a tacky spray that will allow you to remove/reposition your fabric. The choice is really yours. I chose to go with one that I could remove/reposition because that way I can change out the fabric, and if I make a mistake when applying the fabric, no worries, I can remove and reposition the whole thing without much effort.
Directions: How to Add Fabric to Shelving Unit
Start by ironing your fabric if it's at all wrinkly. Remove the backing to your shelving unit and secure your fabric of choice to the backing with binder clips. This helps keep the fabric straight while you're gluing it down. Keep in mind that your fabric should to be about 1/2″ longer/wider than your shelf backing on all the sides.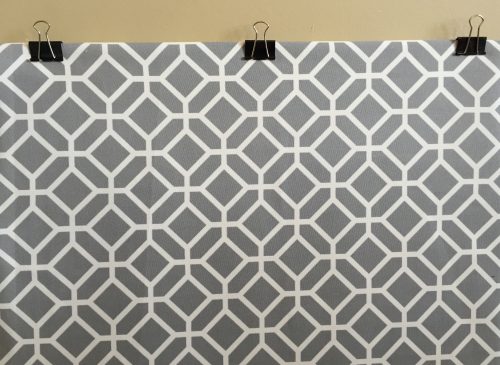 Take this outside because you probably don't want adhesive glue sprayed all over your house. Once in a place with good ventilation, flip the fabric up over your binder clips so the entire back of the shelving unit is showing, then spray the backing with adhesive spray. If you are working on a large shelving unit, do this in smaller sections, working from top to bottom.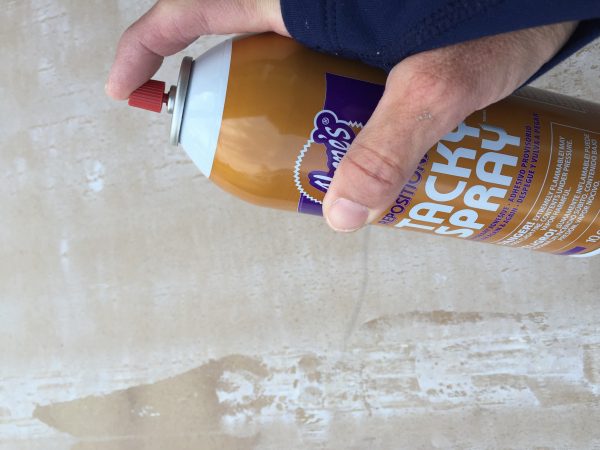 Once the backing has been lightly coated with the adhesive spray, roll your fabric down over the backing and smooth the fabric as you go. Once your fabric is in place, you can remove the binder clips and spray the adhesive underneath where they were so you are able to secure the fabric all the way around.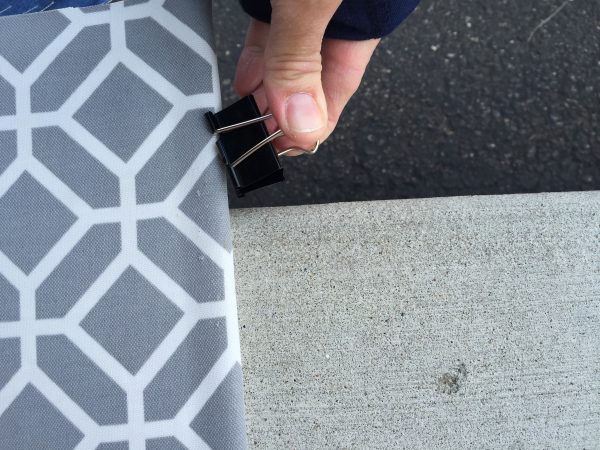 You can now cut the excess fabric off from around the backing so it doesn't show once you replace the backing onto the shelving unit. Another option would be to wrap the fabric around the backing and staple it in place. I chose to cut the fabric because when I tried to wrap it around and staple it, the backing was so dense (we used an extra piece of beadboard) the staples wouldn't go in.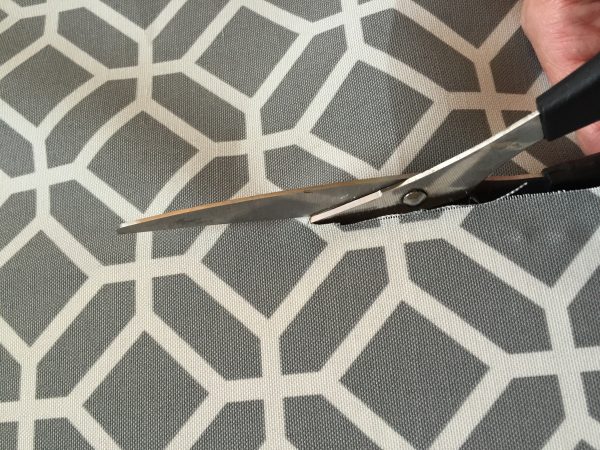 Now you can nail the backing onto the shelving unit. (Got my hubby to do it for me.)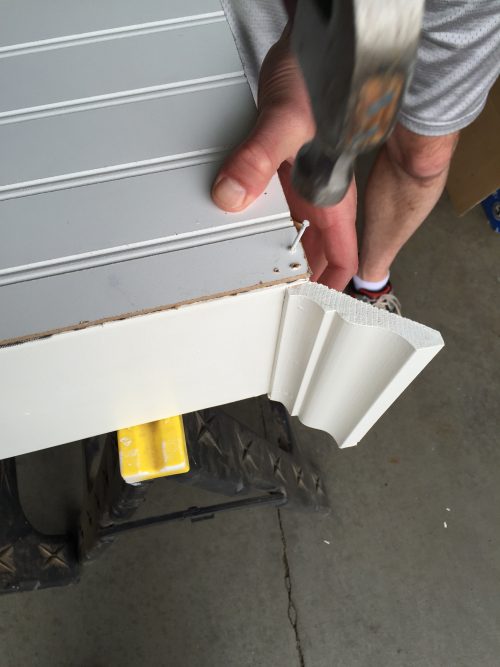 And there you have it.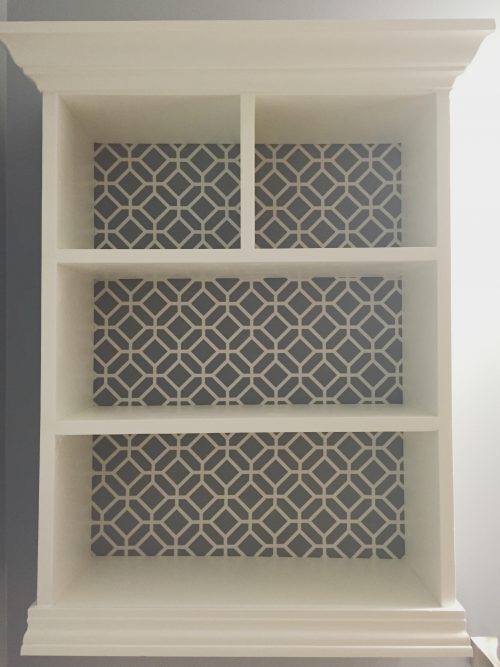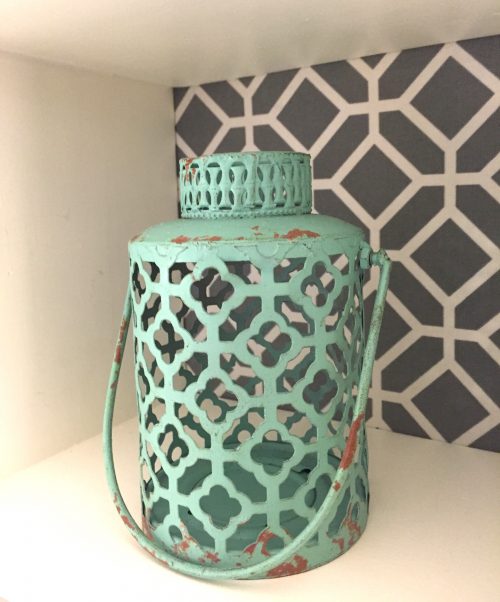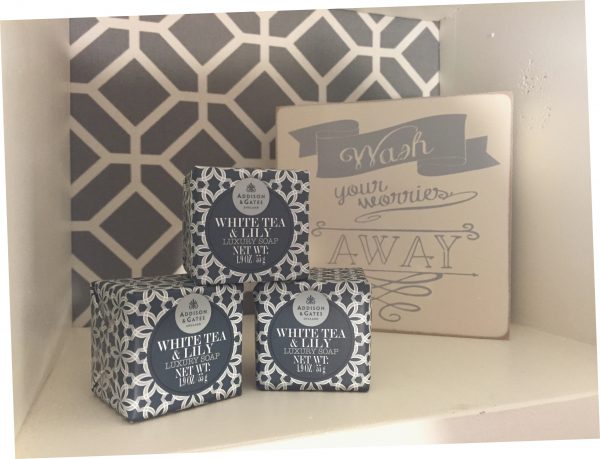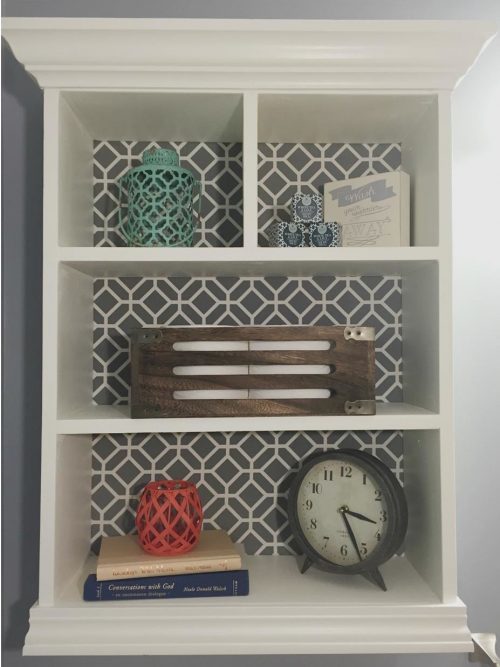 Love it? Pin it!