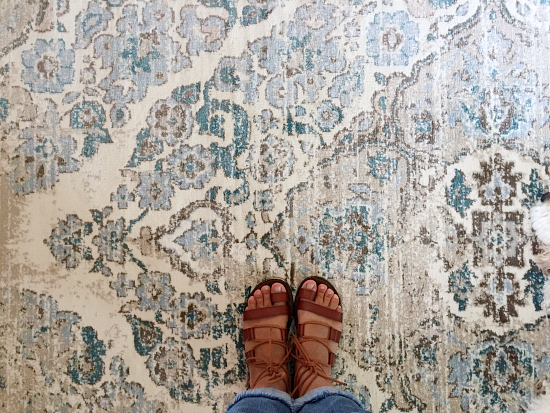 Happy Wednesday! It is week 3 of the $100 Room Challenge, and it has been slow going around here… but I have a very good excuse: I was on vacation with my family. We have made a goal to visit all 50 states before my daughter (now 12) graduates college. Over the past 5 days, we checked off Wisconsin and Michigan. If you haven't been to the upper peninsula of Michigan, go! It is absolutely breath-taking.
View of Mackinac Island
Needless to say, not much got done on the living room, unless you count changing out the rug 🙂 BUT my husband and I did have a long chat about this room on our road trip and decided that instead of filling screw pops and repainting, we are going to shiplap this space. I am SO excited, but it won't be a part of this $100 Room Challenge because we won't have enough in the budget. Hoping to do it in August.
So, let's talk about that rug…
My dog loves it and has not gotten off of it since its arrival. I'm not sure what I think of it yet. It's lighter than I was hoping and the blue is more teal vs. navy. I'm gonna let it sit in here for awhile before making the final decision. What do you think?
I also shopped pillows covers. I have found that buying in a set allows me to get a cohesive look without having to spend a lot of money. My goal is to add a little color to the living space with these pillows, but some of my choices are more neutral… Again, please share your thoughts/favorites:
Click the image for more information 🙂

So, we potentially have a rug… I'm shopping pillow covers… I've got some great ideas for the mantel… and I pulled some old windows from the garage for wall decor.
I basically have everything left to do 🙂 This 4 week challenge is turning into a one week challenge (which I knew would be the case when I started). Here's hoping I have the most productive week ever!
Erin
Be sure to check out all the other bloggers that are participating in this challenge using the link-up below the "Pinterest Image"
To catch up or look ahead:
Week 1 // Week 2 // Week 3 // Week 4
Want to Follow Along with Lemons, Lavender, & Laundry?
Subscribe!
Social media more your style?
Facebook // Pinterest // Instagram // Twitter