Create the perfect farmhouse wall decor using old chippy windows.
Did you catch the $100 Living Room Reveal? There were so many DIY projects I wasn't even sure where to begin with the tutorials, but here we go… Let's start with some old, chippy windows.
My father-in-law works in construction and was tearing out these old wood windows. Instead of trashing them, my dear mother-in-law kept them for me, knowing I'd find something to do with them. They ended up sitting in my garage for months, just waiting for a project. I ended up finding some Pinterest inspiration, and used them to create farmhouse wall decor. (While I always try to give credit for inspiration, the original creator appears to no longer have the blog online.)
What You Need to Make Farmhouse Wall Decor
Affiliate links may be used. Please see our advertising disclosure for more information.
If you are using an older window with the potential of  lead-based paint, you can check the paint using a lead test. If it comes back positive, use proper mask and clean-up practices for dealing with lead-based paint.
Using Windows For Farmhouse Wall Décor
Start by laying your frames on a tarp. If the windows still contain the glass, use a hammer to break the glass out of the frames. Please be very careful doing this. You don't want to cut yourself.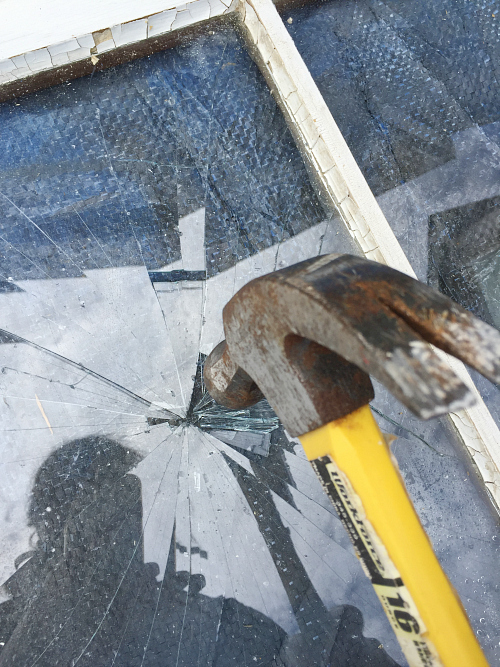 Once the glass has been removed, carefully discard it. (We just wrapped everything up in the tarp for disposal, and threw it all out… tarp included). Lay your frames on a clean tarp and wash the frames. I used some paper towels and my DIY All Purpose Spray, but something like TSP would have probably been a better choice.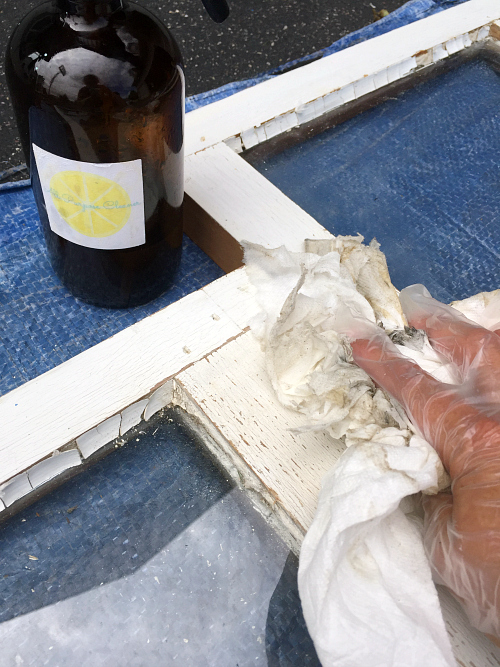 Once clean and dry, apply a coat of polycrylic. This will seal the paint and prevent it from chipping.
Just as an FYI, I always used polycrylic because it dries clear, versus polyurethane, which dries yellowish.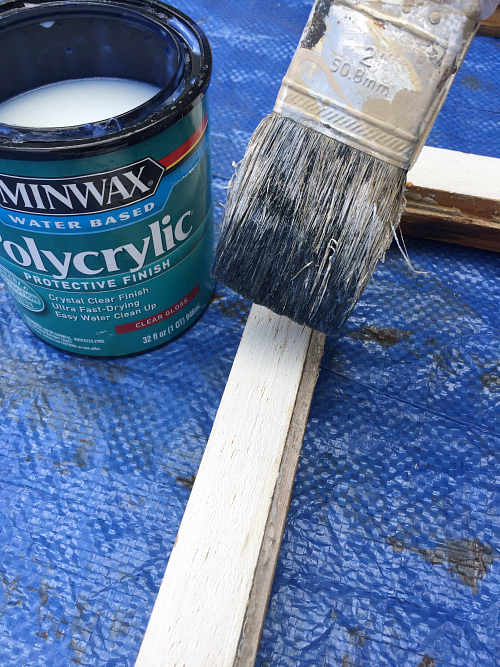 I think our polycrylic got a little stain in it from a previous project, so it was drying on a little discolored. Therefore, I decided to paint on a layer of white chalk paint over the polycrylic once it had dried.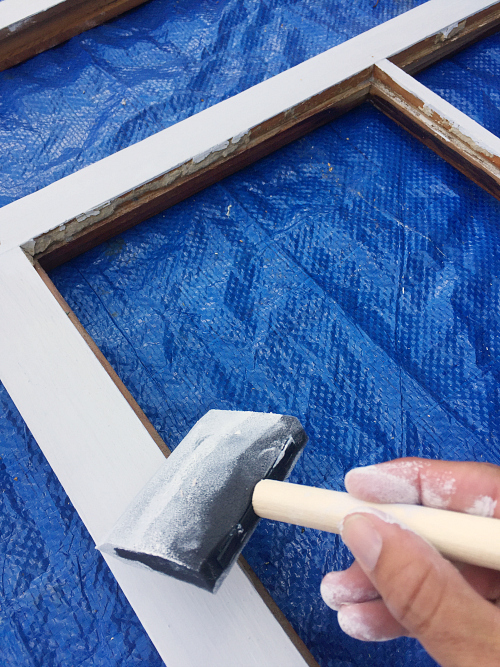 With the chalk paint dry, I added two D-Rings to the back of the frame. These are placed on the upper part of the frame, at opposite ends, for easy hanging.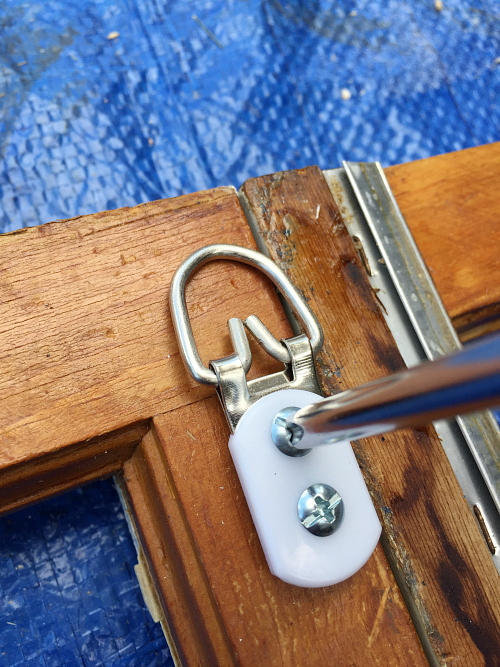 To add the bottles, I looped some twine around the top of the frame and tied on the milk bottles. I first knotted the twine around the neck of the bottle and then wound it around (approximately 5 times). I double-knotted it again, making sure it was secure.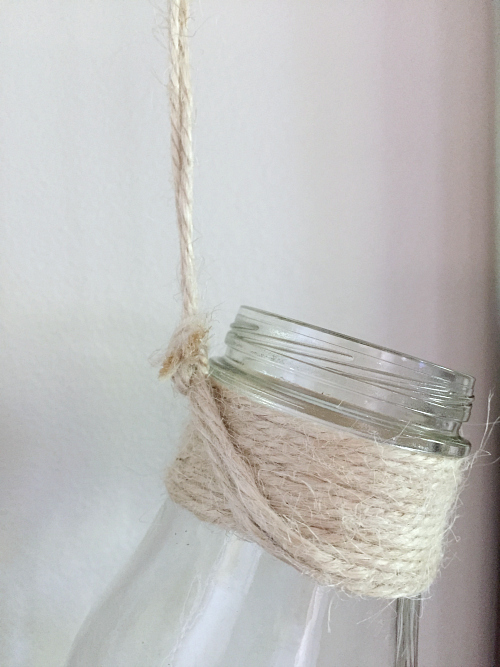 Hang it up on the wall (I would recommend using drywall anchors as windows can be a little heavier), add in the faux plant stems, and you're done. Easy, unique, farmhouse-style wall décor.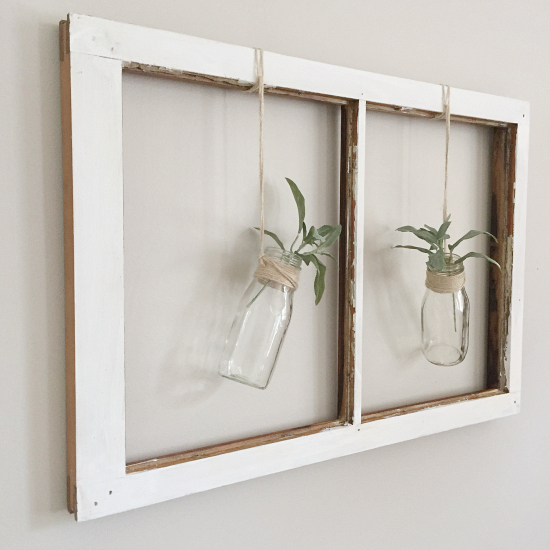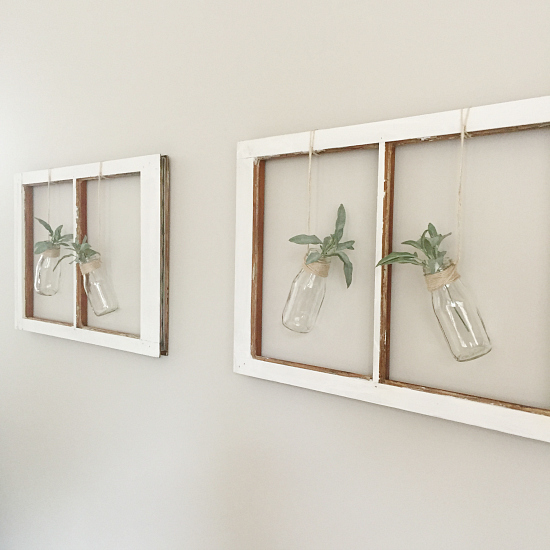 When the holiday season arrives, you can change out the bottles and stems for something else. I went with bells and a faux pine sprig.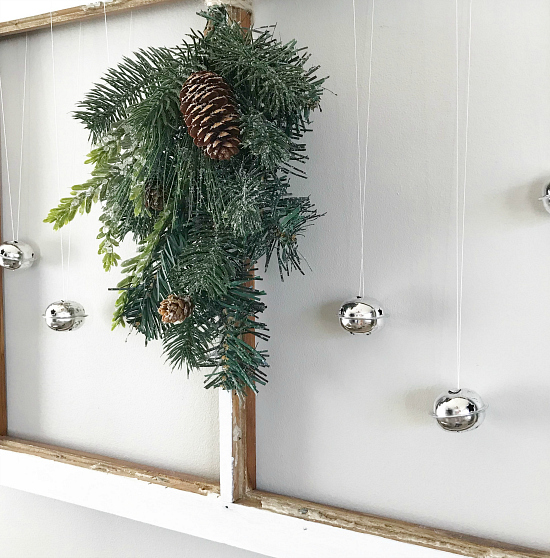 Love it? Pin it!