Our living room needed a little TLC, so we took it on for this month's $100 Room Challenge. Ready for our farmhouse living room reveal?
It's time for another $100 Room Challenge reveal!!! Very briefly (in case you're just joining in), the $100 Room Challenge involves taking one room and giving it a complete makeover, in one month's time, with $100. Other bloggers have joined in, and it's been a blast. This month I chose to work on my living room. I was a bit terrified because it's a large room, and I knew July was going to be busy. But, here we are, reveal day, and I'm happy to say it's (almost) done.
Let's start with a "before shot" to see what this room looked like at the beginning of the challenge (and, if we're honest, what this room still looked like a week ago 🙂 )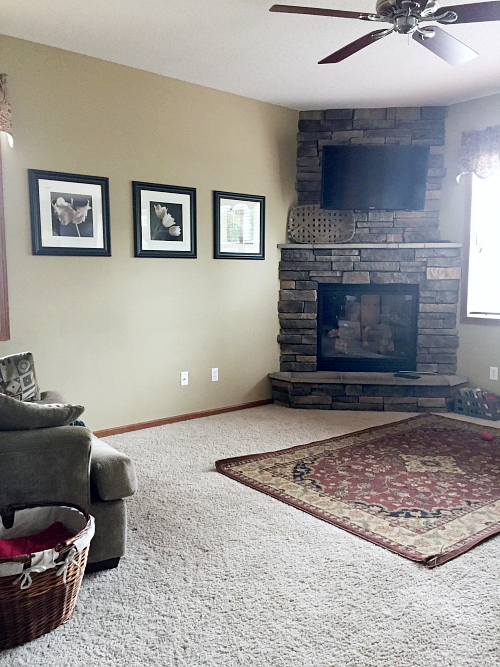 And here it is today…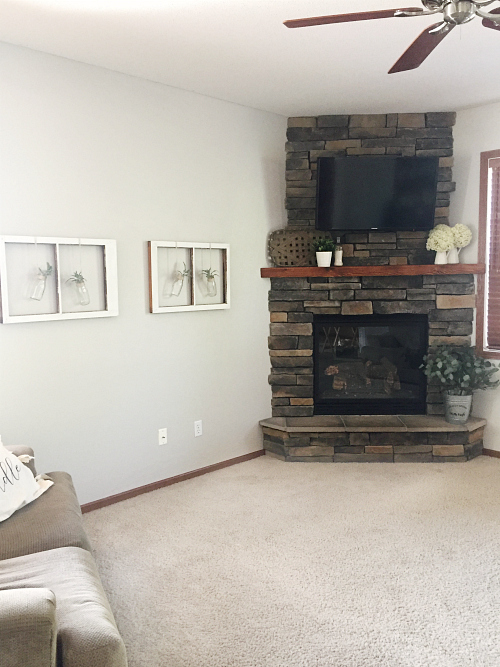 At first glance, there may not appear to be a huge difference as the carpet and furniture remained the same, but let's really dig in so I can show you everything that was done to update this space to make it feel a little more "us".
Creating A Farmhouse Living Room on A Budget
Goal 1: Take Down the Outdated Valences
Done. Easiest thing I did. 🙂
Goal 2: Pillow Refresh
My original thought was to buy a pillow cover set to cover my outdated pillows, but in the end, I didn't love any of the options I found. I am a farmhouse-style girl, and I wanted to remain true to that style, so I made my own! I don't even sew! About a year ago, I bought some flour sacks from a vintage shop in town. At the time I had no idea what I was going to do with them, I just thought they were interesting. Well, my pillows just happened to fit perfectly inside, so they became no-sew pillow covers. You can find the tutorial for making these here.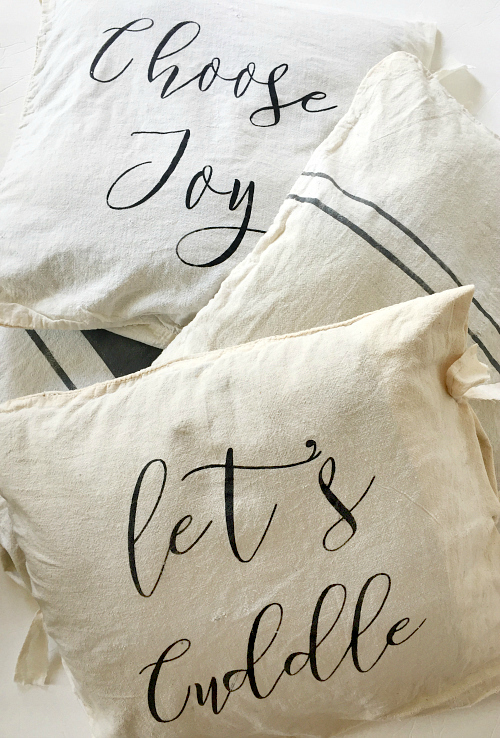 Goal 3: Rug Refresh
If you have been following along, you know that I did, indeed, purchase a new rug. I found it on sale during Amazon's Prime Day, but once I got it in the room, it didn't work; it was just too light. Sadly, I don't have a replacement yet, but I did take the old rug is out. We definitely need a rug in this space, so I'll keep looking.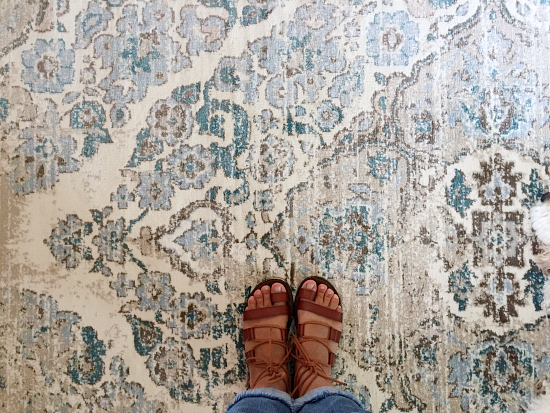 Goal 4: Mantel Refresh
In a few of our spaces, my husband has created wood overlays for our wire shelving. (Here in the laundry room and here in our coat closet.) I have always wanted a wood mantel (vs. stone), so I asked if he could create the same concept for the fireplace. He came through and it looks ah-mazing!
Before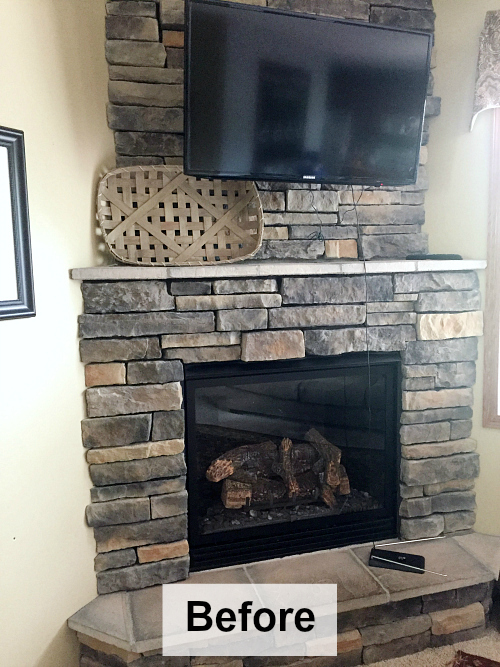 After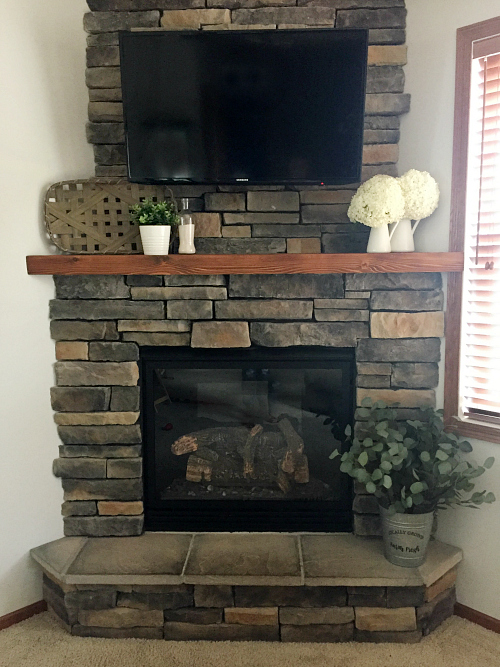 I also blew my budget at IKEA on knick-knacks to decorate the mantel and hearth (as you may recall, all I had before was the tobacco basket).
Goal 5: Wall Décor
We had some black and white floral prints on our wall (as seen in the before images). I wasn't sure they aligned with my farmhouse-style vibe, so (with a little inspiration from Pinterest), I made some wall décor out of old windows and Frappuccino bottles 🙂 This is what I came up with and I love it! (Click here for the full tutorial.)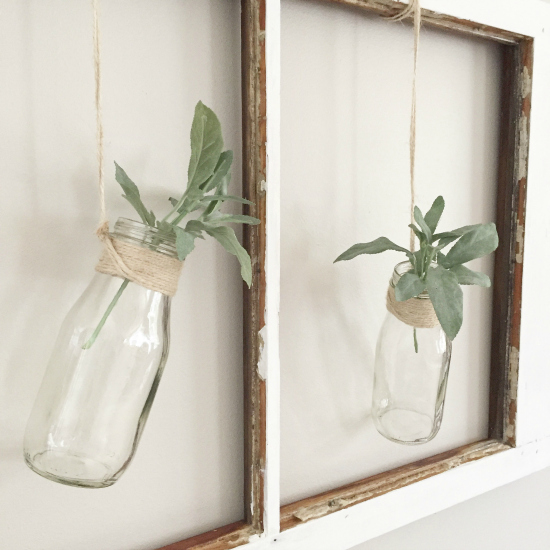 My father-in-law happens to be the owner of his own construction company. One day he was ripping out some old wooden windows from a home he was working on, and my mother-in-law (bless her) knew I'd probably want them (versus sending them to the trash). They've been sitting in my garage just waiting for a project, and their time finally came. I broke out the glass and made a little farmhouse wall treatment.
I also love the ever-popular farmhouse signs, but to buy one would blow my budget, so what do we do? Make one… for about $9. Click here for the tutorial.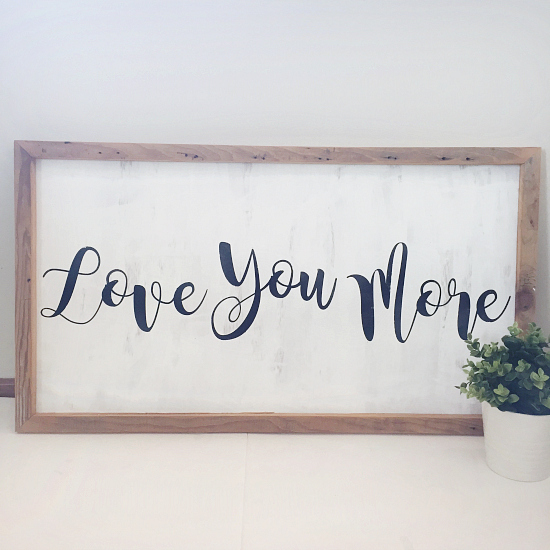 Goal 6: Curio Cabinet Out or Redo
"Out" is the answer here. I haven't been able to find exactly what I'm looking for yet, but I'd love to do something like this, from Twelve On Main…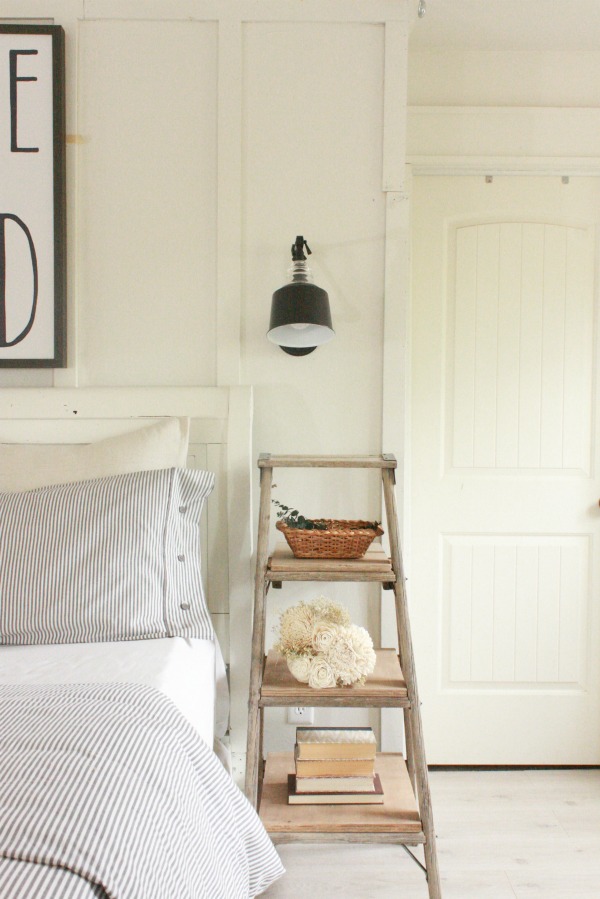 Via Twelve On Main
Goal 7: Fill in Screw Pops and Paint
I spent two days filling in holes and screw pops, and painting this room. I had found a 5 gallon bucket of Agreeable Gray paint at the recycle center a little over a year ago. (You can read about it here.) I also had some paint left over (same color) from the office makeover, so I was able to paint this room for free! (If you follow on Instagram, then you know the biggest dilemma to painting was trying to work around the stone on the fireplace. One follower suggested aluminum foil, and it totally worked!)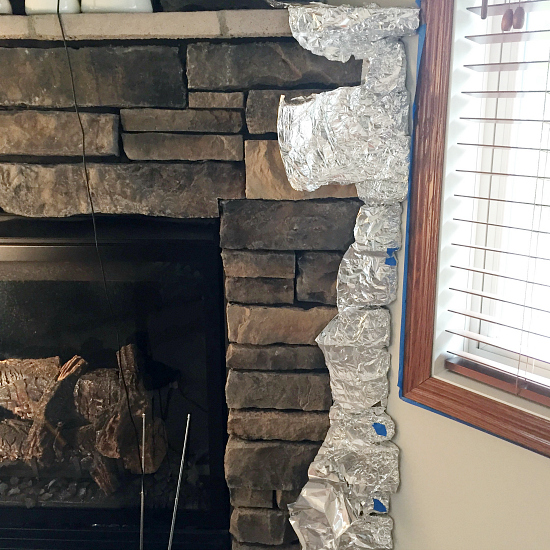 Here are some more pictures of this farmhouse living room makeover.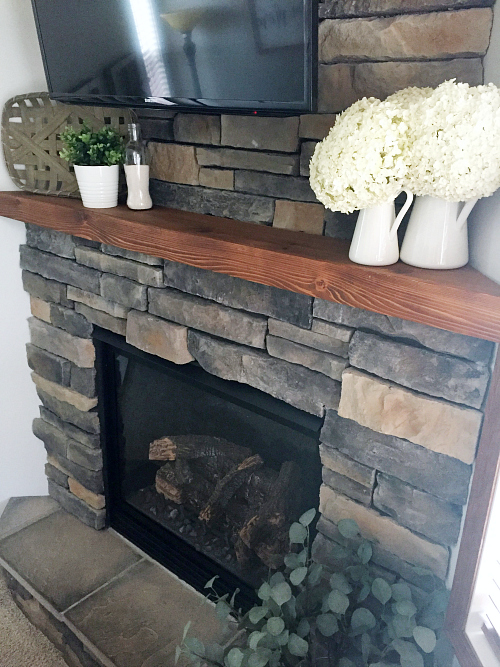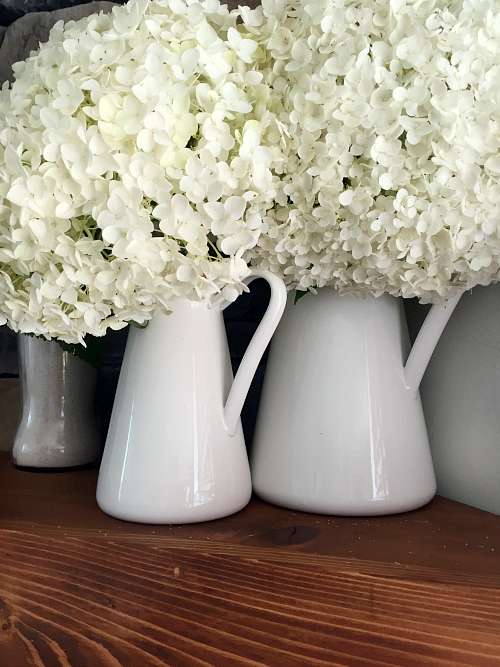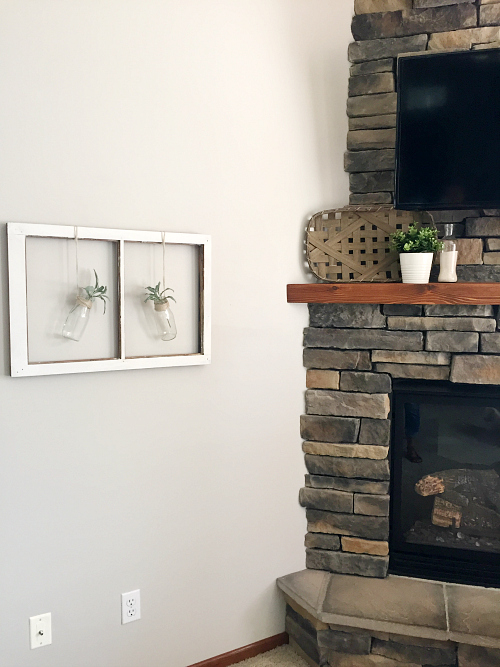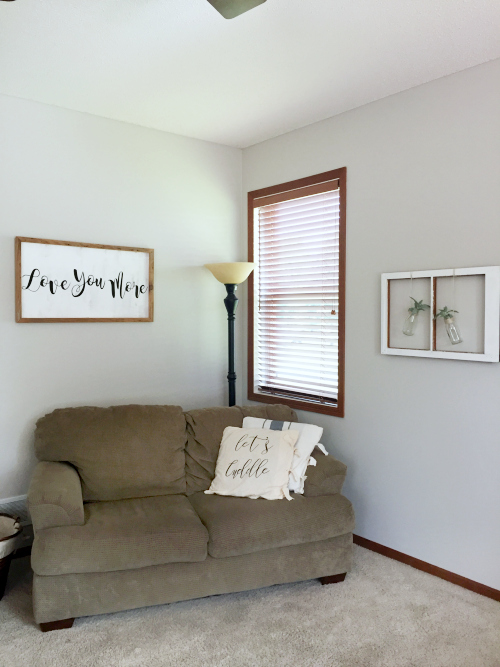 Before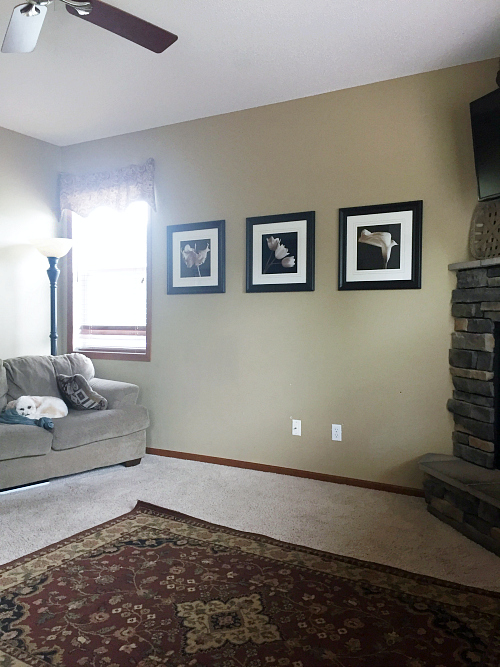 After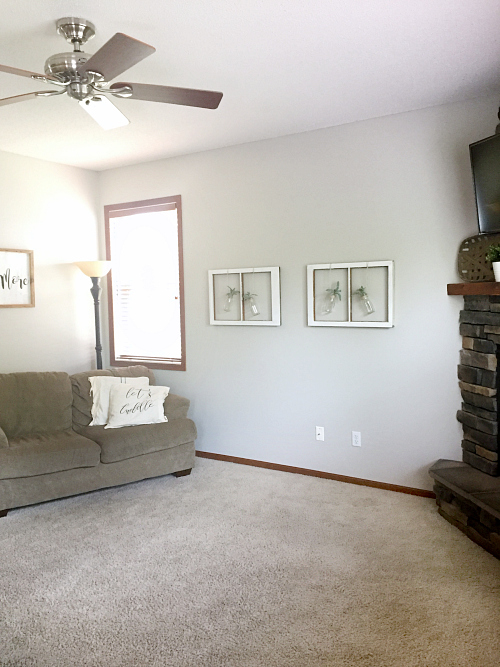 I'm thinking of adding one more long, thin sign above those windows to fill the space a bit more, but time got away from me 🙂
Total Budget
As noted above, I was a total slacker until this week. I had bought a rug for $55.99, but decided against using it in this room, so my budget going into this week was still $96.02; having only spent $3.98 on my pillow covers! No worries. I spent it, and here's the breakdown…
Paint & Supplies: FREE
Paint: FREE (Already had… Some from the Recycle Center. Some leftover from the office.)
Paint Supplies (Brushes, Tape, Etc.): FREE (Already had)
Window Wall Décor: $6.95
Old Chippy Windows: FREE (As noted above, my in-laws gifted these to me versus throwing them in the trash 🙂 )
Polycrylic: FREE (Already had)
Chalk Paint: FREE (Already had)
Painting Supplies: FREE (Already had)
"Milk" Jars: FREE (These are actually Starbucks Frappuccino bottles that I save… because I use them in projects all the time 🙂 )
Faux Plant: $2.99 (50% off at Hobby Lobby). I just bought one faux plant and cut it into pieces to put in the jars.
D-Rings (Pack of 2) x2: $3.96 ($1.98 each)
Love You More Sign: $9.07
One Piece 2×4 Underlayment: $6.49
Barn Wood Frame: FREE (Taken from our barn wood stash in the garage)
Chalk Paint: FREE (Already had)
Vinyl: FREE (Already had)
Black Paint: FREE (Already had)
Paint Supplies (Sponges Brushes): FREE (Already had)
D Ring Hangers: $2.58
Wood Mantel Overlay: $14.18
1 x 4 x 6 Cedar Wood: $4.99
1 x 8 x 6 Cedar Wood: $9.19
Stain: FREE (Already had)
Miscellaneous Décor: $46.92
Ceramic Planter: $1.99
Faux Plant: $3.99
Small Ceramic Pitcher: $9.99
Larger Ceramic Pitcher: $14.99
Faux Eucalyptus Stems x4: $15.96 (Already had 3)
Total Spent: $81.10
I can't even believe we came in $18.80 under budget.
Another $100 Room Challenge done. If you want to take a peek at the other rooms I've completed with just $100, check out this page (all rooms are at the bottom). And please check out all the other bloggers participating in this challenge.
Wanna Catch Up?
Week 1 // Week 2 // Week 3 // Week 4
Love it? Pin it!